Update: North Korea said its launched projectile was a hypersonic missile.
Original story below
–
North Korea fired an "unidentified projectile" from an inland area off its east coast towards the Sea of Japan on Tuesday, South Korea's military said.
The projectile was fired around 6:40 a.m. local time, South Korea's Joint Chiefs of Staff said, adding that South Korean and U.S. intelligence are analyzing the launch, reported Yonhap News Agency.
"We are analysing the situation and intention of North Korea's missile launch," South Korean Defence Ministry Spokesman, Boo Seung-chan said Tuesday at a news briefing. "Also, we think the missile launch is regrettable at a time when we urgently need to stabilize the situation in the Korean peninsula."
Japan's defence ministry issued a statement saying that it appeared to be a ballistic missile.
The U.S. State Department condemned the latest missile test, which it said posed a threat to North Korea's neighbours and the international community. Meanwhile, the U.S. Indo-Pacific Command said the launch posed no immediate threat to the United States or its allies but highlighted "the destabilising impact" of Pyongyang's nuclear weapons programs.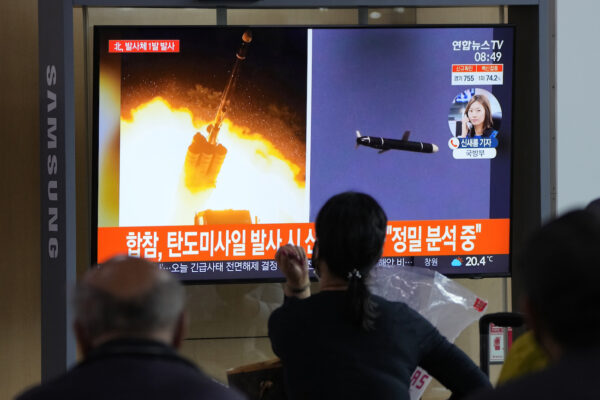 It comes after the socialist dictatorship announced on Sept. 15 that it had launched two ballistic missiles from a train toward the Sea of Japan that struck an intended target 497 miles (800 kilometers) away. On the same day, South Korea also test fired a submarine-launched ballistic missile.
Prior to that, North Korea had tested new cruise missiles it said were capable of hitting targets 932 miles (1,500 kilometers) away, putting all of Japan and the U.S. military installations there—with a total of 80,000 U.S. troops—within striking range.
The latest reported projectile launch comes as South Korean President Moon Jae-in, in an address to the U.N. General Assembly on Sept. 21, called for a formal end to the 1950–53 Korean War and proposed that the two Koreas make that declaration. The conflict had halted in a ceasefire rather than a peace treaty.
But North Korean Vice Foreign Minister Ri Thae Song said that the call is premature because there is no guarantee that the United States would withdraw its "hostile policy" against Pyongyang, reported state mouthpiece KCNA on Sept. 24.
Meanwhile, North Korea has continued ignoring warnings from the international community about its weapons activity.
Recently, international experts have said that satellite images shows that North Korea is expanding a uranium enrichment plant at its main Yongbyon nuclear complex—a sign that the Kim regime is intent on boosting the production of bomb materials. A U.N. Atomic Watchdog said in late August that Pyongyang appears to have restarted a nuclear reactor at the plant.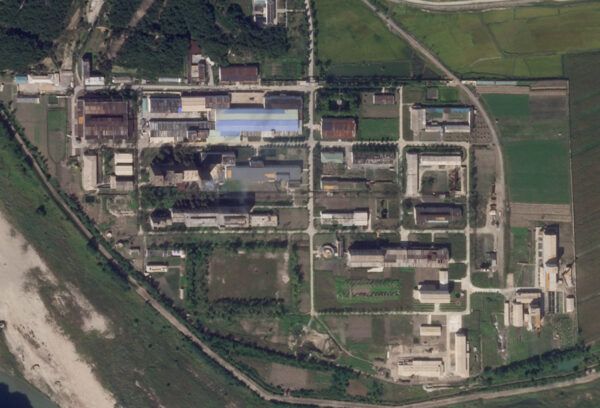 Continuing to deflect international attention from the regime's actions, North Korea's ambassador to the United Nations, Kim Song, blamed the United States and Seoul for the atmosphere of hostility and "double standards" toward Pyongyang, as the denounced Pyongyang for its weapons development while continuing their own military activities.
He said that North Korea would respond "willingly at any time" to offers to talks after snubbing Moon's calls for ending the war.
On similar lines, Kim Yo Jong, the sister of North Korean leader Kim Jong Un, said on Sept. 25 that North Korea is willing to consider stalled inter-Korean talks on ending the Korean War if mutual respect between the two countries can be assured, KCNA reported.
In a separate statement on Sept. 25, she asked South Korea to abandon "hostile polices" and "double-dealing standards."
South Korea's Unification Ministry on Sept. 26 called her statement "meaningful" but urged North Korea to restore dormant communication channels before arranging talks between the rivals. North Korea hasn't responded.
Efforts from the United States aimed at convincing North Korea to denuclearize in return for lifting related sanctions over Pyongyang's nuclear program and missile tests have stalled since February 2019. Then-president Donald Trump said that North Korea wanted to lift sanctions without offering enough denuclearization in return.
"They wanted the sanctions lifted in their entirety, and we couldn't do that," Trump said at the time. "They were willing to denuke a large portion of the areas we wanted, but we couldn't give up all of the sanctions for that."
Reuters and The Associated Press contributed to this report.