North Korea's top diplomat brushed aside President Donald Trump's recent threats on Wednesday, Sept. 20, comparing it to a dog's bark.
Trump in his first speech to the U.N. General Assembly on Tuesday, Sept. 19, said he would "totally destroy" North Korea if the communist regime kept threatening the United States or its allies, the New York Post reported.
But North Korea's Foreign Minister Ri Yong Ho dismissed Trump's threats.
"If he was thinking he could scare us with the sound of a dog barking, that's really a dog dream," Ri told reporters in New York outside his hotel.
According to South Korean media a "dog dream" is one that is absurd and makes little sense. It also refers to a North Korean proverb that means "a procession moves even if dogs bark", Yonhap News Agency reported.
In his U.N. speech, Trump condemned North Korea's communist regime, saying it is responsible for the starvation death of millions of its citizens.
Talking about its leader, Kim Jong Un, Trump said, "Rocket Man is on a suicide mission for himself and for his regime."
Trump said that the United States has great strength and patience, but that it is able to completely destroy North Korea if it is forced to defend itself or its allies.
When Ri was asked what his response was to Trump's new nickname for Kim Jong Un as "Rocket Man." He replied, "I feel sorry for his aides."
Just yesterday Trump laid blame on former President Bill Clinton's policy that allowed North Korea to research and build nukes.
"After allowing North Korea to research and build Nukes while Secretary of State (Bill C also), Crooked Hillary now criticizes," he said on Twitter.
After allowing North Korea to research and build Nukes while Secretary of State (Bill C also), Crooked Hillary now criticizes.

— Donald J. Trump (@realDonaldTrump) September 20, 2017
The foreign minister is scheduled to speak to the world body on Friday, Sept. 22, according to the New York Post.
Tensions have increased as Trump and other global leaders become increasingly worried about North Korea's apparent progress on their nuclear aspirations.
About a week ago on Sept. 15, North Korea reportedly fired it's second missile over Japan.
South Korea's Yonhap News Agency said Friday morning local time that an unidentified missile was shot east from the area of Pyongyang, North Korea's capital city.
The unidentified missile reached an altitude of about 480 miles and flew 2,300 miles, according to South Korea's military—far enough to reach the U.S. Pacific territory of Guam.
The missile passed over Japan's northern island of Hokkaido and landed in the Pacific Ocean, Japan's government told its citizens.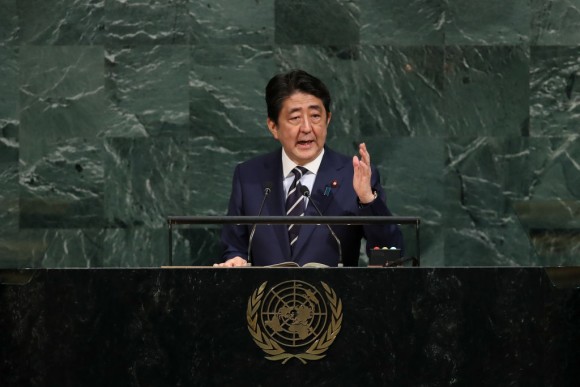 It landed 1,240 miles off Cape Erimo on Hokkaido at about 7:16 a.m. local time.
The country's military did not try to shoot it down.
Japan warned its citizens not to touch anything that looks like debris from the missile and to immediately report anything they find to the police, the Japan Times reported.
From NTD.tv