On July 4, Kim Jong-un, known as "Kim 3," followed in his father's and grandfather's footsteps by launching his twelfth rocket test and thus perpetuating a major world-security challenge.
Lord David Alton of Britain, an expert on North Korea, warned:[It] is caught in a time warp which [originated] in the armistice of 1953, designed to put a temporary halt to a war that claimed up to 3 million lives. Sixty years later… we now find ourselves on the edge of a nuclear winter…Miscalculation, rather than design, is capable of triggering a 'Sarajevo' moment, and with more than a million troops under arms and some 8,000 artillery pieces located within range of half the South's population, this is not a moment for sending the wrong signals.
Alton also warns that the Kims have flouted numerous nuclear treaties and agreements, sold weapons to terrorists, helped Syria employ chemical weapons, and engaged in cyberwarfare, He judges that Kim 3 will not  negotiate away his nuclear and missile programs.
Related Coverage
Since becoming supreme leader in 2011, Kim 3 has condoned the executions of his uncle Jang Song-thaek in 2013 and his estranged half-brother Kim Jong-nam at an airport in Malaysia last February.  The former had been "regent" during Kim 3's childhood; the latter had criticized Kim 3's rule. A "Juche"-imbued group now heads the Korean People's Army (KPA) and Korean Worker's Party (KWP) and is probably more dangerous than their predecessors.
Surprisingly, most people in the Democratic People's Republic of Korea (DPRK) do not appear to be seeking an opportunity to rise up against their    leadership. This may be because about 70 percent of them reportedly believe in "Juche," the concept that suffering prepares them for the task of constructing "paradise on earth".
The DPRK features a centrally planned economy and a form of governance modelled on Leninism, although Juche now appears to have broken somewhat with Marxism. Juche is described as a syncretic religion beginning as a nationalistic variant of Marxism-Leninism, akin to earlier "Ceaucescuism" in Romania or "Hoxaism" in Albania. It morphed into its present form in the mid-1960's.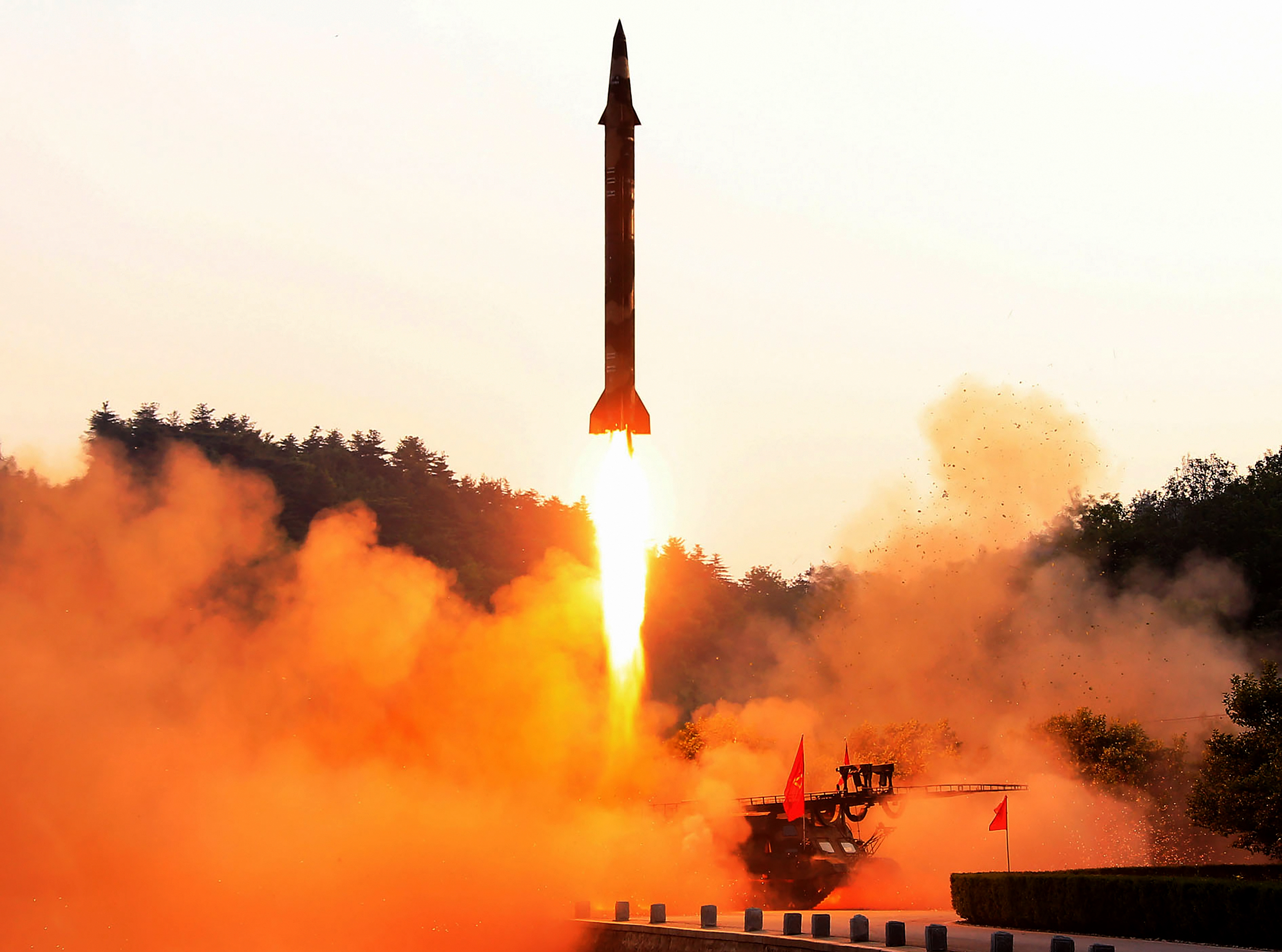 North Korea's isolation ensures that even would-be reformers lack any model that might result in change; only the most trusted members of the elite have experienced life abroad. To survive, the regime requires complete isolation from the outside world. With the carefully nurtured xenophobia of the population, hardship and continued pressure reinforce the Kim grip on the population.
The human rights situation is appalling. In 2013, a U.N. commission found the regime to be committing exterminations and torture with impunity.  Up to 200,000 political prisoners are thought to be subjected to forced labor in camps. The U.N. commission of inquiry has recommended that the regime be held accountable for crimes against humanity through the International Criminal Court (ICC).   
China's party-state reluctance to apply the screws to North Korea relate to  what happens if the Pyongyang regime reaches the point of collapse.  Beijing has an interest in avoiding war in the region and preventing the DPRK from obtaining and maintaining a nuclear arsenal, thereby adding to proliferation pressures in northeast Asia and further de-stabilizing the sub-region.
Beijing did shut off an oil pipeline for a few days to discourage North Korean adventurism.  It is difficult to believe, however, that Beijing is unaware that its banks are laundering Pyongyang money and that one of its companies, Hongxiang Industrial Development, is regularly sending aluminum oxide to assist Kim's nuclear weapons program.
The possibility of war through miscalculation remains real. However, requiring the DPRK to give up its nuclear arsenal, while also asking for improvements in human rights as well as a build-down of conventional forces, and simultaneously criticizing its leadership, reinforce Pyongyang's view that foreigners are bent on regime change.
The recent election of Moon Jae-in as South Korean president has reduced tensions on the peninsula. Unlike his two predecessors who shut down most contacts with Pyongyang, he has long advocated better relations, including meeting with Kim 3. If Pyongyang's nuclear program is to be frozen, Moon could well be the person to achieve it.
Moon made a first attempt to persuade the U.S.'s Trump, China's Xi, Russia's Putin, and Japan's Abe at the Group of 20 meeting in Germany last week.
Some Korean experts feel that the opportunity to end the nuclear and missile programs is no longer available and that a freeze is the most that can be expected.
Doing nothing probably remains the most dangerous option.
David Kilgour, a lawyer by profession, served in Canada's House of Commons for almost 27 years. In Jean Chretien's Cabinet, he was secretary of state (Africa and Latin America) and secretary of state (Asia-Pacific). He is the author of several books and co-author with David Matas of "Bloody Harvest: The Killing of Falun Gong for Their Organs."