North Dakota Natural Gas Flaring: $100M a Month Burned Off (+Photos)
July 30, 2013 9:56 am Last Updated: July 30, 2013 9:58 am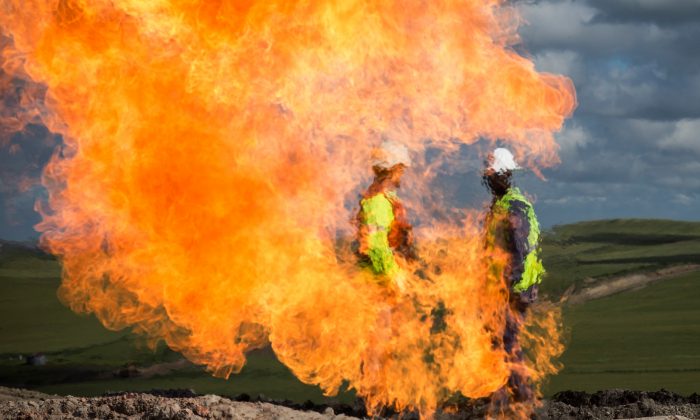 North Dakota natural gas flaring is costing oil drillers more than $100 million per month, said a report this week.
According to a press release from Ceres, drillers are allowing around a third of the gas to be burned off, worth around $3.6 million per day. The organization reported that gas is being burned off at a high rate due to the remoteness of the wells, low natural gas prices, and the time needed to create natural gas pipelines.
Natural gas–unlike oil–has to be transferred into a processing facility. Oil that is freshly drilled can merely be stored in tanks for later processing.
"The U.S. is now one of the top 10 flaring countries in the world, primarily due to the rapid growth of flaring in North Dakota," Ryan Salmon, the report's lead author and manager of Ceres' oil and gas program, said in a news release.
Flares are created after excess amounts of natural gas is released unexpectedly by pressure release valves.
Salmon added, "Although the state's oil and gas industry is stepping up its efforts to curb flaring, the total volume of flared natural gas continues to grow. Investors are looking for producers and regulators to take more aggressive action to prevent the loss of this valuable fuel."
Ceres, a not-for-profit group that tracks companies' environmental records, said that flaring has tripled in the past three years.
"There's a lot of shareholder value going up in flames due to flaring," Salmon told Reuters. "Investors want companies to have a more aggressive reaction to flaring and disclose clear steps to fix the problem."
The North Dakota Industrial Commission's latest figures show that 29 percent of the state's natural gas was flared in May. However, the flaring rate has dropped since its peak of 36 percent in September 2011.
"The flaring of natural gas is a tremendous economic waste, and it threatens the oil and gas industry's license to operate, as well as the environment," Pat Zerega, senior director at Mercy Investment Services, said in a release.
The flaring is so intense that NASA astronauts have recalled seeing it from space.
Ron Ness of the North Dakota Petroleum Council told Reuters that "we all understand that the flaring is an economic waste."
"Everyone's on the same page as far as getting the flaring reduced," Justin Kringstad, the chief of the state-operated North Dakota Pipeline Authority, told Reuters. "It's going to take time to get all the necessary infrastructure built out."