A North Carolina mother revealed the heartbreak of watching both her 5-year-old son and boyfriend drown in the ocean.
Erin Peoples, 28, told ABC11 that her boyfriend, 24-year-old Austin "Catfish" Potter, and her son, Liam, got swept up in a rip current at Atlantic Beach last month.
"[Porter] decided we're going to take Liam out to swim," she said. "And when I say swim I mean stand in the water. Liam wasn't old enough or big enough to be swimming at this point."
In an interview with People magazine on May 3, Peoples said she sat on the shore watching while her boyfriend and son went into the water.
'Helpless' N.C. Mom Watched Her Boyfriend and Son, 5, Drown in the Ocean: 'It Takes 1 Second' https://t.co/TrFbfL3NJZ

— People (@people) May 31, 2019
A man walking by noticed that they were being carried further and further out, she said. He said she needed to call 911 right away.
"I had eyes on Austin and Liam—I didn't realize that anything was even wrong," she told the magazine.
Peoples said she watched Potter grab Liam before hoisting him over his head in the air out of the water.
"Liam was his buddy. He wasn't going to let anything happen to him," she told the publication, adding that he held "for as long as he could."
"He did what he could for as long as he could. They never went under. As waves crash and thrash you go under. But I was able to see them the whole time. The whole time. I just kept watching and making sure I could see two," she said.
The Atlantic Beach Fire Department arrived on the scene in only a few minutes.
Mike Simpson, the fire chief, got on a jet ski and pulled both out of the water, but he was too late.
"It's very unfortunate, but we've had a rash of them down here over the last month—I think there's been a total of seven [drownings] along our beaches, which is more than we've had in the previous three seasons," Atlantic Beach Chief of Police Jeff Harvey told People. "The thing is, they're always out there. Rip currents are always there. It's just unfortunate people get caught in them and are not able to get out."
The hardest part for Peoples was having to tell Potter's 9-year-old brother that he wasn't coming home.
"I think that was probably one of the most heartbreaking amongst everything else is having to come home telling him his best friend wouldn't be coming home," she told ABC11.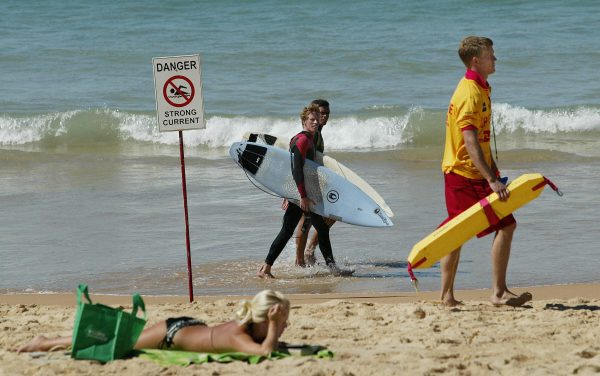 According to The Weather Channel, at least 21 people have been killed by rip currents so far in 2019. A rip current is a strong and narrow stream of water that flows away from the beach back into the ocean (or the Great Lakes).
"Sometimes you can spot a rip current because it can look darker than surrounding waters. Another sign is an area where waves do not break, with breaking waves on either side. You can sometimes see water, or seaweed, moving away from the beach," the Weather Channel says, but it adds that they are hard to spot.
They're also strongest during low tide and stronger currents are likely to occur with strong winds.
Beaches usually have flags, and a green flag means low risk, a yellow flag means moderate risk, and a red flag means that strong rip currents are expected.
The National Weather Service noted that it's best to only swim at beaches with lifeguards present, don't assume that nice weather means it's always good to swim at the beach, and always check water conditions before going out.
Harvey warned people vacationing at the beach to look for rip currents and wear life jackets
"It takes one second," Harvey added. "You've got to be careful."