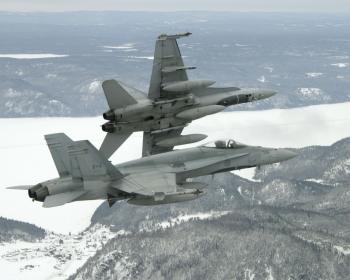 Captain Dave Patrick has been with the 425 Squadron at 3 Wing/CFB Bagotville, Quebec, for only six months, but the 10-year veteran aviator has already received a plum assignment.
    
He is one of four fighter pilots from the Canadian region of North American Aerospace Defense Command (NORAD) selected to escort Santa Claus on Christmas Eve as St. Nick and his famous reindeer fly across Canada delivering presents to children.
Capt. Patrick and Capt. Yannick Jobin of 3 Wing will fly two CF-18 fighter jets to welcome Santa as soon as radar operators alert them that the sleigh is approaching North America off the coast of  Newfoundland and Labrador.
As Santa nears western Canada, Lieutenant-Colonel Sean Penny and Capt. David Chamberlin of 4 Wing/CFB Cold Lake, Alberta, will intercept and escort him.
Santa typically flies back and forth across the Canada-U.S. border, said Capt. Patrick. While flying in the U.S., American NORAD fighter pilots in either F-15s, F-16s, or F-22s "get the thrill of flying with Santa," he said.
Capt. Patrick has been briefed that "Santa flies very, very fast. We don't know the top speed of his sled. We do know that it is faster than we can fly, but he does slow it down so we can intercept him and escort him."
NORAD pilots, who are well prepared to carry out this mission, will be flying about 10 feet away on either side of Santa's sleigh.
"We'll fly right up beside him. . . . Flying off of Santa's sled is no different than flying off a CF-18 wing or some other type of close formation. We do practise that on a regular basis," Capt. Patrick said.
[xtypo_info]Christmas 2008: As Santa enters Canadian airspace, two CF-18 aircraft are deployed to give him a warm welcome and escort him into Canada. (NORAD Tracks Santa)[/xtypo_info][youtube]3BUjJ1GOarE&rel=0[/youtube]
NORAD last year marked 50 years of tracking Santa Claus on Christmas Eve. When the bi-national Canada-U.S. military organization was formed in 1958, it continued the tradition set by its predecessor, Continental Air Defense Command (CONAD), three years earlier.
It all started on Christmas Eve 1955 when staff at the CONAD Operations Center in Colorado Springs received an unexpected phone call from a child looking for Santa Claus after dialling a misprinted phone number from a local newspaper ad.
Fortunately CONAD's radar controllers had no trouble spotting Santa on their screens flying south from the North Pole, and they were able to tell the child his location. As more children called, they were kept busy giving updates on Santa's whereabouts.
Since then, every Christmas Eve NORAD has relied on its powerful radars to detect Santa leaving the North Pole. Eventually, NORAD added satellites to help track Santa, fighter jets to escort him, and "Santa cam" cameras positioned around the globe to capture his annual journey.
[xtypo_info]Christmas Eve 2008: NORAD satellites and radar images confirm that Santa and his nine reindeer have lifted off from the North Pole. (NORAD Tracks Santa)[/xtypo_info][youtube]TZzHGIAaZJY&rel=0[/youtube]
Corporal Jeff Ryan is with the 51 Aerospace Control and Warning (Operational Training) Squadron at 22 Wing/Canadian Forces Base North Bay, Ontario.
Also known as the Canadian Air Defence Sector (CADS), this is Canada's main NORAD site that monitors all aerospace traffic approaching North America by making use of the North Warning System, a network of radar stations that stretches across Arctic North America.
Cpl. Ryan will be in the CADS Operations Centre helping to monitor the radars on Christmas Eve .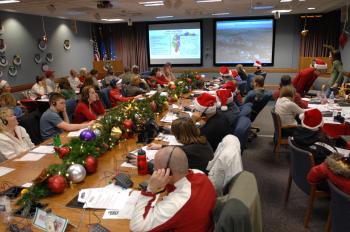 "The moment our radars tell us that Santa has lifted off, we begin to use the satellites," he said. "We can see him via satellite feeds from the geosynchronous orbit satellites, up at about 22,300 miles above the earth."
The satellites have infrared sensors that detect heat, and the heat given off by Rudolph's red nose allows them to "confirm that it is a reindeer's bright red nose with no problem," Cpl. Ryan said.
"This year," noted Cpl. Ryan, "almost 1,200 American and Canadian uniformed personnel from the Colorado Springs area—air force, army, navy, marines, coast guard—as well as their families, have volunteered their time on Christmas Eve to answer thousands of phone calls and emails from around the world."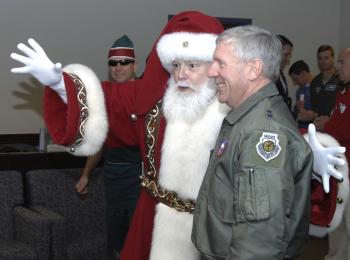 From 4 a.m. MST on Dec. 24 until 3 a.m. MST Christmas Day, children can call 1-877-HI-NORAD (1-877-446-6723) toll free to find out Santa's location, or send an email to [email protected]
The NORAD Tracks Santa (NTS) tradition has grown in leaps and bounds since launching on the Internet in 1998. Today it runs a multimedia, multilingual website that goes live every Dec. 1, featuring holiday games and activities and daily updates from the North Pole.
On Christmas Eve, the NTS site, www.noradsanta.org , will start streaming live videos of the famous journey as soon as Santa and his reindeer leave the North Pole, thanks to the Santa cams. Visitors can also track Santa via social media and web tools such as Facebook, Twitter, YouTube, Flickr, Google Earth, and Google Map.
Last December, the website received over 15.8 million visits from 8,785,186 unique visitors from 225 countries and territories. And from Dec. 24 to 25, Santa Trackers answered over 6,806 emails and 73,872 phone calls.
It's Capt. Patrick's first time escorting Santa, but he's been informed that "Santa usually arrives at everybody's house between 9 p.m. and midnight, but only if children are asleep."
Cpl. Ryan, who has three young children, has helped monitor the radars for Santa for several years. Before he goes to monitor the radars every Christmas Eve, "I make sure that the kids are in bed so Santa can come by and make his visit," he said.
[xtypo_info]Images from Santa's journey around the world last year. (NORAD Tracks Santa)[/xtypo_info][youtube]snQdfJMBV-k&rel=0[/youtube][xtypo_info]Inviting children of all ages to join NORAD to track Santa this Christmas. On Christmas Eve, children can call 1-877-HI-NORAD (1-877-446-6723) or send an email to [email protected] (NORAD Tracks Santa)[/xtypo_info][youtube]Uh4kJQxwjpo&rel=0[/youtube][xtypo_info]Christmas 2008: Santa and his team slow down as they fly over Reindeer Lake, where Donner and Blitzen have relatives. Reindeer Lake is in northern Canada on the border between the provinces of Manitoba and Saskatchewan. (NORAD Tracks Santa)[/xtypo_info][youtube]yhIWu1EJXi4&rel=0[/youtube][xtypo_info]Christmas 2008 in space: Santa soars high into space to visit the astronauts aboard the International Space Station. (NORAD Tracks Santa)[/xtypo_info][youtube]NStCTZN39Cc&rel=0[/youtube]