The Indian embassy in Ukraine on Sunday called on thousands of Indian nationals to leave the country amid fears of a Russian invasion.
"In view of the continued high levels of tensions and uncertainties with respect to the situation in Ukraine, all Indian nationals whose stay is not deemed essential and all Indian students, are advised to leave Ukraine temporarily," the embassy stated in an advisory.
At a Security Council meeting last week, India's permanent representative to the United Nations T.S. Tirumurti said that the well-being of "more than 20,000 Indian students and nationals live and study in different parts of Ukraine" is a priority.
Tirumurti reiterated India's call for "immediate de-escalation of tensions" that takes into account "the legitimate security interests of all countries."
"India has been in touch with all concerned parties. It is our considered view that the issue can only be resolved through diplomatic dialogue," he added.
In an earlier FAQ issued by the embassy on Feb. 16 said that it was continuing to function normally to provide all services to Indian nationals in Ukraine.
India has not yet evacuated its diplomatic staff or relocated its embassy to the western city of Lviv, as some Western governments have done, including the United States, Netherlands, Britain, and Germany.
The U.S. State Department on Feb. 12 ordered "the departure of most U.S. direct hire employees from Embassy Kyiv due to the continued threat of Russian military action" and relocated its Ukraine embassy operations to Lviv.
Germany stated that its embassy in Kyiv will continue to remain open, albeit with a reduced diplomatic staff. Its consulate in Donetsk, which has been based in Dnipro since 2014, will likewise transfer temporarily to Lviv.
Both Canada and Australia have temporarily suspended their embassies in Kyiv and relocated their operations to Lviv.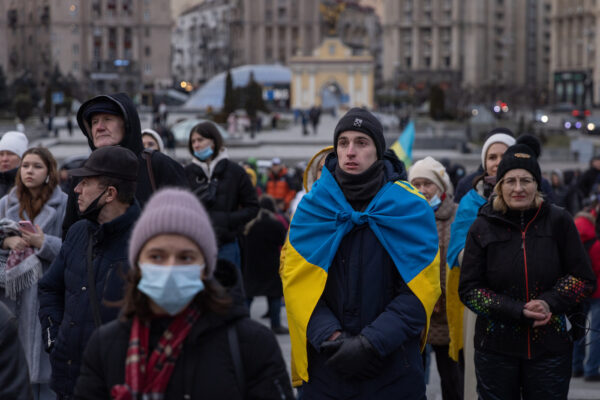 On Feb. 17, Ukraine's President Volodymyr Zelensky told European Council President Charles Michael that the evacuation of European Security and Cooperation Organization (OSCE) representatives and other foreign diplomats is "not appropriate."
"It is important that diplomats and the OSCE Special Monitoring Mission stay in Ukraine. Monitoring activities are extremely important. This is an additional deterrent," Zelensky said.
He claimed that the OSCE lacks the resources to objectively document all ceasefire violations in Ukraine, including the current morning escalation.
Russia extended military drills in neighboring Belarus near Ukraine's northern borders on Sunday as Zelensky expressed his support for an immediate ceasefire in the eastern portion of the country.
NATO has also relocated its staff to Lviv and Brussels while maintaining operations offices in Kyiv.
Jack Phillips contributed to this report.