Garciaparra Goes Out as a Red Sox
March 10, 2010 2:18 pm Last Updated: October 1, 2015 8:37 pm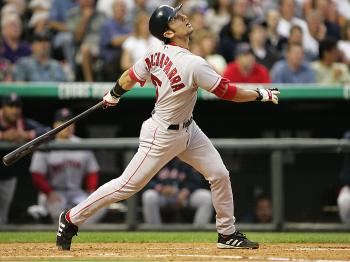 Nomar Garciaparra, who played for nine seasons with the Boston Red Sox before being traded away, returned to the home team today in order to retire wearing the uniform of his favorite team.
"I've always had a recurring dream, to be able to retire in a Red Sox uniform," Garciaparra said at a Wednesday press conference, as reported by ESPN. "It wouldn't have felt like a retirement if I couldn't have put this uniform on one more time."
Garciaparra signed a one-day minor-league contract with the Red Sox franchise. He is retiring after a 14-year career with a stellar start that was marred by repeated injuries in its final years.
Garcia, 36, a two-time batting champion and six-time All-Star started his big-league career in Boston in 1996, winning Rookie of the Year in 1997. He developed into the best shortstop in the team's history, playing excellent defense and offence. His career average with the Red Sox stands at .323, with 178 homers and 690 RBIs.
In 2001 he sustained a wrist injury which caused him to miss most of the season. He returned to form in 2002 and 2003, but played poorly in the 2003 post-season.
In July 2004 the Red Sox traded Garciaparra to the Chicago Cubs, where he was again bothered by injuries. In 2006 he went to the L.A. Dodgers, and in 2009 signed a one-year deal with the Oakland A's.
Garciaparra was a fan favorite in Boston, a feeling he reciprocated. It was his love for the Boston baseball fans that drove his desire to rejoin the team for one day before retiring.
"I know the way I felt about the Boston fans They are always going to have one of the biggest parts of my heart because of all the time the blood, sweat and tears that I've shared with them over the years They've given me such great moments in my career," Garcia said in an interview on MLB.com.
I always tell people Red Sox Nation is bigger than any nation out there, and to be able to tell people that I came back home to be back to Red Sox Nation is truly a thrill."