Nokia CEO Ignores 'Outrage' Over $25 Million Golden Handshake
September 25, 2013 4:34 pm Last Updated: September 25, 2013 4:35 pm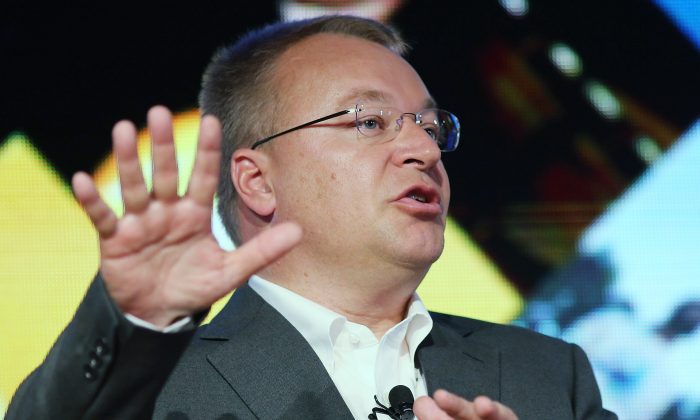 Nokia Corp.'s former CEO Stephen Elop will receive $25 million as part of Microsoft acquiring the Finnish phone maker. He claims he needs the money to pay for his divorce.
The deal has sparked outrage in Finland, ever since details of Elop's contract came to light. The contract was revised the same day the deal with Microsoft Corp. was signed to sell Nokia's phone business. 
Non-compete clauses were changed to allow Elop to work for Microsoft post-deal and, according to Finnish media Yleisradio "in complex legalese, it also changed to allow Elop to gain maximum compensation if leaving the company at the moment of operations sales or thereafter." This type of agreement is called a "golden handshake" and is commonplace in the business world. 
Elop, a former Microsoft executive, headed Nokia from September 2010 and made the controversial decisions to team up with Microsoft and build its Windows phone. 
The payoff sum had sparked angry reactions and last week Nokia Chairman Risto Siilasmaa had tried to calm the public. He told Finnish press Elop's contract was "essentially the same" as the previous Nokia CEO's, Olli-Pekka Kallasvu's. 
However, a closer look at documents revealed many differences between the contracts and Siilasmaa has admitted he initially gave misleading information, according to Finnish media.
"This is a very unfortunate thing about the case, which, moreover, raises a lot of emotions," Siilasmaa told Finland's Helsingin Sanomat newspaper. 
The $25 million figure derives from 18 months of salary and a bonus adding totaling about $5.7 million, and share awards of around $19.7 million. 
As Forbes columnist Tero Kuittinen wrote, the contract stated Elop's bonus was dependent on Nokia's share increase from its lowest point, so "driving down the share price by 80% and then bouncing it a bit would be enough." This is exactly what happened as Nokia shares went up 34 percent on Sept. 3, the day Microsoft announced the acquisition. Before, shares had been declining for munch of Elop's tenure. 
Some critics even suggest Elop was sent to Nokia to drive down the share price and hand the company over to Microsoft on the cheap. 
According to the Financial Times, politicians across Finland are heavily criticizing the entire transaction.
"I find it difficult to understand the merits of this bonus," Economy Minister Jan Vapaavuori told Finnish media.
Center-right Prime Minister Jyrki Katainen called Elop's payoff and divorce excuse an outrage, and said "apparently the practices of rewards by large corporations all over the world are so exceptional that they cannot be understood with common sense."
Center-left Finance Minister Jutta Urpilainen said the scandal "may be a threat to social harmony" and has created "a general toxic atmosphere."
Nokia has asked Elop to take a reduced compensation package multiple times, according to Finnish reports, but Elop has refused because of his divorce. Elop claims his wife would not accept a reduction to the $25 million compensation, according to Finnish reports. Under Finnish law, Elop's wife, who currently lives in the United States, would be entitled to half of the compensation.