A noisy geyser in Yellowstone National Park has roared back to life after three years of silence.
Ledge Geyser is one of the biggest in Yellowstone's Norris Geyser Basin.
"It's really a fun one because it's really loud," said Jeff Hungerford, a park geologist, reported The Post-Register.

The Billings Gazette reported the geyser shoots hot water at an angle up to 125 feet high and a distance of 220 feet.
Yellowstone geologist Jeff Hungerford said Ledge Geyser is noisy because its water and steam must pass through a narrow opening in the ground.
"Because it erupts at an angle, however, the water will sometimes reach the ground 220 feet away," according to the National Park Service website.
Yellowstone has 1,300 thermal features and 500 geysers, more than anywhere else on Earth. Some geysers such as Old Faithful are predictable but most, like Ledge Geyser, erupt erratically.
"Very few of our geysers erupt regularly," Hungerford told the news outlet. "We're lucky to have Old Faithful and others that erupt so frequently that we're able to determine within minutes."
The park's website noted that Ledge Geyser has "erupted at regular intervals of 14 hours" in prior years.
It said, "The geyser became inactive between 1979 and late 1993. It erupted on a fairly regular cycle of every four to six days in 1994 and 1995."
Ledge Geyser is a short walk from Steamboat Geyser, which is the world's tallest, Forbes noted. The Steamboat Geyser began erupting regularly last year after about three years. It most recently erupted earlier this week.
New Thermal Activity

Scientists said they have discovered new thermal activity in Yellowstone National Park in Wyoming that is about the size of four football fields.
Speaking with Wyoming Public Media, United States Geological Survey researcher Greg Vaughan said that the "area used to be covered by trees and now it's an area where there's a bunch of dead trees, bright soil and it's a hot spot."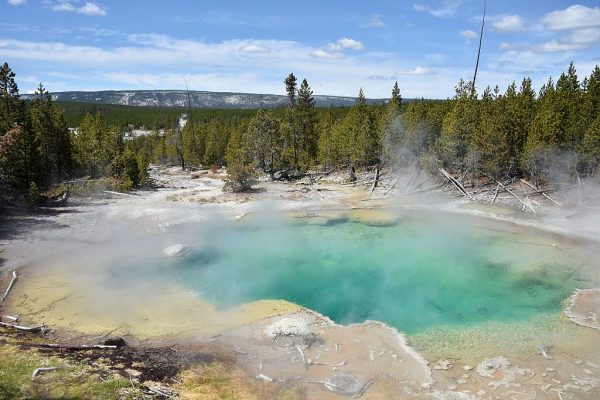 He uses satellites to track thermal areas that measure heat being emitted from the ground.
The hot and corrosive hot spot has "been sneaking up on the park for the last 20 years," he told the New York Times.
"Yellowstone's thermal areas are the surface expression of the deeper magmatic system, and they are always changing. They heat up, they cool down, and they can move around," the Yellowstone Volcano Observatory stated, pointing to the eruption of Ear Spring in September 2018 as a "new thermal feature."
"These sorts of changes are part of the normal life cycles of thermal areas in Yellowstone National Park," it added in a blog post in April.

Michael Poland, the researcher in charge of the Yellowstone Volcano Observatory, has often had to debunk articles saying the Yellowstone caldera, or "supervolcano," is about to erupt. He told the newspaper that the appearance of a new thermal area isn't something to worry about, noting that thermal areas appear and disappear in the park.
The Associated Press contributed to this report.