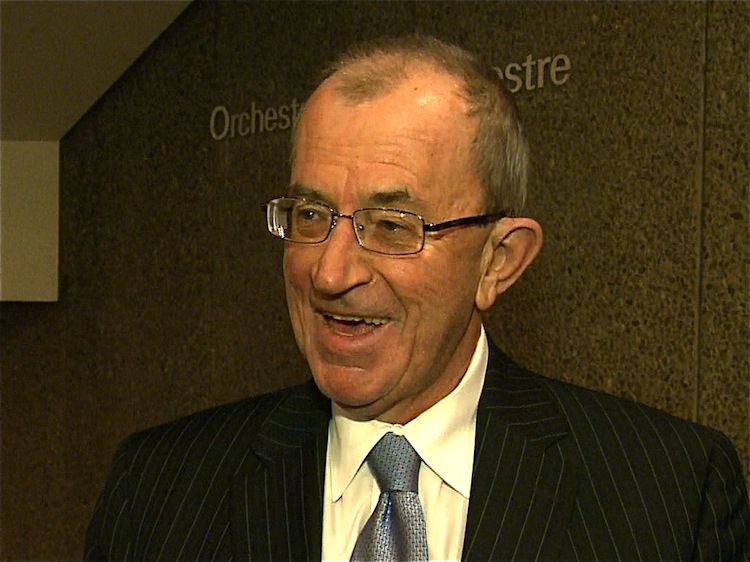 OTTAWA, Canada—Gatineau attorney Louis Pidgeon called Shen Yun Performing Arts' matinee show on Saturday Dec. 29 outstanding and said, "We'll probably go to New York actually to attend the next show."
He was accompanied by his sister Marie at the National Arts Centre on a snowy day in the nation's capital. Mr. Pidgeon had bought tickets to Shen Yun for his sister as a Christmas present.
Shen Yun takes the audience on a journey through 5,000 years of divinely inspired culture. The New York-based performance company includes the world's finest classical Chinese dancers, beautiful handcrafted costumes, detailed animated backdrops, and an orchestra combining Chinese instruments, such as the erhu and the pipa, with traditional ones for a dramatic new sound.
"I like all the colors, the costumes; it was just like a fairy tale. It was marvelous," Mr. Pidgeon said. "No words to express my gratitude for such a nice representation."
According to its website, Shen Yun's costume artists "use bright colors to tailor and recreate hundreds of new pieces each season. Every detail is given meticulous attention and is a result of artistic inspiration and careful polishing."
At the core of the performance is classical Chinese dance, which is capable of showing a wide array of emotions and includes unique dance movements, rhythms, and inner meanings.
Ms. Pidgeon, a yoga teacher, was surprised by the agility of the dancers and learned an interesting fact about classical Chinese dance from the commentary of the emcees.
"I was impressed first by the fact that acrobatics comes from the [Chinese] classical dance," she said. "I was flabbergasted actually."
"You feel that they [dancers] are so light," Ms. Pidgeon said. She also thought the harmony of colors in the numerous dances was unique.
Synchronized group dances make up the majority of the Shen Yun performances. "The dancers, all the movements, just like fluid, like water," Mr. Pidgeon said.
Mr. Pidgeon had already decided to learn Mandarin and has a private professor who will be coming to teach him.
Shen Yun has established itself in the nation's capital and around the world as the premier classical Chinese dance company. This is the seventh season that Shen Yun visits Ottawa after its establishment in 2006.
"We will come next year, that's for certain," Mr. Pidgeon said.

Reporting by NTD Television and Rahul Vaidyanath
New York-based Shen Yun Performing Arts has three touring companies that perform simultaneously around the world. Shen Yun's New York Company will be in Ottawa until Dec. 30 before going on to Montreal, Toronto, and other cities in eastern Canada.
For more information, visit ShenYunPerformingArts.org
The Epoch Times publishes in 35 countries and in 20 languages. Subscribe to our e-newsletter.