No Tiger, No Phil this Weekend at Augusta: Is American Ascendancy in Golf Over?
April 12, 2014 6:17 am Last Updated: April 12, 2014 3:04 am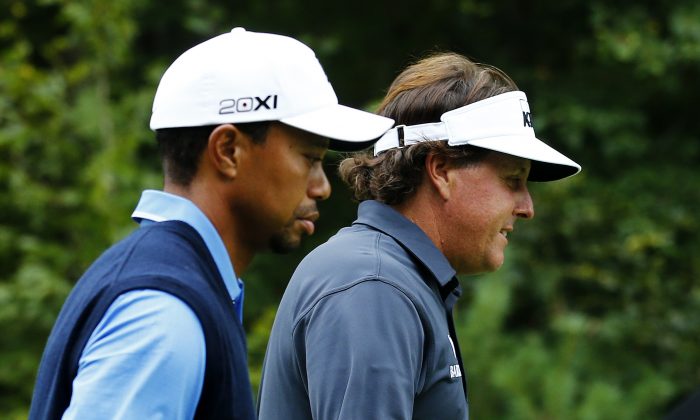 The 2014 Masters marks a milestone few will likely realize. Entering the final 36-holes this weekend at the Augusta National Golf Club, neither Tiger Woods nor Phil Mickelson is around to play the final two rounds. 
That's a first since 1994.
 
Woods, a four-time champion and ranked as the number one player in the world, missed his first Masters this week after 19 consecutive appearances in order to have back surgery—likely sidelining him for an unknown period of time.
 
In Lefty's case, his woeful play the first two days on rounds of 76-73 meant no Saturday tee time—only the 2nd time the 3-time winner has missed the weekend at Augusta.
 
What does this all mean?
 
American golf has lived very comfortably on the considerable shoulders these two titans have provided. In the 69 majors played since Tiger's epic four-round record total of 270 and 12-stroke win in '97, the two have combined for 19 wins, 14 runner-up finishes, and 73 top ten placements. Truly remarkable stuff. Let's not forget the total wins both have earned since becoming the main headliners in professional golf—a mind-boggling 121 wins on the PGA Tour!
 
But now Father Time is entering the picture. Phil is 43-years-old and minus his brilliance in winning The Open at Muirfield in 2013 the constant magic he's provided for quite some time is ebbing significantly. Making cuts is more of an issue than actually contending.
Lefty has had some medical issues and with a family now entering adolescence one has to wonder if Phil can summon four steady rounds or put the same amount of time he's done for so long in remaining a relevant figure.
 
For Tiger, the dogged reminder from press about not adding to his 14 major wins since the epic US Open triumph at Torrey Pines in '08 is an anchor around his leg that only gets heavier with age. In simple terms, both men have got plenty of wear and tear on their respective tires and the physical dimensions they once had in spades over rivals is far less so if nonexistent now.
 
No one can say with certainty when Tiger will return and what his capabilities will be. Yes, Woods did win five times on the PGA Tour last year—but four came at locations where he's been utterly dominant.
 
The burning desire for both Tiger and Phil is winning—not just placing high and gathering money. The competitive fire has driven them at every stage of their golf careers. Yes, there are other solid American players—Bubba Watson can firmly move himself up in the discussion if he can handle the rigors of a 36-hole lead. A second major goes a long way in demonstrating his first win at Augusta two years ago was much more than simply being in the right place at the right time.
 
Yes, there's talent among American golfers but it's been bewildering to see the likes of talented Dustin Johnson still wandering major-less as he enters his 30's. Matt Kuchar is also a skilled player but has not demonstrated anywhere near the capacity to close out events when near the top of the leaderboard. The rapid seasoning of Jordan Spieth—just 20 years old—has been an amazing story but whether or not he can break through in the biggest of big events remains to be seen. Going into the weekend he's just four shots behind the mercurial Watson.
 
Golf in America is facing other parallel issues. The game is not growing and there's been more of an international involvement than ever before. American youth don't see golf as very exciting and given the penchant for immediate positive feedback—the lack of patience among the millennial generation at root here—golf can be a tough chore for those not wired to fight through the early stages in development.
Amazingly, Asian golfers—first on the LPGA Tour and now with a few of the men—have begun to make some movement. Golf's inclusion in the 2016 Summer Olympics could very well mean more countries and players entering the scene.
Professional men's golf in the States is potentially entering the same dark zone men's American tennis faced over a decade ago. Many long-time tennis watchers simply assumed the likes of a John McEnroe and Jimmy Connors would foster a newer breed of similar champions. The silence has been deafening—no men's singles champ in a Grand Slam event from the USA since 2003. And, the future looks no less promising.
With Tiger and Phil both out for the weekend the television ratings will be interesting to see. No question when both men were in the hunt the casual sports fan—beyond the core golf crowd—tuned in to see the action.
Men's golf is spread across the globe. The belief an American golfer would be the dominant force has been a long time given—a manifest destiny from the likes of such icons as Bobby Jones to Ben Hogan to Arnold Palmer to Jack Nicklaus to Tiger.
No question things may not be that ominous but the sands in the hour glass are sliding—quickly. Tiger may yet have a final push—given his stellar career and competitive fire—one should never count him out entirely.
Frankly, the golf ball doesn't care how old you are or what country you're from. Golf is also a game that doesn't owe any player anything. It's all about the given moment. Tiger and Phil captured those moments to heights only attained with the trios of Palmer, Nicklaus and Player and before that with the likes of Hogan, Sam Snead and Byron Nelson. It's about execution under the gun. Tiger and Phil—each so uniquely different from other—never failed to excite, pushing the boundaries to levels never seen.
The final 36-holes this weekend at Augusta has a different flavor—the flowers will bloom spectacularly and no question a champion will wear the green jacket. But, I pine for what these two crusaders made so automatic each spring. It has been said one doesn't know what one has until you don't have it any longer. So true.
M. James Ward, a member of Golf Writer's Association of America (GWAA) and past member of Met Golf Writer's Association (MGWA), has reported on golf's grandest events since 1980 in a variety of forums.