When it comes to Canada's security and defence strategy in a changing world, shifts in the global power structure and technology disruptions are among several pressing issues, yet there's been scant talk about defence matters during the election campaign.
"We are now entering into an international environment that is much more dangerous, one that we need to be thinking strategically for ourselves," said Robert Huebert, a professor and senior fellow with the University of Calgary's Centre for Military, Security, and Intelligence Studies.
"And that's the part that I get so concerned [about], looking at the fact that none of our political parties are even discussing security issues, let alone recognizing the very fundamental shifts that are occurring."
According to Huebert, China's rise and a resurgent Russia have changed the dynamics of power in the world, and there has been shift of focus in the United States when it comes to foreign policy.
"What we're seeing is a rise of a China as a competitor to the United States, something that we just haven't seen before, and every time we have a country with a very different set of values and norms challenging the existing power, conflict is a usual norm of that environment," he said.
Huebert adds that communist China's rise on the world stage is similar to how the Soviet Union solidified its power after the Second World War, as Beijing has been steadily raising its defence spending.
"Back in the 1990s, China had a defence budget that was less than Canada's. Now it's in second place [after the United States]."
Another concern, he said, is the growing use of hybrid warfare, as well as hostile powers' use of unconventional methods such as cyberwarfare and meddling in elections.
Huebert was referring specifically to Russia, but the Chinese regime has been arguably more aggressive in attempting to influence foreign elections.
Richard Shimooka, a senior fellow with the Macdonald-Laurier Institute, also questions the lack of attention on defence issues ahead of the election, especially given the changing "geopolitical structure and the rise of China."
"One of the best examples right now is the challenges with China and [Huawei executive] Meng Wanzhou, and that's really a proxy for a much, much broader and intrinsic conflict that's brewed within the international sphere," Shimooka said.
The Meng case is a perfect example of the challenge Canada faces as it attempts to entwine deeper ties with China and remain loyal to its closes ally and most lucrative trade parter, the United States.
"Some people say we're caught between two countries, but we're part of one alliance. … So understanding how this geopolitical shift is playing out is important."
An area that needs a lot of attention, Shimooka notes, is technological change and its impact on international relations and security issues. Many countries are investing in developing cutting-edge technology in areas such as weapons, cyber systems, and even application of data sciences in predicting battlefield outcomes.
However, Canada's response to changing technology is not up to speed, he said.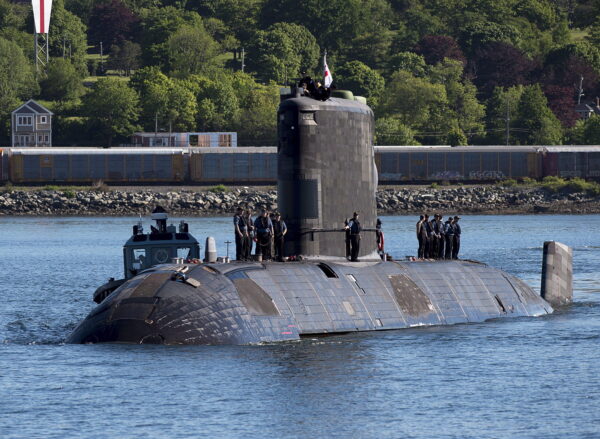 "We haven't really effectively developed the approaches to deal with these new challenges. We have a haphazard approach to it," Shimooka said. "Much more agility is required to conceptually understand what war is going to look like in the future, and how to make decisions on procurement."
But what's really important for Canada is to develop an overarching defence strategy, he adds, rather than going on missions or taking initiatives that are for "retail politics" or just to blindly follow what allies are asking.
"Certainly supporting our alliances is important, and that is a goal, but we have to approach this comprehensively."
Shimooka cites a 2003 quote from Gen. Jonathan Vance, now Chief of the Defence Staff, where he said Canada is a "force provider at the tactical level, and not a force employer at the operation[al] level of war … therefore [Canadian Forces] mission success is defined by its tactical presence in a theatre of operations rather than its tactical performance in achieving Canadian strategic objectives."
A good example of Ottawa just going along with a mission without thinking the strategy through, he said, was Canada's engagement in the yearlong peacekeeping mission in Mali, where Canadian Forces helped with medical evacuations at the request of the United Nations.
"What is our interest in Mali? What is our interest in other countries? It's not clearly laid out."
He said an example of how Canada could be acting more strategically is engagement in the Asia-Pacific region. Canada's allies may not have much interest in helping Ottawa pressure Beijing to release arrested Canadians, he said, because they don't see Canada as being a serious security player in the region and helping them in their efforts.
"I suggest we should try to help our allies [with security initiatives in the region]," he said.
Shimooka notes that Canada has increased its military presence in the Asia-Pacific region recently, by for example sending warships through the Taiwan Strait and taking part in military exercises in the region with allies, but there's no visible linkage to a "coherent approach" or policy regarding the region.
Huebert also thinks Canada should be changing its approach to defence to address security issues on a strategic level, rather than just at a tactical level. This means, for example, thinking more comprehensively about how to strategically address different threats rather than simply making procurements to keep an ally happy.
"[We should start thinking about] what we have to do to make sure that Canada remains secured in this increasingly dangerous international arena," he said.