Ontario Premier Doug Ford and Education Minister Stephen Lecce touted the merits of the province's back-to-school plan on Friday, while Ford defended the decision not to reduce class sizes when students return to school in September.
Despite concerns raised by unions as well as some teachers and parents about elementary class sizes, Ford argued against mandating smaller classes across the province, noting the case load is different in different regions.
"One size doesn't fit all," he said at a news conference at Queen's Park on Aug 7. "We have the lowest number of kids in the classroom in the country."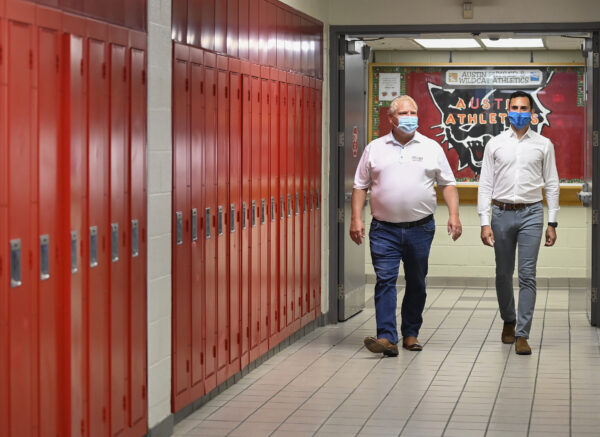 Instead, Lecce stressed some of the safety measures that will be implemented after schools are reopened, such as a mandatory mask policy for Grades 4 to 12, limiting the interactions among students during the school day, and hiring additional custodians and public health nurses.
"We've put the investments in place, we lead the nation in the context of that investment. We're also open and willing and stand ready to listen to our medical leaders to do more to further de-risk the circumstances and keep these kids safe, which is our obligation," Lecce said.
Released last week, Ontario's school reopening plan for the province's 2 million students does not mandate a reduction in class sizes for students from kindergarten to Grade 8, but says these students should be prevented from interacting with peers in other classes.
High school class sizes in all but two dozen school boards are to remain the same as well. In those 24 boards, including the Toronto District School Board (TDSB), high school students will attend class only half the time in cohorts of 15. The rest of the time, they'll do school work remotely.
Parents can also choose to keep their kids out of school and have them learn at home.
Of the $309 million earmarked for the reopening plan, $30 million will go toward hiring more staff.
The province's four major teachers' unions agree that students should be in class full time, but want reduced class sizes. 
Harvey Bischof, president of the Ontario Secondary School Teachers' Federation, told CBC News on July 31 that the reopening plan will fail because smaller classes are "the priority strategy for a safe return to school."
"It's going to leave parents and students and educators in a continued state of anxiety," he said.
Toronto Public Health Expresses Concerns
In a letter to the TDSB, associate medical officer of health Dr. Vinita Dubey said Toronto Public Health is worried about the risk of COVID-19 spreading if class sizes remain the same.
"In elementary classes (junior kindergarten to Grade 3) where masks are not required, smaller class sizes will particularly be important to ensure students can be spaced out to reduce transmission," Dubey wrote.
She said teachers will be able to better control classes and prevent crowding in hallways if class sizes are reduced, noting that smaller classes will also make physical distancing easier.
"Scientifically, it has been shown that keeping a distance of two metres from others works well to prevent the spread of respiratory droplets from one person to another," she wrote, adding that desks should be spaced out accordingly.
New Funding for Child Care
Ford also announced on Aug 7 that $234.6 million would start flowing to licensed daycare providers, First Nations Child and Family Programs, and other child-care operators in the coming weeks. The money comes as part of the Safe Restart Agreement, a $19 billion deal between Ottawa and the provinces and territories, of which Ontario will receive $7 billion.
"This is about giving parents certainty," Ford said, "This is about giving their employers certainty. And above all it's about protecting our kids and the staff who care for them."
Ford said the money will be used to allow the province to provide face coverings for staff in child-care settings, hire new employees if needed, and otherwise bolster cleaning and public health protocols.
Lecce, who oversees the province's child-care portfolio, said the money could also be used to retrofit school-based daycare locations to make them safer, as well as offset revenue losses from the months when child-care centres were closed or operating at a limited capacity.
He said the money would flow in "short order," but did not provide a specific date.
Ontario's child-care centres, shuttered during the early days of the COVID-19 pandemic, have been gradually ramping up operations since June, when the province began moving regions into Stage 2 of its pandemic recovery plan.
Child-care providers have previously said they were not receiving promised funding on time, leaving staff either unable to open their facilities or to safely care for as many children as they wished.
The government has said that daycares have the green light to operate at 100 percent capacity once again as of Sept. 1.
With files from The Canadian Press.