No News From Gao Zhisheng's Wife and Children
August 21, 2006 12:00 am Last Updated: August 21, 2006 12:00 am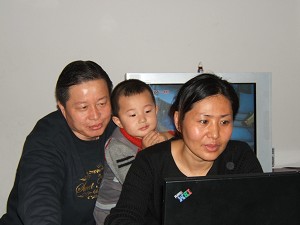 Since August 16, no news has been heard from attorney Gao's wife, Geng He, their twelve-year-old daughter and two-year-old son. Human rights activists in China have called on the outside world to put pressure on the Chinese Communist Party (CCP) to stop committing crimes against the Gao family.
Guo Feixiong, a human rights activist pointed out, "Even during war time, no such things are allowed to happen. Even relatives of the victims of the 1989 student movement were not treated like this. It is indeed a very bad thing to do for the Hu Jintao and Wen Jiabao regime."
Jiao Guobiao, former professor of the College of Journalism and Communication of Beijing University, and Teng Biao, a Ph.D. of the China University of Political Science and Law went to attorney Gao Zhisheng's home to look for attorney Gao's family. Both of them, however, were detained by police and sent to the Xiaoguan police station. Attorney Gao was arrested on August 15, and his wife and children were confirmed to be at home on August 16. However, since August 17, Gao's family members have not been allowed to be contacted or visited.

On August 20, after requests by many friends, attorney Teng Biao, who just returned to Beijing, and professor Jiao Guobiao went to visit Gao's family at 12:45pm. They were arrested and detained at the Xiaoguan police station. Both of their cell phones were cut off. Around 3:30pm, attorney Teng Biao was taken back to the university where he works. His cell phone was again cut off after speaking to an Epoch Times reporter for two seconds. This reporter has not been able to contact Professor Jiao Guobiao.
This reporter called the Xiaoguan police station asking about Jiao and Teng. A policeman answered, "I don't know anything, there are no such people here."
In addition, Beijing human rights activist Zhao Xin was taken by the police for questioning and was sent back to his hometown in Yunnan Province. The content of the questioning is unclear, but it might be related to rescuing Gao Zhisheng. Since August 15, it has also not been possible to contact Beijing resident Ma Wendu, who accompanied attorney Gao twice when he left Beijing.

According to attorney Gao's nephew, Gao Xian, who was released on August 18, his elder brother went to visit their aunt Geng He (Gao's wife) at noon of August 16. As soon as he entered the door of their aunt's home, the elder brother heard Gao's two-year old son crying. Plain-clothed policemen dashed out of attorney Gao's home and a neighbor's home and detained Gao Xian. He saw at least six or seven plain-clothed policemen at attorney Gao's home. Attorney Gao's elder brother is also being monitored in his hometown by local police. They ordered him to report to the police whenever he leaves home.