No New Requirement for Ottawa Buses to Stop at Rail Crossings
April 10, 2014 1:42 am Last Updated: April 10, 2014 1:42 am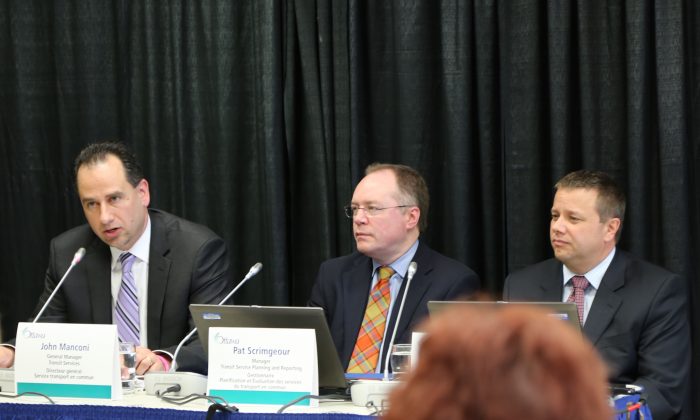 OTTAWA—OC Transpo will not introduce a requirement for city buses to stop at all railway crossings when warning signals are not active, announced John Manconi, general manager of the City of Ottawa's Transit Services Department, on April 9.
After a city bus collided with a VIA Rail passenger train on Fallowfield Road on Sept. 18 last year, some city residents think that passenger safety will increase if buses always stop at railway crossings.
Pat Scrimgeour, manager of the city's Transit Service Planning and Reporting Branch, explained that protected crossings have lights and warning bells to let drivers know a train is approaching. Some also have gates—an arm or barrier that is lowered—to keep traffic from crossing the tracks when a train is nearing.
Meanwhile, unprotected crossings have only the crossbuck (x-shaped sign) to let drivers know where railway tracks intersect with the road.
OC Transpo buses do not cross any unprotected crossings, noted Manconi. 
Scrimgeour said the current procedure is for bus drivers to look for approaching trains while hovering their foot over the brake pedal when they are nearing protected crossing sites and the warning lights and bells are not activated.
The city asked road/rail safety experts MMM Group to assess the safety of its current procedures with regard to rail crossings and to answer the question: Should transit buses stop at all railway crossings even when the warning signals are not activated?
Geoffrey Millen of MMM Group presented the company's findings and recommendations. He cited a 1985 U.S. Federal Highway Administration (FHWA) study stating that not stopping at railway crossings increased safety, while stopping increased the risk of crashes as well as crossing time.
"Not requiring stops would result in a net annual decrease in train-involved accidents for passenger buses of 17.4 percent," the study noted.
"The literature indicates that stopping these buses at appropriately equipped crossings will likely result in more collisions overall at the crossing." 
The study also said that there would be a "minor reduction in vehicle hitting train collisions (3.3 percent)." 
Since there is no quantitative evidence to support stopping and the current practice is defensible, Millen said his company's recommendation was to not change the current OC Transpo procedure. 
"The current 'no stop' policy for actively protected crossings is appropriate," he said.
The Transportation Safety Board of Canada will assess whether buses should be required to stop even when warning signals are not actively flashing or sounding while it is investigating the Fallowfield Road crash.
Based on an MMM Group recommendation, the city will install gates at four crossings that don't currently have a gate and where there isn't an alternate route that can be used instead. The four sites are on Herzberg, Lester, March, and McCarthy roads. 
Additionally, two ungated crossings in Carp that intersect with railway tracks will be reviewed for options.