Britons will not need to stockpile food as they prepare for possible disruptions a no-deal Brexit might cause in the New Year, UK Business Secretary Alok Sharma said on Monday.
If Britain and the European Union fail to reach a free trade agreement by the end of the Brexit transition period on Dec. 31, the two sides will start trading on World Trade Organisation (WTO) terms, with tariffs or taxes being levied on bilateral trade in goods.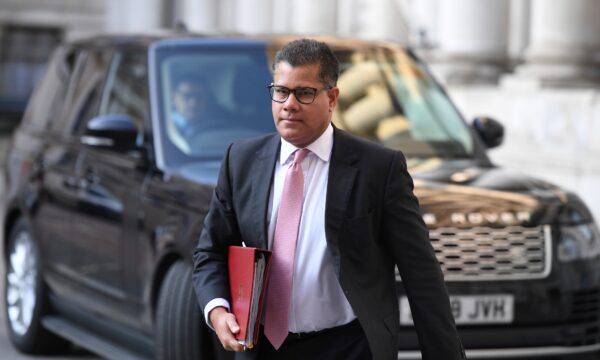 Talking to the BBC's Breakfast programme, Sharma said "I wouldn't advise people to stockpile."
He admitted prices could rise as a result of a no-deal Brexit, but he insisted the potential impact is "less than 2 percent," though "there will be certain products where it may be a little bit more."
Sharma said Britain "had the same discussion" about stockpiling during the first national lockdown, which the government imposed in March to stem of the spread of the CCP (Chinese Communist Party) virus, which caused the COVID-19 pandemic.
"At that point, there was all this discussion about people stockpiling. There was really no need," he said, adding "I'm absolutely confident that that will still be the case at the end of the transition period."
The British Retail Consortium (BRC) also advised people not to stockpile food, but the business group said supplies of fresh fruits and vegetables will bear the brunt of no-deal disruptions.
"While no amount of preparation by retailers can entirely prevent disruption, there is no need for the public to buy more food than usual, as the main impact will be on imported fresh produce, such as fresh fruits and vegetables, which cannot be stored for long periods by either retailers or consumers," Helen Dickinson, BRC chief executive said on Sunday.
"Without a deal, the British public will face over £3 billion [$4 billion] in food tariffs and retailers would have no choice but to pass on some of these additional costs to their customers who would see higher prices filter through during 2021," she said in a statement emailed to The Epoch Times.
"With many people's finances already strained by the economic impact of coronavirus, households can ill-afford a significant rise in food prices. For the sake of customers and businesses around the UK, we need a deal in the next three weeks," she added.
The UK's Food and Drink Federation also said a no-deal scenario would cause disruptions to the food supply chain in the UK, and especially in Northern Ireland.
Lily Zhou contributed to this report.