No felony charges will be filed against a Minnesota Democrat who threatened to burn a city down during a Black Lives Matter event outside the home of a police union president over the weekend.
John Thompson, a left-wing activist who won a primary race for House District 67A last week, joined others Saturday in gathering outside the residence of Bob Kroll, the Police Officers Federation of Minneapolis, and Liz Collin, a reporter for WCCO.
The protesters want both Kroll and Collin fired.
During the event, Thompson and others were filmed taking a bat to effigies of the couple. Thompson also, within earshot of children, threatened to burn the city of Hugo down.
In a joint statement on Monday, Washington County Sheriff Dan Starry and County Attorney Pete Orput said Thompson "spoke and chose divisive, hurtful and inflammatory rhetoric to include berating children who were present."
"We have both received much communication regarding what was said. After investigation, the comments made by Mr. Thompson, though grossly inappropriate, do not violate any felony statute. We will continue further review of any other violations of state law or city ordinance, while allowing for First Amendment protected speech," they said.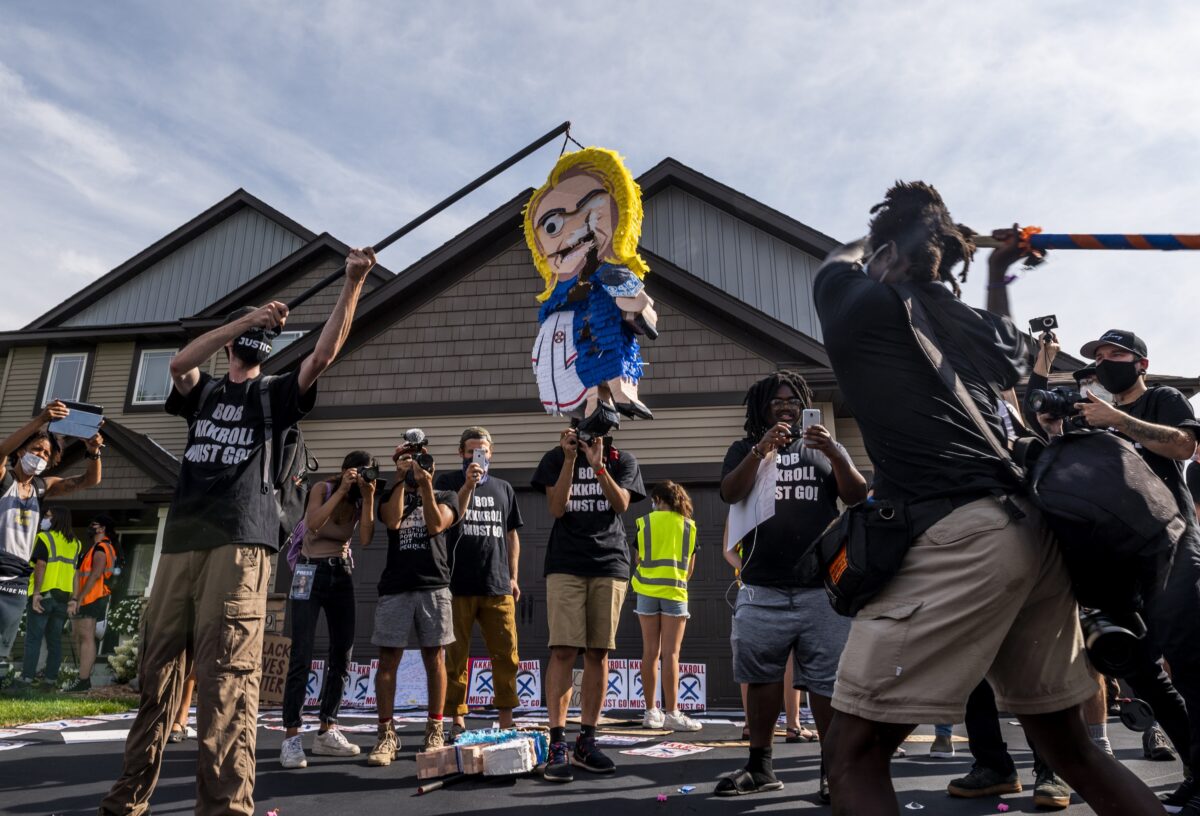 WCCO and the police union didn't respond to requests for comment.
In a statement on Wednesday, the Minnesota chapter of the Society of Professional Journalists said it "supports the public's constitutional right to protest peacefully, but views the destruction of Collin's image on her private property to be a direct threat against her as a journalist."
"We encourage the general public to use respectful and peaceful means to communicate dissatisfaction with journalists' coverage, such as contacting them or their supervisors directly or demonstrating outside of their place of work, rather than using threats and intimidation to attack them personally. We also urge media outlets to address concerns about conflicts of interest in a timely and transparent manner," the group said.
"At this moment in particular, it is essential that the industry do its part to maintain the public's trust."
Thompson took to Facebook to apologize, saying his comments "were not helpful."
"Inflammatory rhetoric is not how I want to address the important issues we're facing, and I apologize," the Democratic–Farmer–Labor candidate said. "I'm not apologizing for my passion to fight injustice."
Ken Martin, leader of the state party, said in a statement: "I'm grateful for the work John is doing to combat systemic racism, and I'm glad that he recognizes yesterday's rhetoric was inflammatory."
Minnesota House Republicans said Thompson "led a disturbing protest in Hugo, harassing neighbors and screaming profanities at children."
They called for people to donate to Elliot Tengen, a Republican candidate running against Rep. Ami Wazlawik, a Democrat who represents most of Hugo.
Jennifer Carnahan, president of the Minnesota Republican Party, said on Twitter that the party "stands solidly with Bob Kroll and our police against police hate, unlawful riots, mob rule and intimidation tactics."