'Nine Commentaries': Three Years, 28 Million Voices for Freedom
November 29, 2007 12:00 am Last Updated: November 29, 2007 12:00 am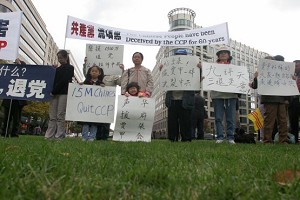 China's 17th Congress of the Chinese Communist Party, which took place last month in Beijing, seemingly concluded without a glitch. However, beneath the highly polished surface of modern China, a tide of dissent continues to grow across the full spectrum of society.
At first glance, the Chinese Communist Party—which now claims membership of around 73 million people—would appear set to continue ruling China indefinitely, and with a tight grip on their reigns of power. Party leader Hu Jintao reassured the delegates that the Party would continue its role in providing "the core of leadership in directing the overall situation" of China.
Outside the congress, there was nary a protest in sight, apparently confirming for the approximately 1,000 journalists present that the Party remains firmly entrenched in power.
That's the China that foreign media are permitted to see: the image of a rising, stable, and, as President Hu puts it, "harmonious" nation. But flying beneath the radar of most international observers is a China that is moving in another direction: towards democracy and freedom from communist rule.
The proof is in the numbers. The number of Chinese people to have publicly severed ties to the Chinese Communist Party (CCP) and its affiliate organizations reached 28 million this month.
The withdrawals from the CCP began in response to an editorial series first published by the Chinese-language Epoch Times three years ago this week, on Nov. 24, 2004. Nine Commentaries on the Communist Party, excerpts of which are published weekly in the Epoch Times print edition, details the history of the Chinese Communist Party and its decades of human rights violations, which have led to the deaths of up to 70 million people in peacetime.
The result has been a massive, grassroots, and largely underground movement for peaceful political change in the world's last communist superpower.
Collecting Statements
Some people manage to break through China's Internet blockade to post their withdrawal statements online at the Chinese-language Epoch Times Web site. This requires special software however, and the majority of China's population has never used a computer.
Many make phone calls to volunteer-run "service centers" established by Chinese dissidents overseas who register the withdrawal statement for them. They get the number for the service center through email, automated phone call, and fax campaigns as well as through local residents in China circulating flyers, booklets, and banned copies of the Nine Commentaries.
For those able to travel to Hong Kong, dissident volunteers set up alongside street vendors to accept withdrawal statements from the CCP—one such station in Hong Kong collects more than 10,000 such statements from Chinese tourists per year.
Yet for many others who lack this same access, they have taken to publishing their withdrawal statements in public areas in China, such as lampposts, overpasses, and billboards on busy streets.
Frightened for their safety, the majority chooses to use aliases for these statements. This has left a loophole for many to disregard the growing number of withdrawal statements; however, in a society as oppressive as that of communist China, there can be no other way.
It's a phenomenon that should give pause to China watchers and policy-makers. If the movement of withdrawing from the Communist Party is any indication of what's happening on the ground, China may now be in the midst of a silent revolution.
From Farmers to Officials
Yi Ping, a farmer from Inner Mongolia, is typical among Chinese peasants.
Like so many of China's 900 million rural citizens who've been left behind amidst the economic boom in the cities, Yi Ping has experienced firsthand how the Chinese Communist Party turned its back on the peasants that lifted it to victory in 1949, relegating them to the status of second-class citizens.
In China, discontent over issues like official corruption, environmental degradation, and land evictions have lead to a tenfold increase in protests annually. According to a report by China's Ministry of Public Security there were 84,000 large-scale protests in 2005 compared with a mere 8,700 in 1993.
But rather than resorting to open protest like so many of his compatriots, Yi Ping has chosen to add his voice to the millions who have withdrawn from the CCP.
"Being able to send a few satellites up into space does not prove that the common Chinese people can put food on the table or clothes on their backs," said Yi Ping in a statement published on the Chinese-language Epoch Times Web site. "Chinese farmers are suffering from extreme poverty as we speak. I hereby withdraw from the Communist Youth League."
Not only those who have been disenfranchised or suffered abuse have publicly withdrawn from the Communist Party. Some of the Party's best and brightest have also recanted.
High-profile athletes, academics, and some of China's most prominent attorneys, such as Gao Zhisheng, have renounced their previous affiliations with the CCP. Gao recently wrote a letter to the U.S. Congress requesting a boycott of the Olympics because of China's rampant human rights abuses. He was quickly arrested, and his whereabouts are currently unknown.
Sitting government officials have also stepped forward. Wang Zhaojun, standing member of the Anhui Province Political Consultative Commission, just wrote a 40,000-word letter to Hu Jintao and Wen Jiabao calling for sweeping reforms.
Other civil and military officials have also quit. For many of them, it wasn't personal grievances that prompted them to take a stand against the ruling party, but their hope for a more democratic China and an end to religious and political persecution.
Chen Yonglin, for example, was serving as the First Secretary of the Chinese Consulate in Sydney when he defected and quit the Communist Party. He explained his decision to renounce the Party by detailing how he had been responsible for monitoring and harassing dissident groups such as democracy activists and the Falun Gong.
"I left the Chinese Consulate to seek spiritual liberation and freedom of conscience," said Chen after leaving his. "I hope I can start a new life. I also hope what I did will awaken more people who have a conscience and who are in the CCP system to be able to escape from the CCP's attempt to dominate their spirit."
Chen went on to capture headlines in Australia and around the world for exposing Chinese espionage tactics. His defection inspired others who stepped forward to share their knowledge of the CCP's crimes.
A statement published on behalf of four bureau-level officials from Harbin Province recently stated, "We are all officials at the bureau level. Some of us have been following along in the Chinese Communist Party's bureaucratic system for 30 years, during which time our souls have been deeply asleep. To be accurate, our souls have been enslaved and exiled for 30 years. Today we have awakened from the nightmare and we are retrieving our lost souls.
We are so shocked at the loss that we feel like crying. The CCP has so enslaved our true thoughts and souls that we became homeless and wandering orphans. Our bodies have been reformed into empty shells without thinking of our own or human nature, but with only "Party principles." Sadly, we were not aware of this but instead felt very good all along!"
The movement to quit the CCP began with the publication of Nine Commentaries on the Communist Party by The Epoch Times. It is simply a historical account of the crimes committed by the CCP, how they seized and retained power in China, and how they continue to deceive the populace today.
It is banned in China, yet its impact there continues to grow.