Nine Chinese Provinces Want to Double GDP, NPC Chief Says No
March 10, 2011 12:14 am Last Updated: October 1, 2015 5:24 pm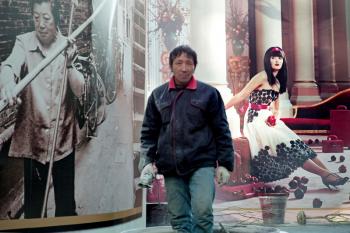 The Vice Chairman of the National People's Congress (NPC) Standing Committee has poured cold water on the idea that provinces will be able to double their GDPs within the next five years.
Chen Changzhi spoke at a discussion group on Ningxia Province's government work report, held during the "Two Conferences" in Beijing. He said in his recent travels that fully nine provinces were intent on the highly ambitious plans to double their GDPs. He was nonplussed.
"The development in some places is already fast, and now they want to double their GDPs? Your resources, your environment, can they take that?" he asked, according to reports .
Others noted GDP isn't everything, given that while per capita GDP in China more than doubled since 2005, the sense of well-being among people didn't go up along with it.
During his work report, which he read out for two hours over the weekend, Chinese Premier Wen Jiabao stated on March 5 that the Chinese regime's 2011 economic growth target is set at around eight percent. He also pointed out that this year's top priority task is to fight inflation, without sacrificing rapid economic growth and the creation of a robust job market.
Chen tried to put forward similar ideas: "The achievement of local officials does not only lie in the GDP. What about environmental protection, energy reduction and the efficiency of economic development? All these are achievements. Without working on efficiency, the faster the development, the greater the waste of resources."
Zhang Xiaochong, Director-General of the International Cooperation Center of the National Development and Reform Commission gave the keynote speech at the International Cooperation Forum of the 2010 First Annual Low Carbon Innovation Forum in August 2010.
He said that China's GDP is roughly eight percent of the global GDP, but China consumes 18 percent of the world's energy, 44 percent of its steel, and 53 percent of its cement. Such a huge consumption of resources and the resulting environmental impact makes China's long-term development problematic.
GDP and Happiness at Odds
The Yangzi Evening News reported on March 4 that Chen Lingfu, the vice president of Nanjing Normal University and a CPPCC National Committee member, recently said during a CPPCC meeting that while China's per capita GDP has more than doubled since 2005, peoples' happiness did not double. Housing, medical care, education, pensions, employment, income distribution and other issues remain outstanding.
Chen said, "What we need is to have all people get more tangible benefits from the GDP."
Chen also said that at present, officials at the local level do not usually address things that people urgently need. Roads are built at tourist sites, as well as luxury office buildings and hotels. But average people are concerned with the practical matters of smooth commutes, more nursing homes, and kindergartens.
Sheng Laiyun, China's National Bureau of Statistics spokesman, stated in November 2010 that based on the United Nations income criterion of $1.00 per person per day, China has 150 million poor people it must support. If prices continue to rise, it is likely that many families will fall below the poverty level.
Mainland netizens are most concerned about whether people will benefit directly from doubling the GDP.
Netizen "?XMHOUSE" raised a practical question: "Double the GDP, double the price of housing: why not double the salary?"
"Leo" said: "True wealth lies in the riches held by people. If people are not rich, it does not matter how high the GDP is."
Read the original Chinese article.