Buffeted by insurgent attacks in Nigeria's northeast and northwest, the Nigerian army is bracing itself for more challenges, including mega-fraud by arms procurers.
"Nigeria's army is stretched thin," according to David Otto, a London-based defense consultant for the Nigerian Defense Ministry. The competition between two terrorist groups claiming the mantle of ISIS was decided in late May with the suicide of longtime Boko Haram leader Abubaker Shekau by self-detonation.
His death allowed the larger and better-organized ISWAP terrorist group, previously part of Boko Haram, to solicit the loyalty of Shekau's remaining terrorists and forge a unified effort to create a caliphate. It didn't take long for the other shoe to drop.
ISWAP terrorists struck a Cameroonian military base at 4:00 a.m. on July 24, killing eight soldiers, and struck again in the same area on the evening of July 26, according to reporter Akua Nalova Mambeh, covering for The Epoch Times. The base is on the border with Nigeria in the Lake Chad region.
Previously, a combined force of 21 ISWAP and Boko Haram terrorists stormed the town of Dabna, Adamawa state, on motorcycles, in a pre-dawn raid on July 7. The brutal attack killed 24 civilians, most of them members of Dabna's Lutheran congregation, local news reporter Tom Garba told The Epoch Times.
"A local man in Dabna said he saw seven motorcycles driving into the village with two or three persons on top, some were wearing army uniforms while most of them were wearing native regalia of Hausas, and their heads turbaned," Garba told The Epoch Times in a text message. The raid destroyed hundreds of shops and two churches. "Most of those killed are members of the Lutheran Church of Nigeria and the Awareness Church."
ISWAP issued a propaganda video dated July 23 that projected a confident new face for the group and, for the first time, mentioned the United States, according to Otto.
In the passing reference, U.S. troops, the Nigerian army, and the multinational force in the Lake Chad region were denigrated as "kafir," meaning outcasts, Otto said.
The video attempts to recruit new soldiers for ISWAP, according to Ali Sada, an Arabic translator and publisher of the respected Arabic-to-English news site Daesh Daily. "Their message is to people living in countries near to the Islamic State, urging them to migrate to their lands," Sada told The Epoch Times.
Bandits
Even as the Dabna raid unfolded, the Nigerian army was reacting to a devasting massacre in the northern state of Katsina on July 5, according to security services company GardaWorld.
"Suspected bandits killed at least 19 people in an attack on Tsauwa village, Katsina State, overnight July 5-6. The bandits also reportedly set houses and granaries on fire and looted valuables and animals," the company reported.
The bandit attack is part of Nigeria's undeclared insurgency attributed to Fulani terrorism, which has so far coerced hundreds of thousands of farmers to abandon their properties in the north and north-central states. Nigerian politician Femi Fany-Kayode says the death toll from Fulani terrorism exceeds 500,000, more than those killed by ISWAP and Boko Haram combined since 2009.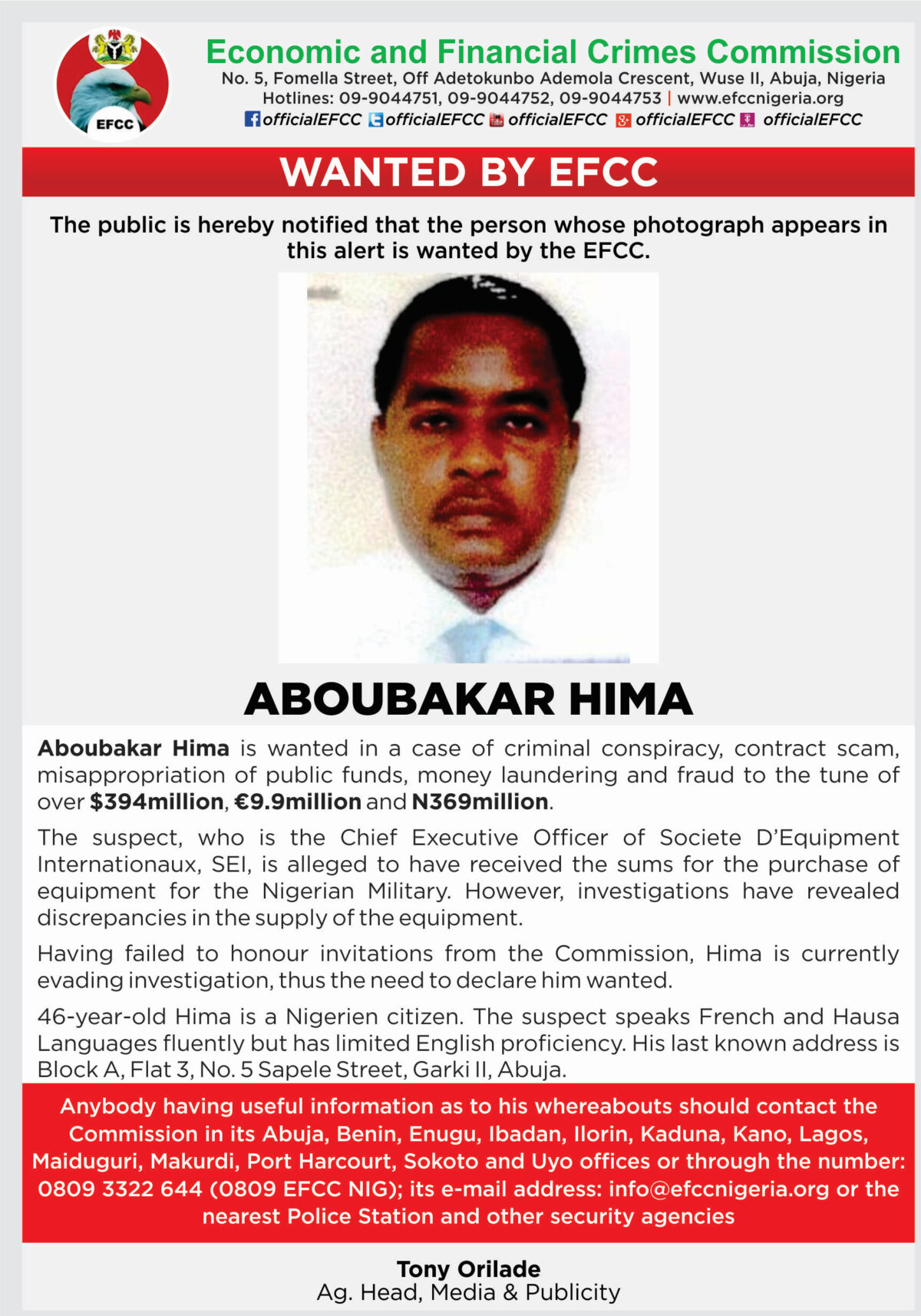 Corruption
Yet allegations of fraud and embezzlement by Nigerian security chiefs and their trusted arms contractors have sabotaged the process of acquiring aircraft, guns, and ammunition that the army needs, according to the U.S. Congressional Research Service.
"In Nigeria, procurement fraud, patronage-based personnel management, and outright embezzlement have left frontline troops severely under-resourced," the Congressional Research Service reported in March. "A 2018 study by the Carnegie Endowment for International Peace found that decades of unchecked corruption have hollowed out the Nigerian military and security services."
At the center of current controversies about corruption is Aboubakar Hima, who is wanted for defrauding the Ministry of Defense of $394 million.
In July 2020, the Nigerian Economic and Financial Crimes Commission targeted Hima, 47, for "criminal conspiracy, contract scam, misappropriation of public funds, money laundering and fraud." Until last year, Hima resided in the posh section of Abuja, known for walled three-story mansions and shady trees. He is still at large.
The Nigerian public has yet to hear from officials on why Hima had gained such a high level of trust.
Hima's enabler in the $394 million scam reportedly was the now-disgraced former Col. Sambo Dasuki, then the country's security chief, who was arrested in December 2015 and served four years in prison for fraud and other crimes. Earning a salary of $40,000 a year, Dasuki somehow managed to own a hotel and house in Abuja and was building a mansion at the time of his arrest, according to media reports.
Critics have blamed President Muhammadu Buhari for the Hima affair.
Dasuki had been an army major during the military coup of 1983 that first vaulted Buhari to power for two years. In 1999, military rule ended in Nigeria, and Buhari began running for president. Three months after Buhari won the Nigerian presidency in 2015, he initiated a probe to review the procurement scandal that had unfolded under the administration of Goodluck Jonathan (from 2012 to 2015), and Dasuki was prosecuted.
Lagos attorney Uchenna Leonard expressed Nigerians' frustration in a story published last year by Business Hallmark News. "Imagine former President Goodluck Jonathan was harassed and called names for trying to purchase arms from the black market to prosecute the war against Boko Haram. Yet a semi-illiterate Fulani [Hima] who could not speak good English scammed the government of billions of naira," Leonard wrote.
The lawyer went on to say: "The present government reeks of corruption. He couldn't have achieved the heist without the active support of people in power. He and his collaborators in government and the military should be prosecuted."