The Nigerian Air Force has used recently acquired fighter-bombers to bomb the hideouts of terrorist bandit gangs in the country, prompting gang warlords to release abductees and extend peace offers to the government.
Two feared terrorist leaders in battle-scarred Zamfara state, Nigeria, are now offering to call it quits, provided that they can escape the long reach of the law.
Among them, Bello Turji, 33, commander of at least 400 heavily armed terrorists, has subjugated more than 100 towns and villages in eastern Sokoto state, Nigeria, since mid-2021 and forced the communities to pay levies in the form of cash, produce, or cattle, lawmakers told The Epoch Times.
Another terrorist looking to make peace with the Nigerian government is Alhaji Halilu, who commands a large gang network in West-Central Zamfara.
Both terrorists are in negotiations with government officials for a conditional amnesty, Murtala Ahmed Rufa'i, a social historian at Usmanu Danfodiyo University in Sokoto, told The Epoch Times.
For more than two weeks in December 2021 and January, the Nigerian Air Force has bombed the forest hideouts of several of the 17 major terrorist gangs that have terrorized the states of Sokoto, Zamfara, and Kaduna for years.
Turji, one of the youngest warlords, addressed a three-page open letter to President Muhammadu Buhari, Zamfara Gov. Bello Matawalle, and the emir of Shinkafi, a local government area in Zamfara.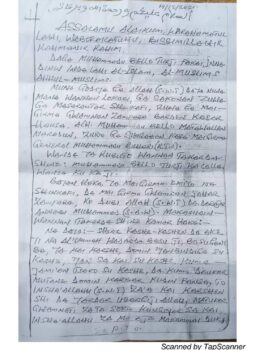 Turji and most of his soldiers are believed to be illiterate, yet a handwritten letter with his name dated Dec. 14, 2021, offers states that he'll surrender his arms, provided that his grievances will be remedied. His proposal for an amnesty is under study by Nigeria's governing officials, according to Rufa'i, an authority on bandit gangs. The letter was dictated by Turji and written by a literate member of his gang, he told The Epoch Times.
Armed feuds between land-owning farmers and semi-nomadic herders sparked the emergence of large terrorist gangs 13 years ago, according to Rufai's book "I Am a Bandit." Farming communities defended themselves against bandits by forming local militia dubbed "vigilantes." Turji offered in his letter to disarm only if the vigilantes would surrender their weapons as well.
"Once government will disband vigilantes, by God's grace we will lay down all of our weapons," the letter reads.
The bandit leader represented himself as a proxy for all of the terrorist gangs and proposed a grand peace parley.
"We want to have a meeting with the leaders of this country of ours as well as respected Islamic clerics all over the country. If this will happen, I, Muhammadu Bello Turji Kacalla, promise to retrieve all weapons used for terrorism and surrender them to the Nigerian authorities," the letter reads.
While Turji may speak for between 400 and 2,000 criminals, the many terrorist gangs spread out over five states in northwest Nigerian number more than 10,000 and answer to other warlords.
Turji, having displaced scores of village leaders with his own terrorist captains, also insists that he doesn't pose a challenge to Nigerian authorities at the federal or state levels.
"I assure you that we are not fighting the government," the letter reads.
Turji's terrorist gang is among the most notorious for setting up roadblocks to kidnap motorists for ransom. His gang also rapes women in communities that resist his levies, and they rustle vast herds of cattle.
In late November 2021, the Nigerian Ministry of Justice declared that the gangs would fall under the category of terrorists, enabling the government to use A-29 Super Tucano Turboprop bombers recently acquired from the United States to bomb the gangs.
A Nigerian Air Force strike in the early hours of Jan. 1 in the village of Tsamre, Nigeria, in Birnin Magaji County on the eastern edge of Zamfara, killed two of Turji's fellow warlords, Alhaji Auta and Kachalla Ruga, according to media reports. Dozens of terrorists were killed on the same day at the funeral gatherings of the warlords, Nigerian media outlets reported.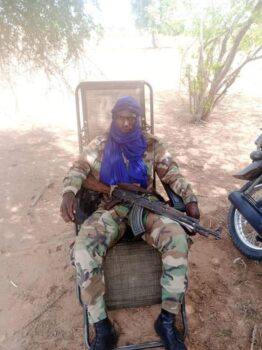 "The tide is turning against the bandits," said David Otto, a London-based defense consultant to the Nigerian military who credits air strikes for putting bandits on the run.
"We see two measures of success. First, the decapitation of bandit leadership, and second, we see a large number of abductees released by bandits without conditions. That's why Bello Turji has called for negotiations, but the opinion of the top military is that the time for negotiations is over."
At least 97 kidnapping victims were rescued by a combined force of police and vigilantes on Jan 3, when police "stormed Kunchin Kalgo forest in Tsafe County," according to a statement from Zamfara Commissioner of Police Ayuba Elkana, who called the operation a "landmark achievement."
Rufa'i challenged that claim.
"All of the abducted people were released voluntarily by Turji," he said.
The victims reportedly had been taken from their villages in Gusau County in East Zamfara and held for more than 60 days. Police identified the kidnapper who had held the victims as Alhaji Ado Aleru, who was a regular visitor to the village of Yan-Kuzo, Nigeria, in Chafe County of Zamfara state.
Aleru is believed to be involved in murder, kidnapping, purchasing, the re-selling of the abductees of other gangs, and rape, according to Rufa'i's research. The neighboring Katsina state government declared him wanted and has offered a bounty of 5 million Naira ($12,000) for information about his location. He was observed attending functions in Yan-Kuzo, according to Rufa'i.
The bombing campaigns have been lauded by Nigeria's northern-state governors, including Kaduna Gov. Nasir El-Rufai, who told Arise TV on Jan 3 that he urged "carpet bombing of bandit hideouts in the forest."
"These bandits operate in the periphery because their hiding place is in the forest. It's a major problem," El-Rufai said.
The governor acknowledged that innocent civilians would be killed by such measures, but urged the tactic, nonetheless.
"I've always believed that, you know, we should carpet-bomb the forests. We can replant the trees after. Let's carpet-bomb the forests and bomb all of them," he said.