Nibali Leads Horner by 28 Seconds as Vuelta a España Heads Into Final Stages
September 9, 2013 12:41 pm Last Updated: September 9, 2013 12:48 pm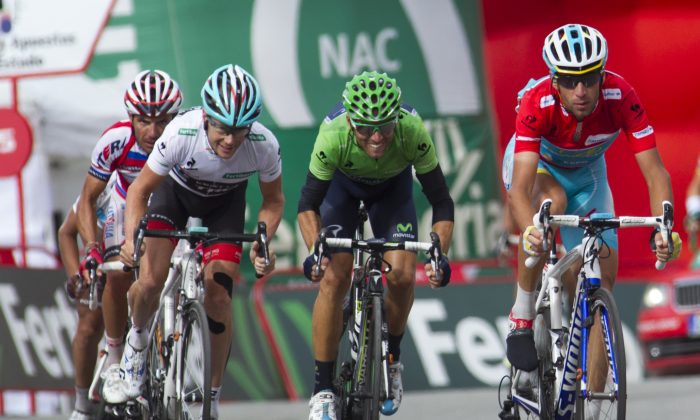 Vincenzo Nibali is having the year of his career. He opened 2013 with a win in the cycling season's first Grand Tour, the Giro d'Italia in May, and now leads the final Grand Tour, the Vuelta a España.
Having spent a few seasons helping Ivan Basso at Liquigas which became Cannondale, Nibali moved over to Astana, where he rides as the team leader. He is earning the position, stepping up from domestique to General Classification contender to race winner.
Vincenzo Nibali had best be prepared to work a lot harder if he wants that second Grand Tour win. The 28-year-old Italian faces a serious challenge in the Vuelta from a rider who turned pro when Nibali was only eleven years old.
American Chris Horner, just six weeks from his 42nd birthday, has returned from early-season knee surgery in some of the best form of his lengthy career.
Horner, riding for RadioShack,  has already won two stages of this year's Vuelta and has worn the leader's red jersey twice. Only 28 seconds back with three titanic summit finishes left in the race, Horner has an excellent chance to become the oldest man ever to win a Grand Tour—his first, if he can pull it off.
Horner earned the red jersey twice with solo attacks on summit finishes, and went into the first rest day with a 43-second lead on his Italian rival. Nibali won back the jersey in the next stage, an individual time trial, where the Astana rider was decidedly more comfortable. Horner ended the day in fourth overall, 46 second down.
Nibali protected his lead thorough some truly brutal mountain stages—long, steep climbs in cold wet weather which forced 45 riders to quit the race, some suffering serious hypothermia. On the worst day of riding in the lives of most of the peloton, the Italian gained another four seconds on the American, who couldn't push his half-frozen body even a little faster.
Then, in Stage 16, before the last rest day, it was Vincenzo Nibali who came up short. After the frigid agony of Stage 14 and the long, mountainous challenge of Stage 15, it was on a shorter stage on a sunny day with only one really hard climb that the Astana team leader ran out of gas.
Here Horner found some energy in the closing two kilometers of yet another summit finish, to pull back 22 seconds from the race leader. Here it was Vincenzo Nibali who couldn't force his body to go any faster, as he watched his rival disappear up the mountain.
The two riders are almost perfectly matched in talent and ability. On many stages neither has been able to gap the other—each pushed the other to the limit, but hit his own limit in so doing. The race will come down to who has the first bad day—if one forgets to eat for a few minutes, or forgets top drink, gets a little too little sleep one night, the other will enter Madrid in red.
For Vincenzo Nibali, it would be the capstone to what is by far the best year of his career—two Grands Tours in a single season. He is on form, he has a decent team, and he wants it.
Quite possibly Chris Horner wants it more. The veteran American knows he might never have a chance this good. Everything has gone his way in this Vuelta: many of the top contenders have had a bad day or two, some have fallen to the weather, and some are resting up for the World Championships which start in two weeks.
On top of that Horner, because he needed to recover from surgery, came into the race with fresher legs than his rivals. Horner had not competed since may when he started the Vuelta; he spent his time in training and rehabilitation, not in the debilitating environment of stage racing, where riders rarely get the chance to fully recover between efforts.
Of course, wanting it is not enough; the will can want but the body might not be able to deliver. Vincenzo Nibali has the unbeatable edge of youth—enough experience to manage his race, and far fewer miles on his legs than Horner has ridden in his career.
And the Astana rider still has a 28-second lead.
Whoever wins, the remaining stages will be an ultimate test for these two riders. Each will have to be as near to perfect as possible for every moment of the next week.
Not just on the bike, not just on the climbs; each will need to ride even the flat stages perfectly, will need to watch his diet, his rest, his attitude. Each will have to master his emotions and maintain his attitude, will have to guard his health and his free time.
Most of all of course, each has to save as much energy as possible, to be ready for the one or two explosive efforts which will likely decide the race, quite possibly on the final summit finish of the race, Stage 20's Beyond Category Alto de l'Angliru.
Whichever wins, a bit of cycling history will be made.