National Health Service (NHS) hospitals could be carrying out 280,000 more non-emergency operations per year if schedules were better organised, according to new research.
An analysis of 100 NHS Trusts in England has reportedly revealed that more than two hours per day are wasted in operating theatres.
The study by regulator NHS Improvement said that "avoidable factors" such as late start times and early finish times led to the time loss, the BBC said.
In 2016, the period analysed by the regulator, about 1.64 million routine operations were carried out, including surgical procedures to the eye, ear, nose, and throat and orthopaedic procedures.
"The logjam effect is a very major problem because the hospitals are completely full virtually all of the time," said Professor Derek Alderson, president of the Royal College of Surgeons to the BBC. "So if you need an intensive care bed and yesterday's patient is not well enough to leave the intensive care unit, that day's operating list cannot start."
He added, "I think the NHS can always be more efficient and I think people have worked very hard to try to make it more efficient, but I don't think those savings are going to resolve the ever-increasing demand that is being put on the health service."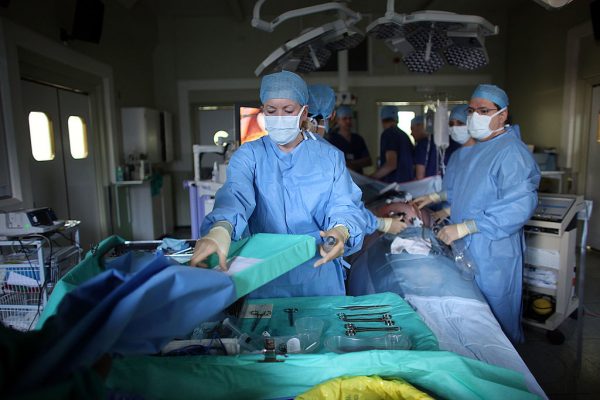 The study allowed for 5 percent of the time to be lost due to last minute cancellations.
The British Medical Association has said the NHS is at a "breaking point." Dr. Mark Porter, the BMA council chair, wrote a letter to Prime Minister Theresa May in June.
"Year on year real-term cuts to pay and the worsening state of the NHS are having a damaging impact on the morale, and the recruitment and retention of front-line staff," he wrote.
Speaking to the BBC, NHS Improvement's Steve Russell said he hoped the research results will help the NHS become more efficient in the future.
"We hope this analysis will enable them to identify bottlenecks within their systems to ensure operations are scheduled more appropriately and more patients receive the care they need quickly," he said.
The data from the watchdog comes just weeks after the new chief of hospitals, Professor Ted Baker described the NHS as "not fit for the 21st century".