Hurricane Dorian, a Category 5 hurricane, has wind speeds of 175 mph with gusts of 200 mph, according to a 9:30 a.m. update from the National Hurricane Center (NHC) on Sept. 1.
"The eyewall of catastrophic Hurricane Dorian is currently reaching the Abaco Islands. This is a life-threatening situation. Residents there should take immediate shelter. Do not venture into the eye if it passes over your location," the NHC wrote.
The storm is now about 25 miles east-northeast of Great Abaco Island and 210 miles east of West Palm Beach, Florida.
The National Hurricane Center says Hurricane Dorian is upgraded to a category 5 storm with windspeeds of 160mph as it heads for the Bahamas. https://t.co/c3Jfgk2L1r

— Twitter Moments (@TwitterMoments) September 1, 2019
The NHC issued an update on the strength of Dorian after Air Force Reserve Hurricane Hunter aircraft collected data from the storm, which also has a minimum central pressure of 922 millibars.
The storm surge is expected to be 15 to 20 feet above normal with even "higher destructive waves," the agency warned.
We've made it back home to Keesler Air Force Base, Mississippi. Here's a few photos from hurricane #Dorian
✈⛈🌪🌊 #ReserveCitizenAirmen #ReserveReady #403WG #WC130J #SuperHercules #WeatherReady #NWSNHC pic.twitter.com/3Erxlf4qUk

— Hurricane Hunters (@53rdWRS) September 1, 2019
NEW: #Dorian is now a category 5 #hurricane with 160 mph sustained winds. The eyewall of this catastrophic hurricane is about to hit the Abaco Islands with devastating winds. Next advisory: https://t.co/tW4KeFW0gB pic.twitter.com/oFspgN0XbT

— National Hurricane Center (@NHC_Atlantic) September 1, 2019
The Bahamas Prime Minister Hubert Minnis called on residents of Abaco and Grand Bahamas to go to the main island to escape the storm, Reuters reported.
"I want you to remember: homes, houses, structures can be replaced. Lives cannot be replaced," he said, adding that 73,000 people and 21,000 homes are at risk.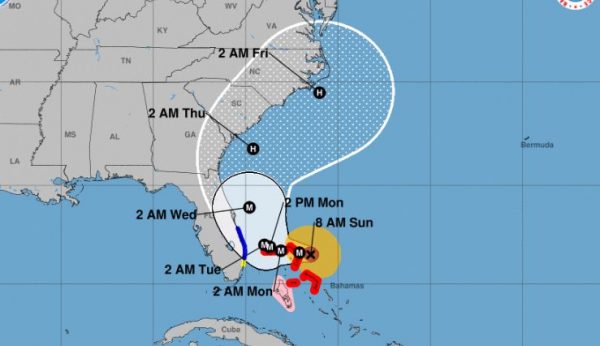 The NHC also said that "a Florida landfall is still a distinct possibility," although forecast models show the storm will track to the north before it reaches the state's east coast.
In two to four days, the storm "should turn northward in response to a trough over the eastern United States. By the end of the period, the flow on the south side of the trough should cause the cyclone to move northeastward near the Carolinas," the NHC said in its forecast discussion at 5 a.m. on Sept. 1.
In regards to the storm's path, a tropical storm warning was issued for a portion of Florida's east coast.