Trades in the NFL happen when two teams find common ground in a deal that benefits both parties. Most of them involve draft picks as opposed to the player-for-player deals that baseball teams are limited to. Yet not all of these trades end up as win-win situations. Here are the seven most lopsided deals the NFL has seen over the last 30 years. Let the debating begin.
7. Dallas trading a 1st, 3rd, and 6th round pick for Roy Williams and a 7th round pick in 2008: Roy Williams, who had a great collegiate career at Texas, had just one good year with Detroit (2006 – 1,310 yards receiving) but it was enough to fool the Cowboys into giving up way too much for a receiver who gained just 196 receiving yards in 2008, 596 in 2009, and 530 in 2010. Williams was cut before the 2011 season and was out of the NFL a year later. If there was any good news for the Cowboys in this deal, it was that the Lions were only able to get one starter—Brandon Pettigrew—out of the deal.

6. Indianapolis trading Marshall Faulk to St. Louis for a 2nd and a 5th round pick in 1999: Faulk was already a very good running back for the Colts, making three Pro Bowls in five seasons in Indianapolis. In his final year he led the NFL in yards from scrimmage with 2,227—including 908 through the air. When he was traded to the Rams, following a contract dispute, he became one of the main attractions in the 'Best Show on Turf'. The running back great was named an All-Pro selection three straight years (1999-2001) with the Rams while winning the 2000 NFL MVP and leading St. Louis to victory in Super Bowl XXXIV. The Colts actually did alright in taking linebacker Mike Peterson in the 2nd round and defensive tackle Brad Scioli in the 5th round, but Faulk was one of the best ever.

5. Chicago trading a 1st round pick to Seattle for Rick Mirer in 1997: The Seahawks originally took Mirer, fresh off a stellar career at Notre Dame, with the second overall pick in the 1993 NFL Draft. After four not-so-great years with the Seahawks, Seattle somehow extracted a 1st round pick for him (11th overall selection) from the Bears, which is almost inconceivable. Mirer started exactly three games (they lost them all) for Chicago in 1997, accumulated a horrid QB rating of 37.7 and was cut at the beginning of the 1998 season. The Seahawks used to the pick, coupled with their own, to move up and grab Hall-of-Fame tackle Walter Jones with the sixth overall pick.

4. Atlanta trading Brett Favre to Green Bay for a 1st round pick in 1992: Favre's career did not get off to the rousing start that most Hall-of-Famers enjoy. Though the Southern Miss product was taken in the second round by the Falcons in 1991, he attempted just four passes—two of them were picked off—as a rookie. Despite being buried on Jerry Glanville's depth chart in Atlanta, new Green Bay GM Ron Wolf saw something in him though and gambled a first-round pick (17th overall) to Atlanta for the second-year player. The rest is history. Favre won three MVPs and a Super Bowl with the Packers in a charmed career. The Falcons, meanwhile, used the pick to trade down to the 19th pick and selected Tony Smith, while Dallas selected Kevin Smith with the 17th pick.

3. Oakland trading Randy Moss to New England for 4th round pick in 2007: After two disappointing seasons with the woeful Raiders in 2005-06, there were whispers that the mercurial Moss had lost a step. As it turned out he just needed a change of scenery and Bill Belichick provided it for him. Moss' first year with the Patriots resulted in the lanky receiver breaking the single-season TD record for receivers, 23, while helping Tom Brady to a record-breaking 50 through the air for the 18–1 Patriots. He had three 1,000-yard seasons in three years with Brady in New England before being dealt away to the Vikings in 2010.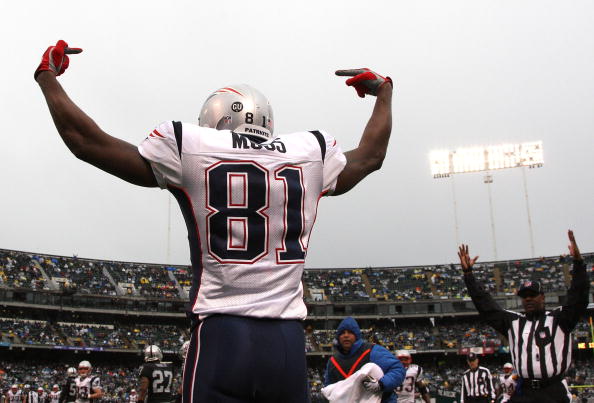 2. Tampa Bay trading Steve Young to San Francisco for 2nd and 4th round picks in 1987: Young started out in the USFL and then when the league folded, he was selected by Tampa Bay in the supplemental draft, where he put up mediocre numbers in 1985 and 1986. When the Buccaneers selected Vinny Testeverde number one overall the following spring, they shipped Young to San Francisco where he backed up the great, but fragile, Joe Montana. Five years later, Young got his chance as full-time starter and pounced on the opportunity eventually winning a Super Bowl, a pair of MVP awards, and was selected to seven Pro Bowls.
1. Minnesota trading players and numerous draft picks to Dallas for Herschel Walker in 1989: Also known as "The Great Train Robbery" the largest trade in NFL history is also the most lopsided. The two-time Pro Bowler Walker was coming off a season where he ran for 1,514 yards and was then-Dallas head coach Jimmy Johnson's main trading chip. Johnson, who knew the Cowboys needed a full overhaul, used the eight draft picks (including two firsts, three seconds and a third rounder) he swindled from Minnesota to move up and down the draft board and build the nucleus of a team that won three Super Bowls in four seasons. Walker played just two lackluster years in Minnesota as his days as an elite running back were already behind him.