The NFL said Monday that its officials were aware that Eminem would take a knee during the Super Bowl LVI halftime show on Sunday.
The 49-year-old rapper performed alongside Snoop Dogg, Dr. Dre, 50 Cent, Kendrick Lamar, and Mary J. Blige. Toward the end of his track "Lose Yourself" at SoFi Stadium in Los Angeles, Eminem took a knee apparently in reference to NFL players kneeling during the playing of the U.S. national anthem, which drew considerable condemnation and created a public relations nightmare for the NFL.
In a statement to ESPN and other outlets, the NFL denied reports that it tried to prevent Eminem from making the gesture.
"We watched all elements of the show during multiple rehearsals this week and were aware that Eminem was going to do that," NFL spokesman Brian McCarthy said.
Several reports, which cited anonymous sources, claimed the NFL didn't want Eminem to kneel during the performance.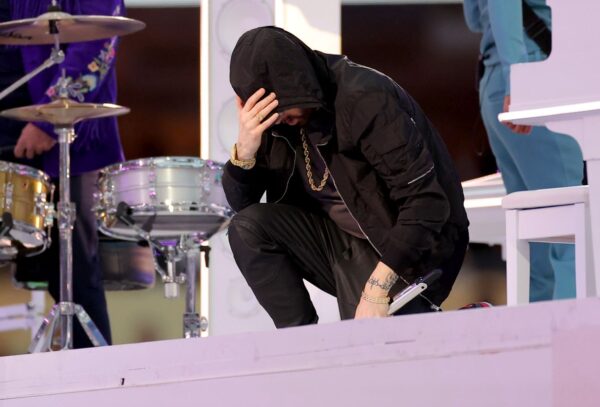 The kneeling phenomenon before NFL games became widespread after former San Francisco 49ers quarterback Colin Kaepernick decided to take a knee during the 2015–2016 season to protest against what he called police brutality.
When Kaepernick and other players took knees, critics said they were being disrespectful to the United States and unpatriotic. The issue became sensitive again in 2020 during widespread protests and left-wing riots across the country.
It's not clear if Eminem intentionally replicated the move. However, Kaepernick praised the rapper in 2017 when he performed during a BET awards show.
After the 2016–2017 season, Kaepernick, who has since become involved in left-wing activism, opted out of his contract with the 49ers but never joined another team. Later, he sued the NFL and ultimately received an undisclosed settlement.
Some have claimed that because Kaepernick kneeled during the national anthem, NFL teams wouldn't take interest in the former quarterback. However, during the 2016 season, his last, Kaepernick had a 59 percent completion rating and threw 16 touchdowns against four interceptions, according to ESPN stats. At one point he was replaced by his backup, Blaine Gabbert.
Last year, a study from the Institute for Diversity and Ethics in Sport at the University of Central Florida found that about 71 percent of NFL players were either black or were of another minority group, while only about 25 percent were white.
The Los Angeles Rams defeated the Cincinnati Bengals 23–20.