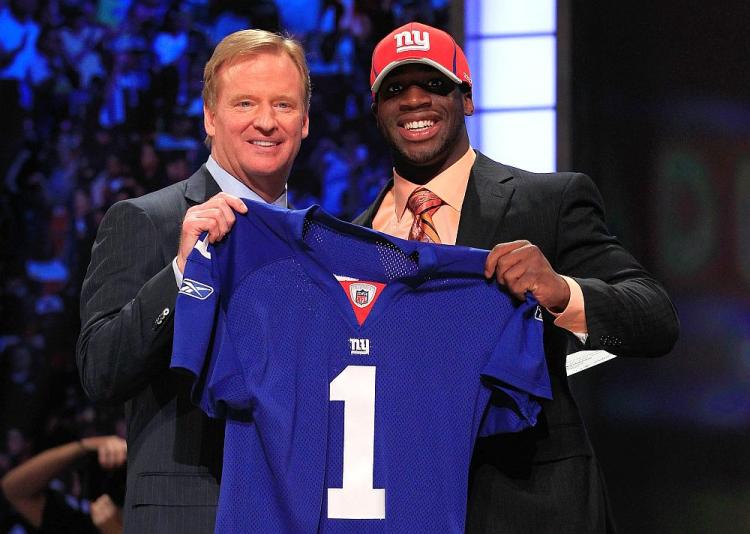 The New York Giants (5–1) will host the Arizona Cardinals (3–2) at Giants Stadium Sunday night to try to rebound from last week's battering at the hands of the New Orleans Saints.
In order for the Giants to right the ship, the Giants defense must contain Arizona's passing attack and prevent their trio of star receivers,
Larry Fitzgerald, Anquan Boldin, and Steve Breaston from having a huge game. Fitzgerald is particularly dangerous and leads the NFL in touchdowns with five.
Against the Saints, the Giants failed to put any significant pressure on Drew Brees and he carved them up to the tune of 360 yards passing, utilizing receivers not nearly as talented as Arizona's.
Nobody is confusing Cards quarterback Kurt Warner with Brees. Brees has the quick release, where as Warner holds onto the ball a lot longer, is more susceptible to getting sacked, and has a tendency to fumble the ball when rattled. But if you give this wily veteran enough time to scan the field with his tremendous receivers, he can pick apart a defense as well as anyone in the league.
Keep in mind, this was a Cardinals team that went to the Super Bowl last year, largely due to their offense. This year Arizona's passing game is ranked sixth in the NFL, with 280 yards per game. So they are not to be taken lightly.
Giants Defensive Coordinator Bill Sheridan knows his unit will be challenged, "They [Cardinals] are a throwing offense, which is what obviously New Orleans had great success against us with last week. So I'm sure they will be licking their chops coming in against us, feeling they will be able to throw the ball all over the park on us."
The Cardinals also come into this game having won two straight. Last week they dominated the Seattle Seahawks in a 27–3 win on the road, and Warner had an efficient game completing 32 of 41 passes for 276 yards and two touchdowns.
The good news for the Giants is the Cardinals offensive line may be easier to crack than the Saints. So they should a decent shot at getting pressure on Warner and disrupting the Cards' high-powered passing game.
If the Giants can do that and make Arizona one dimensional, they will have a great chance of limiting their offense, as Arizona is tied for last in the league in rushing with only 57.6 yards per game.
Focus on Eli
When the Giants have the ball, Eli Manning should try to exploit the Cardinals' weak pass defense, ranked 31st, and giving up 265 yards per game. If Manning can be successful throwing the ball, receivers Steve Smith and Mario Manningham could be in position to put up some impressive numbers.
As bad as Arizona is against the pass however, their top-ranked rushing defense more than makes up for it, giving up a mere 60 yards per game.
That probably won't stop New York from trying to establish a physical rushing attack with Brandon Jacobs and Ahmad Bradshaw, but plowing into the teeth of that defense may prove difficult, especially with physical players like defensive end Darnell Dockett and safety Adrian Wilson prowling the line of scrimmage.
Despite the challenges though, the Giants quarterback knows his group has to step up and face the Cards head on, "They try to put you in situations where it makes it tough to run the football. [But] you are going to have to run it to keep them honest. We are going to try and get the running game going."
On the defensive side of the ball, coach Sheridan is confident that his players will step up as well, "Our guys have a lot of pride. They expect to win around here so they are disappointed in their performance [last Sunday]. They don't expect to play that way when they line up. They can't wait to play Sunday night."