NFL commissioner Roger Goodell encouraged teams to sign former San Francisco 49ers quarterback Colin Kaepernick, who hasn't played during the past three seasons.
In 2016, Kaepernick knelt during the playing of the national anthem to protest against what he said is police brutality and racism.
"If he wants to resume his career in the NFL, then obviously it's gonna take a team to make that decision. I welcome that, support a club making that decision and encourage them to do that," Goodell told ESPN.
Last year, Goodell set up a tryout for Kaepernick, 32, in Atlanta for NFL team scouts to attend, although Kaepernick withdrew from the plan and worked out at another location. His representatives said that the NFL presented him with an unusual liability waiver, while claiming there was a lack of media access.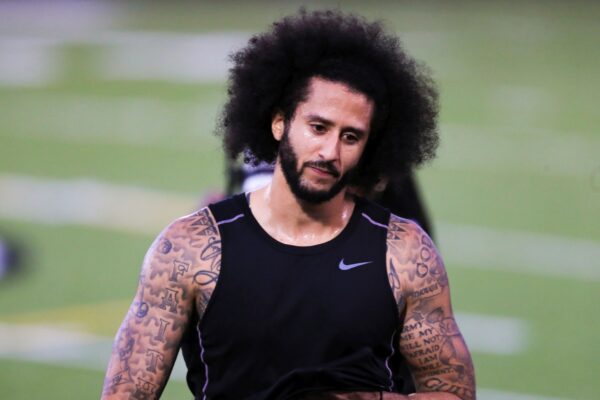 "We have invited him in before, and we want to make sure that everybody's welcome at that table and trying to help us deal with some very complex, difficult issues that have been around for a long time," Goodell added. "But I hope we're at a point now where everybody's committed to making long-term, sustainable change."
Kaepernick and former 49ers teammate Eric Reid, who is currently a free agent, filed a lawsuit against the NFL and 32 team owners, alleging that they colluded to keep him from playing in the league. The two settled with the league and the owners in February 2019 for an undisclosed sum.
When Kaepernick kneeled for the anthem years ago, the reaction from fans was overwhelmingly negative, and many threatened to boycott the league. When more and more players mimicked Kaepernick, it drew the ire of President Donald Trump.
Housing and Urban Development Secretary Ben Carson on Monday told Hugh Hewitt that Trump, in the future, won't be "upset with players kneeling during the national anthem."
Following outrage, protests, and riots in the wake of George Floyd's death, as well as the resurgence of the Black Lives Matter movement, Goodell said the NFL was "wrong" for not listening to protesting players.
"Our players have been at the forefront in bringing attention to these issues, and really working to try and make a difference in the communities. We have been doing that over the last couple of years and I'm proud of the work we're doing, but we all have more work to do," Goodell said earlier this month, according to the NFL Network.