NEW YORK—Brexit, Trump and Clinton, the French elections—democracy is on the tip of everyone's tongue. In today's world, we vote for everything. Yet the gap between democracy on paper and democracy in practice is a confounding concept plaguing people around the globe. "There are elections in North Korea, too. The only difference there is that someone might win by 99 percent," said film director Amit Masurkar.
"People say India is the largest democracy in the world," Masurkar said. "I wanted to do something with that."
The 2014 Indian elections were enormous in scale: 814 million voters, 9 million booths, $5 billion in costs.
In Masurkar's second film, "Newton," he tells a hilarious and absurd story of an idealist in a less than ideal world. It recently played in New York's Tribeca Film Festival and won the CICAE Art Cinema Award at the Berlin Film Festival and the Jury Award at the Hong Kong International Film Festival.
The film's protagonist, Newton (Rajkummar Rao), embodies the kind of indomitable human spirit that rises out of dire circumstances of the strangest kind. He's smart, educated, and privileged to have many choices in life. He's also incredibly obstinate and values the idea of duty, leading him to volunteer to be a poll worker in the upcoming elections in a country where, as one bureaucrat put it, "not a piece of paper moves without a bribe."
There is an assignment for a polling booth in the middle of the jungle, an area of potential conflict between the communist guerrillas and the Indian government. To get there, you have to fly in by helicopter, then hike several miles—all this trouble just for the votes of 70 or so citizens, a small drop in the bucket of 800 million-plus.
No one wants the post. When Newton volunteers, an administrator warns him of the dangers and asks how he feels. Newton is indifferent. He says he's there to do his duty.


Into the Jungle
It is a long trek through the jungles of Chhattisgarh, where communist guerrillas known as Maoists have their bases. Newton, two other election volunteers, and one local volunteer have to be escorted to the polling station location by the police.
Before they even set out, Atma Singh (Pankaj Tripathi), the head of security on this operation, tells them there's no need. His officers can help put in a few votes on the machines if need be, so why bother with the trip? Newton doesn't flinch—he demands they go forward. It's 5 a.m. and they need to head out right away and set up by morning. The booth is supposed to be open for voting until 3 p.m., and Newton and Singh lock horns on every step of the way.
The police tell Newton to leave, the villagers are reluctant to vote, and everyone seems to question Newton's ideals.


Newton sets up the booth and then, essentially, it becomes a story about nothing happening, said Mayank Tewari, who co-wrote the script. He and Masurkar did a lot of rewriting to create tension through this long wait, during which Loknath (Raghuvir Yadav), a fellow volunteer and television aficionado, imparts some wisdom and injects a bit of humor into the situation.
Just as Newton starts to relax, the conflict is ratcheted up from zero to 100: A foreign journalist arrives and the government scrambles to put on a show; villagers are rounded up to vote and don't understand what the point of all this is; gunshots sound—is it an attack?—and then things between Newton and Singh come to a head with weapons drawn.
"India's democracy truly runs deep," the foreign correspondent reports, unaware of the big production that has just taken place.
Recreating Democratic History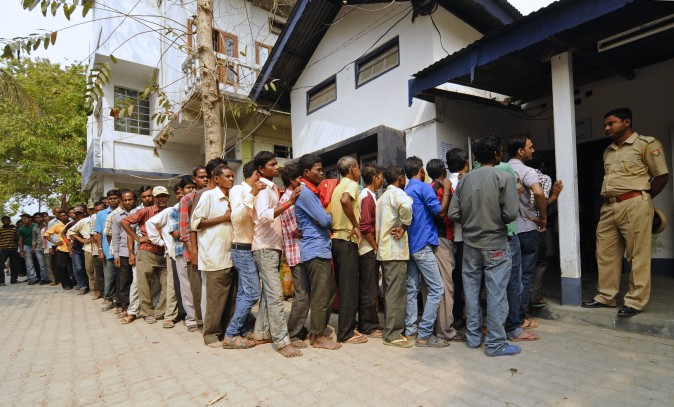 A lot of research went into "Newton" because Masurkar and Tewari wanted to be accurate down to the details. Every process and piece of election equipment was as it would have looked in a real election. They recreated a voting machine and even re-fabricated buildings from photographs of a village that had been burned down. 
Accuracy in representing the villagers was one of Masurkar's biggest challenges, he said. These villagers, based on an actual group of fewer than 80 citizens that could have voted, had not been depicted on film before. There tend to be patronizing notions about native groups, Masurkur said, and he felt a lot of pressure to show them with a level gaze and not create any stereotypes. 
Today, to say 'you are so genuine' is a compliment, even though everybody should be genuine!
Then there were the interviews Masurkar and Tewari did on the way, which ended up influencing the story at various points. 
"We did a lot of on-the-spot writing because we were really hands-on about what we were doing," Tewari said.
In chatting with a local journalist, for instance, they learned about the exact rates the government was paying supposed communist guerrilla members who turned themselves in. Officials would give them some money to turn in their weapons and integrate back into the mainstream society. "This is the real rate card—you surrender with an AK-47, this is what you get," Masurkar said. 
Masurkar said one meeting with a human rights activist really changed the way he looked at Newton. "She mentioned that the whole reason for conflict and why it's kept alive is because it gives people in power a free hand to do whatever they want under the guise of conflict.
"When something happens, you blame it on the conflict. If you want to move people around, you say this area is dangerous. You want to stop journalists from coming to an area, you say this place is dangerous," he said. "The reasons for conflict may be many, but after a while, conflict creates its own economy. And conflict will always benefit somebody."
In a world where ethical dilemmas are multifaceted and always seem to be part of a larger mechanism, Newton's singular perspective is refreshing.
Cynicism and Hope
The film includes an epilogue, which Masurkar and Tewari said they rewrote right up to the day before shooting it.
"We wrote every possible epilogue that could've existed," Tewari said. What should happen to a steadfast idealist in a dishonest world? "What usually happens, especially with young people today, is there is a lot of pressure to be cynical … and assume nothing is going to change. So anybody who is just doing his job, that person has to make a lot of effort just to be who he is."
"Today, to say 'you are so genuine' is a compliment, even though everybody should be genuine!" Tewari said. People aren't naturally meant to be dishonest, he said, but that's just what it is.
"In a lot of stories, the guy who is doing something right, in the end he will fail, or maybe he will die, or he will blame the fact that he has these kinds of values [when misfortune befalls him]," Tewari said. They wanted to show a different outcome.