Former House Speaker Newt Gingrich said the Chinese Communist Party's (CCP) threats in response to House Speaker Nancy Pelosi's (D-Calif.) trip to Taiwan are merely posturing.
Speaking to Fox News, Gingrich said a similar scenario unfolded in 1997 when he visited both China and Taiwan. He was the last speaker to visit the self-governing island country.
At the time, CCP officials invited Gingrich to deliver speeches in Beijing and Shanghai but their rhetoric changed when he mentioned visiting Taiwan. For decades, the CCP has claimed Taiwan is its territory despite it being a functionally democratic and independent state since 1949.
Gingrich, a Republican, said that a deal was made for him to visit China to deliver speeches before visiting Japan and then Taiwan. He said the agreement was made in such a way that he wouldn't directly go from China to Taiwan.
"They backed down," he said Monday, referring to the Chinese regime. "Their current bluff is just that."
"Look, they are harassing Taiwan every week. They are flying aircraft into Taiwanese space. They recently announced a live-fire zone off of Taiwan," he added. "They're doing all they can to rattle the Taiwanese people, who are 24 million free people with a free election and a free news media, who produce, by the way, about 67 percent of the world's high-value computer chips. So it's a very important place."
Arrival
In a statement Tuesday, Pelosi confirmed that she and a congressional delegation touched down in Taiwan, saying the trip is "focused on mutual security, economic partnership, and democratic governance."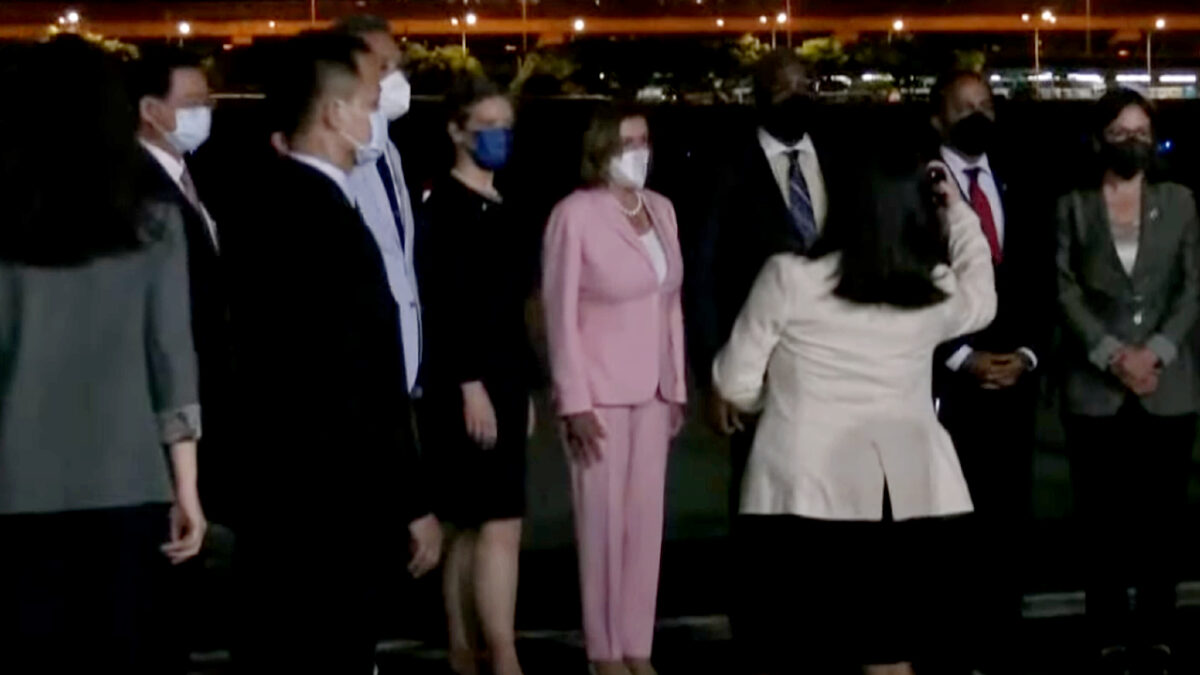 "In the face of the Chinese Communist Party's (CCP) accelerating aggression, our congressional delegation's visit should be seen as an unequivocal statement that America stands with Taiwan, our democratic partner, as it defends itself and its freedom," she also wrote in another statement.
About two-dozen Republican senators, meanwhile, issued a statement Tuesday in support of her trip. That included all members of the GOP leadership.
The Chinese regime has warned Pelosi against visiting Taiwan on her trip to Japan, South Korea, Malaysia, and Singapore. After it was confirmed the speaker arrived on the island, the regime announced it would hold live-fire drills in the sea around Taiwan starting Thursday.
Taiwan's Foreign Ministry previously declined to comment on whether Pelosi would come. The trip wasn't officially announced ahead of time.
White House National Security Council spokesperson John Kirby told reporters Monday that the decision on whether to visit Taiwan ultimately belonged to Pelosi. Members of Congress have routinely visited the island over the years, he said.
"Put simply, there is no reason for Beijing to turn a potential visit consistent with long-standing U.S. policy into some sort of crisis or use it as a pretext to increase aggressive military activity in or around the Taiwan Strait," Kirby remarked.
Military leaders have indicated that U.S. Navy forces would be positioned around the Pacific region. About a week ago, the Navy confirmed the USS Ronald Reagan strike carrier group was moved to the Taiwan Strait, which separates Taiwan and China.