SACRAMENTO—Gov. Gavin Newsom vowed to accelerate a series of gun reform bills May 25, just a day after state lawmakers introduced more than a dozen gun-control bills aimed at reducing gun violence.
The bills were introduced just hours after the deadly massacre at Robb Elementary School in Uvalde, Texas, that claimed the lives of 19 children and two adults on May 24. The suspect, identified as 18-year-old Salvador Ramos, was shot by police responding to the scene.
"California leads this national conversation," Newsom said during a press conference in Sacramento. "When California moves, other states move in the same direction. For all of those [who] are feeling deep anxiety and fear, I hope you look to the state for leadership."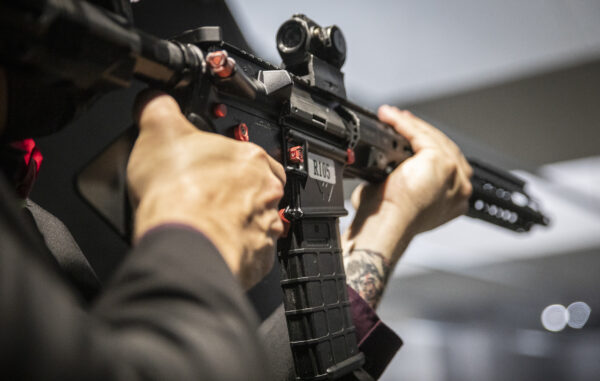 Newsom said he will be "enthusiastically" signing the slew of bills by the end of June aimed at tackling a series of "critical areas on issues related to the proliferation of assault weapons" and "ghost guns" to increase enforcement.
Among the bills introduced are Assembly Bill (AB) 1594, which would allow Californians to sue gun manufacturers for misconduct, AB 2571 would limit the marketing of certain firearms to minors, and AB 1621 would further crackdown on tracking ghost guns.
AB 1594, one of the most talked-about bills in the series, is modeled after a Texas law that allows citizens to sue abortion providers. Similarly, the bill would allow individuals who have "suffered harm" as a result of a firearm to sue the gun manufacturer.
The law would mirror the 2014 case where nine families of the Sandy Hook Elementary School victims filed a lawsuit against gun manufacturer Remington, which was the manufacturing company that created the AR-15 used by the shooter. After back and forth litigation, Remington settled with the family for $75 million this year.
Currently, California has some of the strictest gun control laws in the country. Newsom said the state's progressive gun policies "have consistently outperformed other states in terms of gun murder rates and gun death rates."
Earlier in the day, Texas Gov. Greg Abbott also held a press conference in which he did not call for gun control legislation. Instead, he said members in the Uvalde community told him they're suffering a mental health crisis and said "real gun laws" in California and other states are not effective in preventing deadly shootings.
Newsom shot back at Abbott during the press conference.
"Gov. Abbott just name-checked the state of California," Newsom said. "I would caution him from doing that. Particularly, and you can just go to the CDC website and look at that gun murder rate in 2020 that was 67 percent higher than the state of California in 2020."
Newsom was joined by Senate President Pro Tem Toni G. Atkins (D-San Diego) and Assembly Speaker Anthony Rendon (D-Lakewood).
He added that "we've completely lost our senses and lost touch with [the] reality" of common-sense gun control laws and pushed back against the claim that there is a mental health epidemic, saying the United States is the only country with pervasive mass shootings.
"Do not give in to the cynicism and all the crap you heard today in that press conference around evil and mental health, which completely belies the fact that there's only one nation on planet Earth that separates itself from all other nations, and that's the United States of America, in the perversion of a Second Amendment that begins around 'well-regulated' gun policy," he said.
According to an FBI report, active shooter incidents increased 52 percent last year, with six of the 61 active shooter incidents across 30 states occurring in California.
Last weekend, a gunman opened fire in a Laguna Woods church killing one and injuring five others.