Gov. Gavin Newsom last week awarded $694 million in funding toward 2,500 new homeless housing projects statewide for Project Homekey, a program that connects homeless and low-income people to affordable housing. The governor announced the new projects in a news conference Aug. 24 with Los Angeles Mayor Eric Garcetti and U.S. Rep. Karen Bass, who is running in November to succeed him.
Newsom said the program has previously funded 12,500 new homes in just two years and is "changing lives across the state."
"Homekey's groundbreaking success is a model for the nation, showing that we can make real progress on ending homelessness in months, not years," he said. "In partnership with cities and counties like Los Angeles, we'll continue to safely house Californians in need faster and more cost-effectively than ever."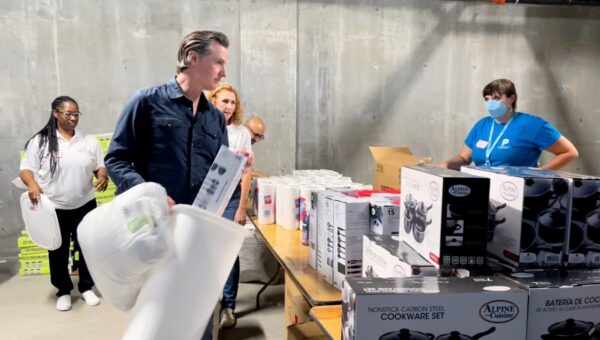 California leads the nation with more than 161,000 people on the streets.
The Los Angeles region has received $948 million for 62 Homekey projects since 2020 that the governor says will create about 4,000 additional housing units.
The City of LA was the largest recipient of Newsom's awards last week with 10 projects funded, amounting to $277.3 million for 960 units. Earlier this year, the city was reportedly spending $837,000 on a single homeless housing unit.
Newsom also upped the state's homelessness budget from $12 billion last year to $14 billion this year.
California's Republicans largely criticized the governor's plan to pour billions more into homeless spending.
Democratic lawmakers have rejected some Republicans' legislative proposals to counter homelessness this year, which included several bills requiring state audits and accountability on homeless spending.
"Newsom and his enablers on the Audit Committee have again killed my plan to audit homelessness spending," Assemblyman Kevin Kiley wrote on Twitter Aug. 27. "This comes as he's increasing spending to $14 billion."
And Assembly Republican Leader James Gallagher said Project Homekey is "akin to putting a bandaid on a severed limb."
"Simply providing shelter to someone struggling with a severe mental health illness or drug addiction is nothing to celebrate," he said in a statement. "California's approach to reducing homelessness needs to be holistic with more emphasis on accountability and treatment for mental health illnesses and drug addiction."