China Briefs: June 4, 2009
June 11, 2009 1:02 am Last Updated: June 19, 2009 1:27 am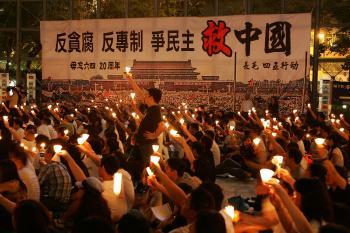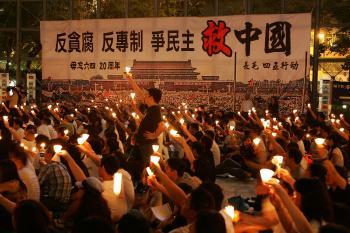 June 2—China blocks Twitter service ahead of anniversary
BEIJING (Reuters, Lucy Hornby) — Access to the popular social networking service Twitter and email service Hotmail was blocked across mainland China late on Tuesday afternoon, two days before the twentieth anniversary of a bloody crackdown on Tiananmen Square.
Indignant users filled chatrooms with protest, after access to Twitter was denied shortly after 5:00 pm (0900 GMT) on Tuesday.
"The whole Twitter community in China has been exploding with it," said Beijing-based technology commentator Kaiser Kuo. …
Other Internet users reported not being able to access Windows Live, a service offered by Microsoft Corp. which also owns Hotmail, and also Flickr, an online photo sharing service owned by Yahoo. …
June 2—China dissident held ahead of protest anniversary
BEIJING (AP, Christopher Bodeen) — A former Chinese political prisoner has been detained just days before the 20th anniversary of the 1989 Tiananmen Square pro-democracy protests, a human rights group said Tuesday.
Wu Gaoxing, a former educator in his late 60s, was detained Saturday at his home in the eastern city of Taizhou, shortly after the publication of a letter he had co-signed complaining about economic discrimination against dissidents…
June 4—Police swamp Tiananmen Square
BEIJING (Financial Times, Kathrin Hille and Jamil Anderlini) — Chinese security forces took full control of Tiananmen Square on Thursday, the 20th anniversary of the government's brutal crackdown on the student democracy movement, monitoring every individual approaching it, randomly stopping foreigners for identification and harassing reporters and those who spoke to them.
This came as the Chinese government reacted angrily to US calls for a public accounting of the 1989 massacre.
Qin Gang, a spokesman for the Chinese Foreign Ministry, called written comments from Hillary Clinton, US Secretary of State, "gross interference" and "crude meddling" in China's internal affairs.
"The statement from the US ignores the facts and makes groundless accusations against the Chinese government," Mr Qin told a regular press briefing. "We express our strong dissatisfaction and resolute opposition. We urge the US to forsake its prejudices, correct its erroneous ways and avoid obstructing and damaging Sino-US relations."

An estimated 70 per cent of the people in the square on Thursday were armed police, so-called "city management" officials, soldiers and plain clothes security personnel.
The men carrying colourful umbrellas in the square were from the security forces, and not the usual tourist groups.

FT reporters were stopped and warned against reporting in the square immediately after they got out of their car in a nearby street.
Chinese citizens who reporters tried to speak to were immediately stopped by the police, including a woman who was with a foreigner being interviewed by the FT.
A foreign student seen talking to FT reporters was pushed towards one of the exits by officials. …
June 5—Police Swarm Tiananmen Square to Bar Protests
BEIJING (New York Times, Sharon LaFraniere and Keith Bradsher) — China blanketed Tiananmen Square with police officers on Thursday, determined to prevent any commemoration of the 20th anniversary of a military crackdown on pro-democracy protesters that left hundreds dead.
Visitors to the sprawling plaza in central Beijing were stopped at checkpoints and searched, and foreign television crews and photographers were firmly turned away. Uniformed and plainclothes officers, easily identifiable by their similar shirts, seemingly outnumbered tourists.

A few pursued television cameramen with opened umbrellas trying to block their shots — a comical dance that was broadcast on CNN and BBC. There was no flicker of protest. Other than the intense police presence and the government's blockage of some popular Internet services, the scorching hot day passed like any other in the capital.
The scene was vastly different in Hong Kong, where throngs gathered at a park on Thursday evening for an enormous candlelight vigil on the 20th anniversary of the Tiananmen Square killings. The organizers said that 150,000 people joined the vigil…
The peaceful assemblage spilled out into nearby streets, shutting down traffic. Inside Victoria Park, thousands listened to songs and speakers who recounted the events on the night of the crackdown. A half-hour into the vigil, the lights in the park were extinguished and the attendees lit a forest of white candles in inverted conical paper shields.
Around the park on Thursday, numerous banners in Chinese demanded the vindication of the students and other Beijing residents who perished during the Chinese government crackdown. There were people of all ages, from grey-haired retirees to young children whose parents accompanied them to explain why they felt so deeply about an event that took place before they were born. …

The president of Taiwan, Ma Ying-jeou, who has fostered closer ties to the mainland, also urged China to confront the episode. "This painful period of history must be faced with courage and cannot be intentionally ducked," he said in an unusually strong statement.
The remarks contrasted with the enforced public silence throughout China. There was no mention of the day's significance in Thursday's Beijing newspapers. The state-run mass-circulation China Daily led with a story about job growth signaling China's economic recovery. …
Access was blocked to popular Internet services like Twitter, as well as to many university message boards. The home pages of a mini-blogging site and a video-sharing site warned users they would be closed through Saturday for "technical maintenance." …
In a report released Thursday, the rights group Chinese Human Rights Defenders said 65 activists in nine provinces had been subjected to official harassment to keep them from commemorating the anniversary. …

June 5—Officials stick to verdict on Tiananmen
BEIJING (Financial Times, Jamil Anderlini) — In the aftermath of the 1989 Tiananmen massacre the ruling Communist Party elders who sent in the tanks reached an official verdict — the peaceful, pro-democracy, student-led movement was no less than a violent attack on Socialism instigated by evil forces that had to be crushed to save the nation.
When questioned by foreign reporters twenty years on, Chinese officials say the verdict remains unchanged but they now refuse to say publicly what the verdict was.
At a regular press briefing on the 20th anniversary of the June 4 crackdown, Qin Gang, spokesman for the Foreign Ministry, said the Chinese government had long since reached a conclusion on "the political incident in the 1980s."

Despite repeated questioning, he refused to say what that conclusion was, saying only that the government had made it very clear and he didn't want to repeat it.
For some Beijing residents this is a sign the verdict will inevitably be reversed some time in the future and that Chinese politicians are hedging their bets.
"No clever government official is going to repeat the verdict in public now because they don't want to be on the wrong side when the government eventually reverses it," said one old Beijing resident who asked not to be named because of the sensitivity of the subject. …

June 5—The Tiananmen conversation China won't let happen
Seattle Times (Ryan Blethen) — News coverage of the 20th anniversary of the Tiananmen Square massacre got me thinking about some of the people I met in China nearly two years ago.
I visited with a group of American journalists a year before the Beijing Olympics. The obvious high self esteem the Chinese felt as hosts was heightened by a white-hot economy. …
Two words consistently rattled the bravado coursing through the Chinese students, politicians, business people and journalists we met: Tiananmen and Taiwan.
Our first taste of the Chinese repulsion for discussing these issues with American journalists happened at a meeting with Peking University journalism students.
When asked about Tiananmen Square and the pro-democracy protests that led to the June 4 massacre in one of China's most iconic places, there was a short but uncomfortable silence.
For the most part these aspiring journalists blew Tiananmen off as ancient history. Interesting considering how proud the Chinese are of their culture's long, illustrious history.
One student admitted that his generation did not know much about what happened. Another flustered student asked us why Americans are so hung up on Tiananmen Square and that our government has done similar things.
True. The United States government wrongly interned Japanese Americans during World War II, did horrific things to American Indians and shot protesting students at Kent State University.
The difference is that those wrongs were aired in the press, in the courts and sometimes by the government.
This exchange and another with the editors of Sohu.com, one of China's leading Web portals, were at the forefront of my thoughts as I read the news out of China. How is China supposed to heal from the damage inflicted at Tiananmen Square if the government continues to be as effective as it has been at suppressing the horrific event?
Students encouraged by a decade of China's opening to the world were slaughtered by soldiers. It is still not known how many died because the government has never said. …
June 5—Pelosi Pressured to Avoid China Dissidents
United Press International / China Digital Times — Beijing quietly pressured U.S. House Speaker Nancy Pelosi, D-Calif., to curtail meeting with dissidents on last week's trip to China, sources say.
Quoting people familiar with the situation, the Washington publication Politico reported that Chinese diplomats in Washington discreetly urged Pelosi to not show up the country's leadership by loudly criticizing Beijing's human rights record as she has done in the past.
Despite the pressure from Beijing, Pelosi did meet with human rights leaders in Shanghai and Hong Kong during her week-long trip that ended Sunday, but it was a far cry from the militant stance in support of dissidents she displayed in a 1991 visit, when she unfurled a pro-democracy banner in Tiananmen Square, Politico reported.

June 3—Tiananmen icons
San Antonio Express (Jonathan Gurwitz) — More than two centuries ago, the German philosopher Immanuel Kant laid out the proposition that the internal character of a nation — literally, its constitution — defines its external actions.
Democratic nations built upon republican ideals and the rule of law will tend to be peaceful. Despotic governments that tyrannize their own people will also tend to terrorize their neighbors. …
The communist Chinese government, which, 20 years ago this week, massacred peaceful protestors in Tiananmen Square, certainly follows in this despotic tradition. A government that wages war on its own people seeking democratic reform, one that sends tanks down the Avenue of Eternal Peace to slaughter thousands of unarmed students, will have no compunction about the use of violence beyond its borders.
And so a regime that beats and imprisons Buddhist monks in Tibet — which China considers a province — is also the principal accomplice of the Sudanese government's genocide in Darfur. A party apparatus that sees Christians, Muslims and Falun Gong as ideological threats to its existence must keep the People's Liberation Army — with 2.3 million active duty troops — on a war footing against free Taiwan, with a total population of only 23 million.
Zhao Ziyang was, in 1989, the general secretary of the Communist Party and one of China's most powerful leaders. He was an accomplished economic reformer who sympathized with the students and sought a peaceful resolution to the Tiananmen Square protests. Communist hardliners, however, outmaneuvered Zhao. For his lack of enthusiasm in defending the party, Zhao was placed under house arrest for the final 16 years of his life.
Last month, Zhao's memoirs — secretly recorded during his confinement — became public. In translations provided by the Wall Street Journal, the former communist boss reveals an evolution in thinking that sounds remarkably Kantian: "The democratic systems of our socialist nations are all just superficial; they are not systems in which the people are in charge, but rather are ruled by a few or even a single person.
"We can say that if a country wishes to modernize, not only should it implement a market economy, it must also adopt a parliamentary democracy as its political system. Otherwise, this nation will not be able to have a market economy that is healthy and modern, nor can it become a modern society with a rule of law." …

June 3—China's 'socialist road' to misery
Boston Globe (Jeff Jacoby) — IT IS 20 YEARS since the Tiananmen Square massacre, and China's communist regime hasn't budged an inch.
The government has no reason to regret its murderous crackdown during "the political storm at the end of the 1980s," a foreign-ministry spokesman in Beijing told reporters last month. "China has scored remarkable success in its social and economic development. Facts have proven that the socialist road with Chinese characteristics that we pursue is in the fundamental interests of our people."
As a euphemism for dictatorial savagery, "the socialist road with Chinese characteristics" may not rise to the level of, say, "Great Leap Forward" or "Great Proletarian Cultural Revolution." And certainly the material riches and capitalist bustle that characterize much of China in the 21st century are a far cry from the mass starvation and unspeakable chaos that devastated the country in the 20th. But make no mistake: The junta in Beijing is no kinder or gentler today than it was at Tiananmen 20 years ago, and no less prepared to crush anyone who resists its grip on power.
Perhaps nothing today so exemplifies the totalitarian implacability of China's rulers as their ruthless persecution of Falun Gong, a quasi-religious discipline of meditation and exercises, combined with moral teachings about truth, compassion, and forbearance. By civilized standards, it is incomprehensible that anything so innocuous and peaceable could provoke bloody repression. But China's uncivilized government fears any movement it does not control, and Falun Gong — with its uplifting values so different from the regime's Stalinist ethic — has attracted
tens of millions of adherents, independent of the Communist Party.
There is nothing subtle about Beijing's decade-long campaign to suppress Falun Gong. At www.faluninfo.net/gallery/12, the Falun Dafa Information Center describes several of the torture techniques the government uses to break Falun Gong practitioners. Burning, for example. In hundreds of reported cases, police or labor camp authorities have used cigarettes, car lighters, or red-hot irons to sear Falun Gong believers on their faces, torsos, and genitals.
Other victims have been forced into water dungeons – locked cages immersed in filthy water. "Some water dungeons . . . have sharp spikes protruding on the inside of cramped cages," the center reports. "Usually, the water dungeons are well-hidden rooms or cells where practitioners are forced to stay for days and nights on end in total darkness. The water is most often extremely filthy, containing garbage and sewage that leaves the victim with festering skin." Other torture methods include electric shock, brutal forced "feeding" with concentrated salt water or hot pepper oil, and injection of nerve-damaging psychotropic drugs capable of inducing "horrific states of physical pain and mental anguish."
Independent and third parties have raised numerous alarms about China's inhumane war on Falun Gong.

The UN's Special Rapporteur on Extrajudicial Executions has cited reports of "harrowing scenes" of Falun Gong prisoners dying from their treatment in government custody, and noting that "the cruelty and brutality of these alleged acts of torture defy description." Amnesty International and Human Rights Watch have repeatedly highlighted the agonies inflicted on Falun Gong practitioners. So have a handful of supremely courageous Chinese lawyers, among them Gao Zhisheng and Li Heping. In 2007, Canadian attorney David Kilgour, a former prosecutor and member of Parliament, co-authored a detailed report documenting the systematic harvesting of vital organs from imprisoned Falun Gong believers, in order to supply China's lucrative transplant industry.
All these atrocities, of course, account for only one narrow lane on that "socialist road with Chinese characteristics" that Beijing so adamantly defends. The government of China is no less vicious in its persecution of devout house Christians, of Tibetan Buddhists, of democratic dissidents who seek greater liberty, of journalists who fail to toe the Communist Party line, of the countless inmates enslaved in "re-education through labor" camps, or of women who wish to decide for themselves how many children to have.
Twenty years after the screams and blood and slaughter at Tiananmen Square, the People's Republic of China is still a great dungeon. "China is first and foremost a repressive regime," the noted China scholar Ross Terrill has written. "The unchanging key to all Beijing's policies is that the nation is ruled by a Leninist dictatorship that intends to remain such." That was the truth in 1989. It remains the truth today.
June 3—Clinton urges Beijing to name Tiananmen dead
WASHINGTON (AFP) — US Secretary of State Hillary Clinton has called on Beijing to publish the names of those killed or missing in the Tiananmen Square protests on the eve of the 20th anniversary of the crackdown.
"A China that has made enormous progress economically and is emerging to take its rightful place in global leadership should examine openly the darker events of its past and provide a public accounting of those killed, detained or missing, both to learn and to heal," Clinton said in a statement on Wednesday.
She also called on China to release prisoners still detained for taking part in the peaceful pro-democracy protests and end harassment of the Tiananmen Mothers, which is pressing to know more about missing loved ones.
"China can honor the memory of that day by moving to give the rule of law, protection of internationally recognized human rights and democratic development the same priority as it has given to economic reform," she said.
The US Congress made a similar appeal in a nearly unanimous resolution approved the day before. …

June 4—Chinese in US tread carefully on Tiananmen
STANFORD, Calif. (Turkish Press / AFP) — For many Chinese-Americans and Chinese students living in the United States, the 20th anniversary of the Tiananmen Square crackdown presented a dilemma. They wanted to honor the fellow students who died two decades ago in Beijing, but were worried about repercussions.
At Stanford University, which has a large population of Chinese-American and Chinese students, one student decided at the last minute Thursday to hang up posters marking the anniversary. But he was concerned enough to ask that his name not be published.
"At first, I was pretty apprehensive about trying to organize anything at Stanford," the Chinese-American student said in an e-mail exchange with AFP.
"We live in the US, we aren't afraid for our lives. But with a sensitive event like this, why bring trouble on ourselves?
"A lot of us study in China, do internships there or travel there, maybe even intend to work there — and we don't know if being associated with a commemoration could be a problem in the future." …
It was a similar scene at the University of California in Berkeley, which also has many Chinese students, and in San Francisco's sprawling Chinatown — where it was nearly impossible to find any sign marking the anniversary.
The only lunchtime protest in Chinatown, where crowds bargained over live fish and fresh vegetables at markets, was by a lone woman handing out literature of Falun Gong, the spiritual movement strictly banned by Beijing.
"It really is striking that not a single program on what happened 20 years ago in China is happening on a Bay Area campus," said John Kamm, executive director of the San Francisco-based Dui Hua Foundation, which has been working for the past two decades to free people jailed in China as a result of the Tiananmen crackdown.
"I'm surprised there has been so little — in fact, nothing at all — on the campuses. It's been a disappointment."
San Francisco has one of the largest and most historic Chinatowns in the United States. The local congresswoman, House Speaker Nancy Pelosi, is one of the most outspoken critics in Washington of Beijing's human rights record.
But mainland Chinese are increasingly connected to the diaspora thanks to the Internet and helped organize a massive show of support for China during the relay of the Beijing Olympic torch through San Francisco last year.
Zhou Fengsuo, one of the Tiananmen student leaders who now lives in exile, said that he was beaten up when he held a sign saying "Remember June 4" during the torch procession.
The student who put up the posters at Stanford said many of his peers are focused solely on school and career.
"What's sad is that 20 years ago, everyone on this campus, most particularly the overseas Chinese students, would have been fully supportive of a serious commemoration," he said.
"I know that for Chinese students today, June 4 is not something they really think much about at all.
"Today, the bottom line is, it is not a comfortable issue."
June 3—As World Marks Tiananmen Protest Anniversary, It's Time to Improve Coverage of Human Rights in China
MediaChannel (Danny Schechter) — Anniversaries are always pretexts for news pegs, and when the 20th year since the Tiananmen protests and massacre in China rolled around, it was not surprising that every media outlet outside of China marked the event with pages of reminiscences and commentary. For the first time in recent memory, Chinese writers took over the New York Times op-ed page.
For many, those events in June 1989 were a sign that the Chinese people were embracing US style democracy. They had built what looked to us, but wasn't, a replica of the Statue of Liberty in the center of Beijing, and sang songs including "We Shall Overcome." Then, articulate English speaking leaders emerged happy to talk to American TV networks soon out in force.
What was not really explained in much detail was that the students were supporting the reform of the Communist Party, not its abolition. They sang patriotic songs including the "Internationale," a Communist anthem, and their Goddess of Liberty was a universal symbol, not a pro-American one. That said, when the tanks moved in, and the machine guns came out, and when the clamp-down followed, the workers and other people in the People's Republic became sympathetic to the students and the reformers in the party. That's when the paranoid old line bureaucrats and dogmatists panicked and showed how brutal they could be.
Beijing's rulers were condemned politically by the whole world for their barbarity; the real response: much of that world began to trade and invest in the "new China." After all, business is business. As their system moved from Marxism Lenninism to "Market-Lenninism" criticisms were blunted in the name of pragmatism and profiteering. The martyrs of the movement were forgotten, except by human rights groups who carried on without much impact. The Chinese government rejected them; the US government avoided them. Most Chinese students moved from trying to make change to making money, from communists to consumers. …
Our media stopped focusing on the abuses as China started buying up US treasuries and stabilizing our economy. Beijing even bought into subprime loans and was not too happy about their losses which lead to today's threats to dump the dollar and demand "fiscal responsibility". Tim Geithner's trip to China is all about placating them while at the same time looking tough and independent for US eyes. It is all a dance with Beijing playing the music. (The Chinese are not wrong about the lack of US market discipline, but they have plenty of corrupt operators themselves.)
As for the US media that is marching down Tiananmen's memory lane, their coverage has left lots to be desired from the hyping of the Olympics by NBC, which excluded other media outlets, to the continuing failure to cover the persecution of Falun Gong with any regularity (with some exceptions) for ten years. The Chinese called them a cult; our media called them a cult. (The word "Cult" is usefully catchy for headline writers!) Mostly, they were not covered at all by the national press except when something big happened, as in a highly publicized incident in which practitioners supposedly set themselves on fire in Tiananmen Square. The Washington Post, to its credit, debunked the incident. But that hasn't stopped a stream of misinformation and stereotyping.
Just last month CBS, on the entertainment side, referenced Falun Gong as terrorists in an episode of The UNIT, an international cop and intrigue show. It may be a dramatization, but it reinforces a false impression. …
Falun Gong is asking that CBS withdraw the episode, run a disclaimer, and encourage its news division to report on the real story of Falun Gong. The program is scheduled to air on TV in England on July 29th. To date, the network has discussed its complaint and promises to fully respond to their appeal. But not until after Chinese websites sanctioned by the government already plastered the clip all across the web there. Maybe the government will now turn fiction into faction and classify these folks known for their subversive meditating and exercises as dangerous terrorists.
Here you have a mainstream network not just getting it wrong, but actually putting people's lives in jeopardy, all for dramatic effect. …
It's not just Falun Gong that gets this type of smarmy uninformed media treatment. Perhaps in the aftermath of the Tiananmen anniversary, in which we once again idolize the man who stood up to the tanks, we will look more closely at how we might stand up for justice in China and real information at home …
June 4—Europe Forgets Tiananmen
Geostrategy and business interests trump human rights in Europe's relations with China.
Wall Street Journal Europe (Edward McMillan-Scott) — It is now 20 years since democracy protestors occupied Tiananmen Square. China's non-violent movement wanted "more democracy and less corruption" from the Communist Party that had begun the process of economic modernization but still resisted political reform. While the Europe "whole and free" to which U.S. President George H.W. Bush aspired in May 1989 votes freely this week in elections for the European Parliament, the hopes of a democratic China remain unfulfilled. The European Union can, and must, do more.
Since Tiananmen, China has, of course, changed beyond recognition. But the communist regime's human rights record has barely improved. After years of rapid economic growth, China has moved toward a form of "consultative authoritarianism." People are able to express discontent and pressure for economic and social improvements, but only to a point.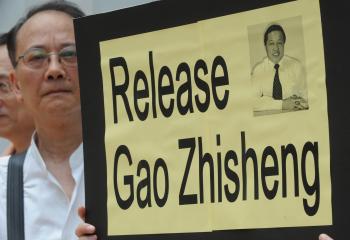 In a pre-Olympics round-up, all the Chinese with whom I had contact — dissidents, reformists like environmentalist Hu Jia, ex-prisoners-of-conscience — were arrested, imprisoned and in some cases tortured, even to this day. One, a young man named Cao Dong, who had been released in 2006 after having served a three-year sentence, was rearrested that same year just after meeting me. He is now back in Tianshui jail, locked up together with 15 Tiananmen protestors, who have been imprisoned now for 20 years without charges. Gao Zhisheng, the courageous Christian human-rights attorney who was expected to win last year's Nobel Peace Prize (the committee caved in to Chinese pressure) has been tortured so much in prison that he has attempted suicide twice.
Unfortunately, Europe's stance toward human-rights abuses in China has become increasingly spineless. The EU withdrew post-Tiananmen sanctions in the early 1990s. Since then commercial gain has subordinated any attempt to influence China's political modernization.
The EU acquiesced in China's entry into the WTO, throwing away its biggest leverage over Beijing in return for very limited change to China's system of economic governance. China has increasingly backtracked on its WTO commitments to open its economy — which could in turn have helped political liberalization. China has attracted increasing aid from Germany, France and the European Commission itself, which spends more than 100 million euros ($141 million) a year on trade-related and business projects. It even spends 1 million a year on a fruitless Human Rights Dialogue. Paris and Berlin also wish to remove the EU's arms embargo — the last remaining post-Tiananmen-massacre sanction imposed by Europe.
The EU has become so fixated on the short-term goals associated with uncritical geostrategic engagement with China that any real concern over human rights has gone out the window. Indeed, it is striking that in China the EU has eschewed the kind of initiatives it implements elsewhere in the world, such as linking development funds to governance reform. The EU is negotiating a new agreement with China that is predicated upon a new strategic partnership. Human rights doesn't warrant a mention.
Beijing understands the EU's desire for engagement above all else and skilfully pressures European leaders to downplay human rights. China cancelled its annual summit with the EU in December 2008 after some leaders had indicated a willingness to meet the Dalai Lama, the spiritual leader of Tibetan Buddhists. Beijing's ploy worked. To get EU-China summits back on track and win China over to a G-20 deal, France said in March that it would not recognize Tibetans' claims to independence. Last year the British Foreign Office recognized China's sovereignty over Tibet, a lovely country whose gentle people the Dalai Lama now says are "in prison." …
Twenty years on from Tiananmen, the EU must realize that it is mistaken to base policy on a trade-off between diplomatic stability and human rights. It is unlikely that one-party rule can cope with an increasingly complex set of social demands. …
The Chinese people deserve the European Union's support in their efforts to achieve the democracy we ourselves enjoy.
Mr. McMillan-Scott (U.K., Conservative) is a vice-president of the European Parliament and founder of the EU's Democracy and Human Rights Instrument.
June 4—What must be sacrificed for a future in China
Ottawa Citizen (Irwin Cotler and David Grossman) — Gao Zhisheng rose from poverty to become one of China's best lawyers — even making the country's "top 10" list in 2001. He taught himself the law and stood up for justice. He gained fame as a human rights attorney defending China's otherwise voiceless victims. And the government tolerated him, for a while.
Wang Bingzhang was a prominent lung surgeon in late 1970s China. He was chosen to be among the first Chinese doctors allowed to study abroad — and this is what brought him to Canada's McGill University. While here, Wang began to appreciate what true freedom felt like.
Both Gao and Wang began their lives thriving in a China that could offer them great personal success — for a price. That price was silence: silence in the face of totalitarian control, silence in the face of systematic human rights abuses, silence in the face of oppression and repression.
Gao and Wang had the option of staying silent and reaping the rewards. But both chose to speak out against injustice.
Gao's life changed when he started representing Christians and Falun Gong practitioners who were persecuted and tortured in China. He was convicted of "inciting subversion" and, in December 2006, began his new life of constant monitoring, frequent confinement to his apartment, and repeated abductions and beatings — for both him and his family. …

As for Wang, after his experience in Canada in 1979, he worked tirelessly to become the leader of China's overseas democracy movement. In 2002, while visiting with labour activists in Vietnam, he was forcibly abducted and carried into China, where he was immediately apprehended by police. A closed-door trial — at which Wang was not granted the right to speak, and at which no evidence was presented against him — led to his conviction and sentence of life imprisonment. A 30-minute appeal later confirmed the verdict. …
And so this is where we are 20 years after Tiananmen Square. Heroes of democracy and justice, like Gao and Wang, see their rights — and the rights of their loved ones — trampled upon, because they spoke out for what is right.
The Chinese government's line is unflinching: while the regime will open up the country to trade, technology and status mobility, it will come down ruthlessly on those who question the legitimacy of the regime itself. Today's generation of Chinese knows the equation well. University students understand they have a bright future ahead of them, just as Gao and Wang once did — so long as they are willing to toe the party line.
It is well past time for the international community — and Canada in particular — to alter this cynical calculus. In the years since the Tiananmen Square "uprising" 20 years ago, China has succeeded in changing the narrative away from democratic rights. It has succeeded not only among its own citizens, but also in the community of nations. Courageous men like Gao and Wang have been abandoned — and with them, their ideal of bringing the rule of law and democracy to China.
And so, while Gao and Wang's choices continue to shape their lives, the choices made by this generation — within China and without — will shape the next one. Will Canada and other western democracies demand the immediate and safe release of Gao and Wang? Will China continue to escape human rights scrutiny? Will Chinese citizens need to continue to choose between speaking freely and living successfully?
The answers to these questions will determine what China will look like 20 years from now — and whether anyone in China will even know what happened in Tiananmen Square in 1989.
(Irwin Cotler is special counsel on human rights and international justice to the Liberal party and is the MP for Mount Royal. He is a former minister of justice and attorney general of Canada and is a professor of law (on leave) at McGill University. David Grossman is special assistant to Mr. Cotler.)
June 4—One of Tiananmen's 'most wanted' returns to China
HONG KONG, China (CNN, Miranda Leitsinger) — Xiong Yan was at the forefront of the 1989 pro-democracy protests in Beijing's Tiananmen Square. As a student leader, he rallied other youths to attend a memorial for a reform-minded leader that snowballed into the political movement, he joined an ensuing hunger strike, participated in student negotiations with the Chinese leadership and spent 19 months in prison after being named by authorities as one of the government's "most wanted" for his activities.
Because of his student activism in 1989, Xiong has never been allowed to return to mainland China, where technically he is still a wanted man.
But after some 17 years in the United States, Xiong — now a U.S. Army chaplain in Alabama — made his first return trip with a visit to Hong Kong, a special administrative region of China, to mark the 20th anniversary of the bloody Tiananmen crackdown that led to the deaths of hundreds, if not thousands, of people. …
"The communists say, 'We are a great party, we are serving the people and we love the people. However, all of the sudden in the reality, they kill the people so we cannot imagine what they taught us and what the reality is right now, so we are really confused. We did nothing wrong, especially we are not a criminal, we never use violence. They killed a lot of people who are weaponless, armless." …
June 4—China's regime hasn't changed
Calgary Herald — Today marks the 20th anniversary of the culmination of the Chinese government's savage crackdown on the pro-democracy protesters in Tiananmen Square and while, on the surface, China appears to be almost an entirely different country, the ugly methods by which the country's oppressive government retains power remain the same.
Once an isolated and murderous Communist enclave which kept its shutters tightly bolted, China has become the world's workshop, an exemplar of freewheeling capitalism with seemingly endless supplies of cheap labour harnessed to fuel global demand for consumer goods. China is now an economic heavyweight with leaders who receive deferential hearings at the most prestigious summits. Last summer, China even garnered the ultimate laurel of international respectability when it played host to the 2008 Olympics. This is quite a sea change for a nation which, only two decades past, was slaughtering its own citizens for the crime of demanding a voice in their own governance.
On closer inspection, however, the changes at the political level are only skin deep. The Communist Party still reigns supreme and brooks no opposition. Human rights abuses against dissidents and vulnerable members of society such as prisoners, the Falun Gong, Christians and the poor are still widespread and often unchecked. Reports of naysayers being silenced via the harvesting of their vital organs still surface.
The party often claims that it is clamping down in the name of stability and social harmony, but more and more this looks like naked aggression designed to nip potential challengers in the bud. Protesters of all stripes, not just democracy activists, are still routinely detained. For instance, nearly 20,000 schoolchildren died in last year's earthquake in the province of Sichuan, victims of shoddy school construction and China's culture of endemic corruption and low accountability.
Bereaved parents trying to raise awareness of the issue and secure punishment for those responsible have been threatened, detained and silenced by a government anxious to cover its tracks and avoid any sign that it is susceptible to popular opinion.
When foreigners protest, China's stock response is to claim that the complaints constitute unwarranted interference in its sovereign affairs. Sadly, many countries and businesses seem willing to go along with this out of self-interest.
Were the Tiananmen Square protests to happen today, there is little doubt that the party's response would be the same — a massive crackdown and killing of those involved. The only difference would be the world's reaction. There would be token condemnations but little or nothing in the way of sanctions. China is such a vital cog in the economy that few outside parties would turn their backs on the regime or do more than wish for the whole mess to go away.
The legacy of the Tiananmen protests is one of failure because China has changed the world more than the world has changed China.