News Corp Launches Education Tablet
March 7, 2013 1:48 pm Last Updated: April 3, 2013 6:58 am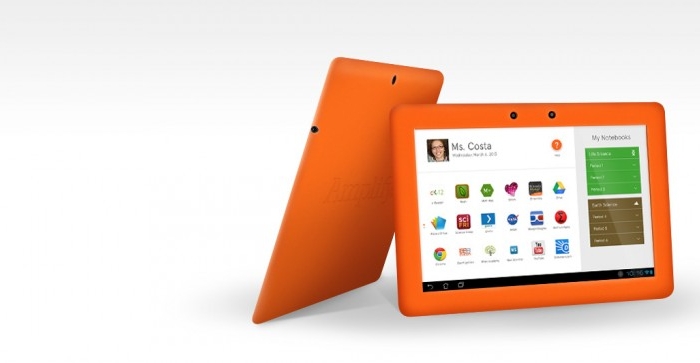 Joel Klein, head of News Corporation's new education brand, has released the Amplify tablet for students and teachers. He showed the device at the South by Southwest Conference in Austin, Texas, an annual event made up of film, music festivals and conferences.
The Amplify tablet has a 10 inch display, is powered by nVidia Tegra 3 quad-core CPU, has a 5 MP camera, runs on Android and focuses exclusively on K-12 students. It comes packed with the latest educational tools and the Common Core curriculum. This new curriculum guideline emphasizes career and college readiness. The second model of the tablet has 4G mobile connectivity for students who do not have wireless access at home, and costs $349 with $179 per year subscription. The basic tablet costs $299 with $99 for 2-year subscription. The prices are expected to go higher after June 30th.
For students, the Amplify tablet can help personalize studies. There is a host of education apps from providers like Google and Common Sense Media, instructional videos from Khan Academy and general knowledge from Britannica. They can save their progress in a particular subject and review sessions back home. They can clearly define areas where more studies are required and undertake tests to check proficiency in particular modules. This "dynamic personalized learning" would make studying more inclusive and fun, claim developers at Amplify.
Teachers can check attendance, view and control student's tablets. They can mix up content from pre-loaded sources and from the web to teach a concept more comprehensively. Distracted students could be given an "eyes on teacher" alert if their usage behavior indicates an inattentive mind. Taking quizzes, correcting them and identifying weak students can be done in an instant.
As for administrators, they can send new content to students when applicable. Parents can monitor their child's progress on a day-to-day basis. Basically, News Corp plans to incorporate all the advantages that technology provides into the education arena. Besides, Amplify was built from News Corp's acquisition of Wireless Generation, a major vendor of software-based data systems and assessment tools to schools. So, the tools for monitoring student's performances are all in-built.
Rivals claim that the new tablet's signature features are already available on web-based software platforms that can be run on any device. Presently, Apple iPad is the most preferred in the education market with 20,000-odd educational apps available in iTunes App Store.
Other than Apple, the other contenders in the education technology space are ClassDojo, McGraw-Hill and Pearson.
For more details regarding the Amplify tablet, visit their site. The tablet is expected to be launched in schools coming September.