The Newport-Mesa Unified School District Board of Trustees shot down a resolution Sept. 14 that would have defied the state of California's mask mandate for K–12 schools.
The resolution was requested by Chris Jones, a mother of three children who attend Newport-Mesa schools, as part of the Let Them Breathe campaign, a national organization advocating for mask-choice for K–12 students.
"Mask-wearing is a growing concern not only for parents of this community, but nationwide," Jones said.
"It is not the responsibility of our children to create comfort to others. It is our responsibility to stand up and ensure that our children are protected."
Ultimately, no motion was made on the item by any board member even after Board President Karen Yelsey offered the opportunity, which caused the resolution not to pass.
Board Trustee Krista Weigand told Jones she was appreciative of her efforts, but could not support the measure as it had the possibility of interfering with in-person learning.
"As a parent, I don't like masks," she said. "I don't want my kids to wear masks. But I do have a job to educate our children. And I think our whole board up here has a plan to keep our kids in school the whole entire year."
"I just can't [support the item] because before school started, we did receive a notice from the California Department of Public Health to all the school leaders and … it does state that [masking] can be enforced by law. And sitting up here as a board, we can be subjected to fines or civil enforcement actions by local health officers for refusal to adhere to the mandatory masking directive," she said.
Weigand noted that her children "didn't learn much" through distance learning last year and that she didn't want to risk a return to that if there was an outbreak in the district.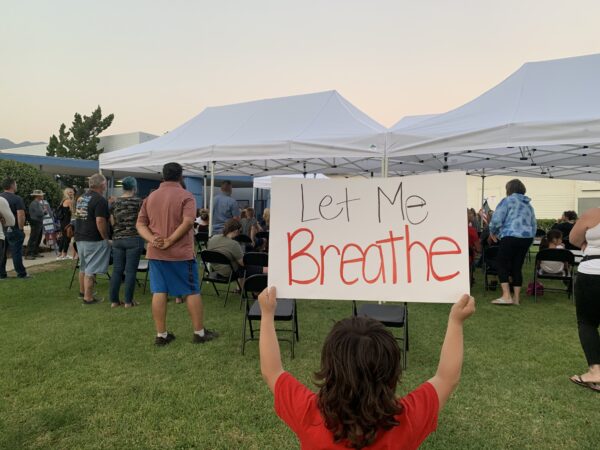 Jones argued that mask-wearing for young children can cause a variety of health problems, stating that there was also questionable science behind the efficacy of its protection against COVID-19.
"For more than 18 months, we've dealt with questionable and conflicting advice on masking. In a 2020 email obtained via the Freedom of Information Act, Dr. Fauci stated that the typical mask you buy at the drugstore is not really effective in keeping out the virus, which is small enough to pass through the material," said Jones.
"In addition, on March 30, 2020, the executive director of the World Health Organization emergency program stated there is no specific evidence to suggest that wearing a mask by the mass population has any particular benefit."
Jones also referred to a June 16, 2021, Gainesville, Florida study that showed masks that were worn even for a brief period of time were found to have harmful bacteria, parasites, and fungi, yet had no SARS-COV-2 virus on them.
"Wearing face masks has been demonstrated to have substantial adverse physiological and psychological effects. These include decreased oxygen in the blood, excessive carbon dioxide in the bloodstream, shortness of breath, increased acidity and toxicity, activation of fear and stress response," and more, Jones noted.
"Long-term consequences of wearing face masks can cause health deterioration, developing and progression of chronic illnesses, and premature death."