NEWPORT BEACH, Calif.—Four separate demonstrations in Newport Beach on June 3 remained peaceful—with the exception of a driver heading straight through a group of protesters as they jumped out of the way.
The driver was identified as Newport resident Don Wallace, 58, and taken into custody. Witnesses said children in the driver's path could have been killed, but nobody was seriously injured.
About 1,600 protesters lined the streets, mostly young people of highschool or college age.
While the main focus was on the case of George Floyd, a black man who died on May 25 as a white police officer named Derek Chauvin knelt on his neck, the case of Breonna Taylor came up as well.
The chants emanating from the crowd included "Say his name, George Floyd!" and "Say her name, Breonna Taylor!" and "No justice, no peace, no racist police!"
Breonna Taylor, 26, was killed by Louisville Metro Police Department in March, when police entered her home on a "no knock warrant." Taylor's boyfriend opened fire first, allegedly believing he was being robbed. In the rapid exchange of gunfire, Taylor was fatally struck.
Megan Wolfe of Westminster was among the protesters. She told The Epoch Times she won't generalize and say all cops are bad, because that's the same problem as "generalizing that all black people are bad."
But they are "part of a system that's working … to put people down," she said. "My whole family is in law enforcement and I think it starts with conversation, but I really think it starts at the election booth," she said.
"So, yeah, you have to be part of the system to break the system, I think, and that goes with voting for people to be in office to hold law enforcement accountable for their actions," she said.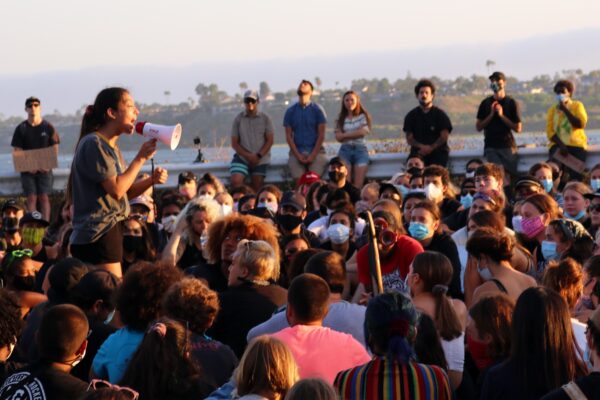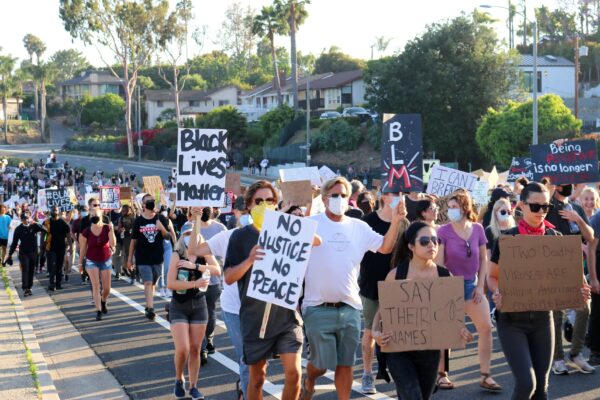 Rodney Brooks was one of the few older individuals in the crowd. He told The Epoch Times he feels "tired" as a black man marching again for the same causes from the civil rights movement.
"This is just another protest for the same thing we've been protesting about back in the 60s, the … way the police painlessly kill black people, day in, day out," Brooks told The Epoch Times.
He feels he has been racially profiled and harassed by police in his lifetime, even though he was "taught when I get stopped by the police to keep my hands on the car. Be nice, polite, all that good stuff."
Notably, most of the protesters weren't Newport Beach residents. One of the organizers of the protest confirmed to the L.A. Times that this is a deliberate strategy.
"We want to go to places of white affluence so that the pain and outrage that we feel can be put right in their faces," a Black Lives Matter leader, Melina Abdullah, told the Times.
At the end of the march, at approximately 7:30 p.m., roughly 200 demonstrators gathered in a cul-de-sac on N. University Dr. and speakers took turns on a megaphone.
"Let this moment radicalize you," one woman said. "We need to have redistribution of wealth to give back to those in need."
Another said, "You need to call out your racist family members who voted for 45!" referencing President Donald Trump.
"We need to amplify black voices and black businesses and defund the police," another said.