HONG KONG—New Zealand's Nick Voke has continued his hot form on the PGA Tour China with a win in the final event of the season – the Clearwater Bay Open which finished last Sunday Oct 14.
For in-form Kiwi golfer Nick Voke, his latest victory on the PGA Tour China goes down as the most satisfying of his remarkable breakthrough season.
The 23-year-old Aucklander won his third China tour event in four outings at the season-ending Clearwater Bay Open to finish third on the tour's Order of Merit, and qualify for next year's 2019 Web.com Tour.
He climbs to 258 from 327 on the official World Golf Rankings.
Starting the final day five strokes clear, Voke shot a third consecutive 3-under 67 on another windy, overcast day, for a 14-under total at The Clearwater Bay Golf and Country Club in Hong Kong, and a three-stroke victory over England's Callum Tarren, who fired a remarkable 62 to finish solo second and claim the tour's Order of Merit honours by the narrowest of margins over America's Charlie Saxon.
Later Voke declared what a satisfying victory it had been, as he shook off a dose of nerves to keep his cool down the stretch.
Voke continued his remarkable recent run on the China tour, which started with a tie for fourth in Suzhou, followed by back-to-back wins in Qinhuangdao and Macau last month. After a tie for 16th in last week's Zhuhai Championship, the rookie pro returned to his winning ways to collect the biggest cheque of the season.
"It's been a really awesome run of golf and I'm really excited to see what I can do in the next couple of years. This win means a hell of a lot, to be honest with you," Voke said afterwards.
"The first couple of victories I managed to come from behind, so to come out here with a five-shot lead and know that everyone is chasing me, it's a different sort of victory.
"I'm very proud with how I handled myself and how I went out and played today. It's absolutely the greatest pro week I've had so far."
Voke said he had been shaking with nerves while in the lead on Saturday, but managed to stay calm in front of big crowds and hold on to the lead by carding four birdies and one bogey. He had also just made only one bogey in each of his previous three rounds.
"I drove it very well all week and didn't have many opportunities to make bogeys. I only made four in the end so that just surmises how it was for me out there. Just very solid and steady golf," said Voke.
"I'm pretty exhausted and absolutely thrilled to be where I am and I think it will take me a couple weeks to realise what I've accomplished here. Right now, though, I'm just pretty tired."
Despite feeling some pressure from Tarren entering the back nine, Voke remained calm over the run home.
"The first time I saw the leaderboard was on the ninth green and I knew Callum was going deep and I had to keep things going if I wanted to win," said Voke.
"Just a good gritty effort, on that back nine. I stuck to my game plan and I felt the pressure, but I handled myself and my emotions and some adversity."
In a dramatic turn of events, Tarren won the order of merit by less than 3,000 RMB from American Charlie Saxon, while Japan's Yuwa Kosaihira and Korea's Todd Baek finished fourth and fifth on the money-list to also secure Web.com Tour membership.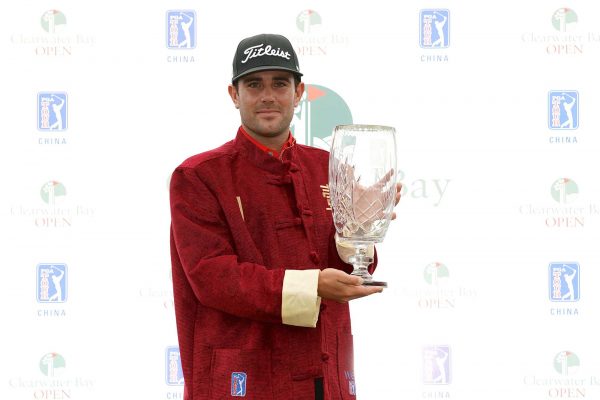 The 28-year-old Callum Tarren recorded his fourth runners-up finish of the season to secure the No 1 position on the order of merit, despite never having won on the tour, which he first played in 2016.
The Englishman carded eight birdies in an impressive bogey-free round as he looked to put the pressure on Voke and test the young New Zealander's nerves.
"I thought if I could put some pressure on Nick early on and see what nerve he has … clearly, he has pretty solid nerves," said Tarren, who admitted he was surprised to win the order of merit.
Andrew Wood is a sporting enthusiast and player in Hong Kong