New York state officials on Saturday reported 1,005 new CCP (Chinese Communist Party) virus cases in 24 hours, the sharpest increase in nearly four months.
The new cases represented about 1 percent of the 99,953 tests conducted on Friday, Gov. Andrew Cuomo, a Democrat, said in a statement.
The state has 527 COVID-19 patients in hospitals. COVID-19 is the disease caused by the CCP virus.
New York health officials recorded 908 positive cases on Thursday and 955 on Wednesday.
The increase in cases was happening as officials continued loosening restrictions, allowing many New York City schools to open for in-person instruction next week. Officials have also let more businesses reopen in recent weeks.
New York was hit the hardest of any state by COVID-19, which kills a small percentage of patients, primarily those with comorbidities. Over 25,000 patients have died with COVID-19, according to the state Health Department, including over 13,000 with hypertension.
Officials in New York were telling people to continue going out until March and Cuomo imposed an order on nursing homes that critics said led to more deaths than would have happened otherwise. The Department of Justice is probing that matter, which the governor has said is spurred by politics. He's pointed to an internal report that claimed infected nursing home staffers, not patients, spread the virus.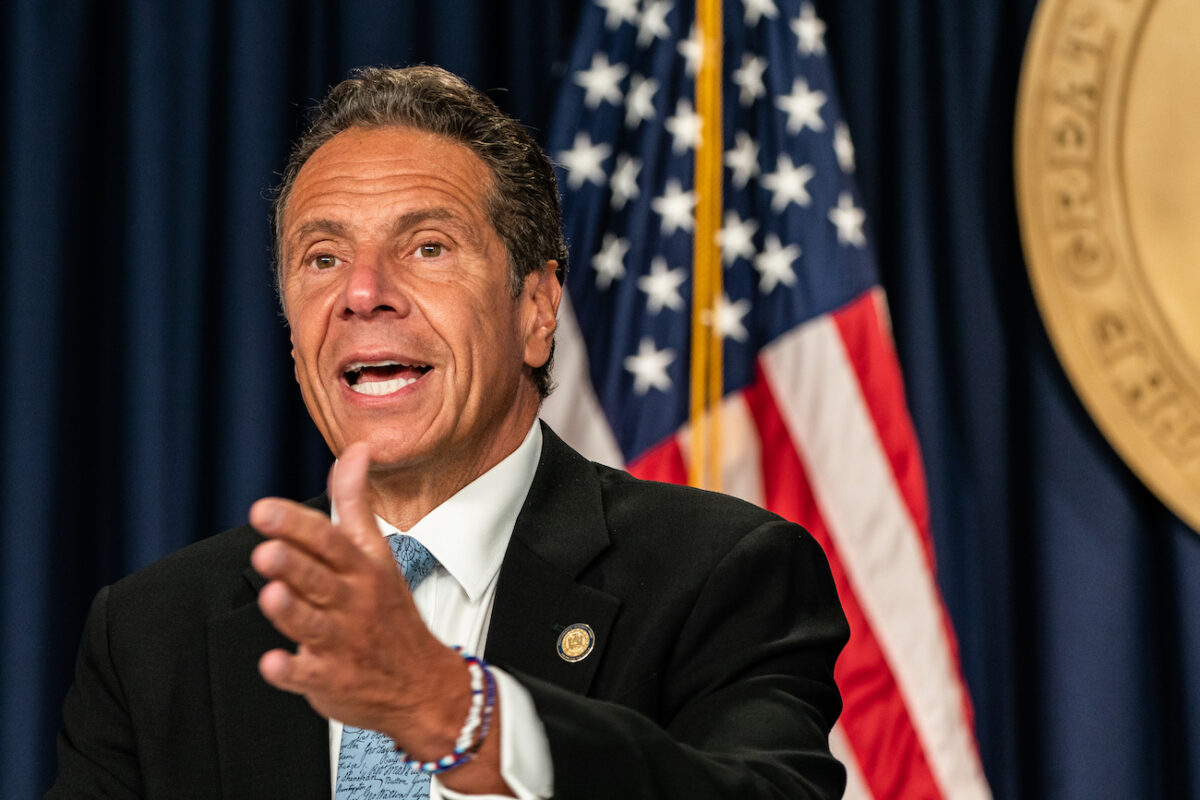 Alarming rises in case counts have prompted several other state leaders to take action this week.
Wisconsin Gov. Tony Evers, a Democrat, declared a new public health emergency over the spread of the CCP virus at colleges.
"We need folks to start taking this seriously, and young people especially—please stay home as much as you are able, skip heading to the bars, and wear a mask whenever you go out. We need your help to stop the spread of this virus, and we all have to do this together," he said in a statement.
According to a Johns Hopkins University tracker, the number of daily cases in the United States increased to over 55,000 on Friday, after dipping to under 25,000 on Sept. 7. The number had been above 50,000 every day for most of July and several days in August.
Other leaders are joining Cuomo in relaxing restrictions.
Florida Gov. Ron DeSantis, a Republican, lifted all restrictions on restaurants, which can now operate as they would pre-pandemic.
"I think that this will be very very important to the industry and it also will be a recognition that they have worked as hard as anybody to create safe environments," DeSantis told a news conference.
"In fact, the idea that government dictating this is better than them making these decisions so that their customers have confidence I think is misplaced."