World's Tallest Ferris Wheel Clears New York City Planning Commission
The ferris wheel which was the world's tallest when announced in 2012 is one step away from final approval
September 12, 2013 11:04 am Last Updated: September 12, 2013 5:49 pm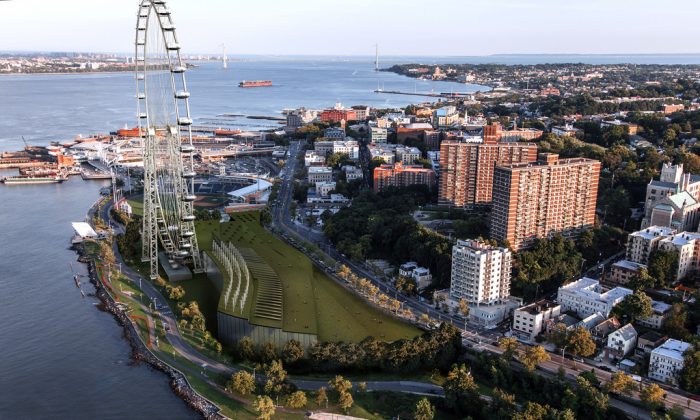 NEW YORK—The city's planning commission unanimously approved plans for the world's second tallest ferris wheel on Sept. 12.
Construction on the 625-foot-tall New York Wheel will start on Staten Island this winter and is expected to complete by 2016. The project awaits final approval from the City Council, which is expected to pass it in late October this year.
The planning commission also approved an accompanying mall and hotel, which together with the ferris wheel are part of a larger St. George's Waterfront Redevelopment Project. Mayor Michael Bloomberg announced plans for the ferris wheel, mall, and hotel September last year.
The Economic Development Corporation estimates the combined private investments in the project to total $480 million.
Upon completion the ferris wheel will be taller than the Singapore Flyer, currently the tallest operating ferris wheel in the world. It will also be taller than the "High Roller" wheel planned for the Last Vegas strip.
* But, as of Sept. 10, the New York Wheel will be the world's second tallest upon completion—Dubai approved a ferris wheel that will be the world's tallest just two days before the planning commission's approval.
"Our Administration has made major investments all along the North Shore of Staten Island, because we know this area is full of potential for economic growth," Mayor Michael R. Bloomberg stated in a press release.
"But this newest plan is the most exciting of all. The New York Wheel will be an attraction unlike any other in New York City – even unlike any other on the planet."
The New York Wheel will be situated steps from the Staten Island Ferry. The site on which the wheel will be built is currently a parking lot for the Richmond County Bank Ballpark and the St. George Ferry Terminal.
St. George's Waterfront Redevelopment Project is considered a Bloomberg legacy project and the administration is rushing it through before the mayor completes his term.
The wheel will rise 400 feet higher than the Church at Mount Loretto, which after being built in 1894, is still the tallest building on Staten Island. It will be visible from Battery Park in Manhattan, Governor's Island, and Liberty Island.
* CORRECTION: An earlier version of this article referred to the New York Wheel as the tallest in the world. This statement is incorrect. The Dubai Emirate approved a taller wheel—the Dubai Eye—on Sept. 10. The Epoch Times regrets the error.