9/11 Run Still On Despite Boston Incident
April 18, 2013 10:39 am Last Updated: October 29, 2015 3:31 pm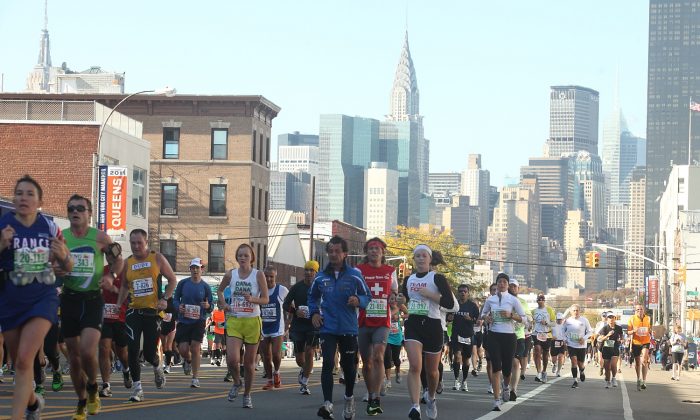 NEW YORK—When the bombs went off in Boston on Monday, the New York Police Department sprung into action. Just like they have always done since the terrorist bombings in London and Madrid, they got ready for the worst.
"We prepared as if yesterday was a prelude to an attack here in New York," said New York Police Commissioner Ray Kelly at a press conference Tuesday at City Hall. "That indeed has been our standard operating procedure since 9/11."
Kelly added that New York's police will also re-evaluate deployments and add resources where needed. But Mayor Bloomberg, who was also at the press conference, emphasized that the city is not canceling any major, planned events, including the annual New York City marathon, the largest in the world.
The NY Police Department has one of the most highly trained and skilled counterterrorism forces in the world and regularly disrupt terrorist plots. The last major attempt they stopped was in 2010, when an SUV packed with explosives was found in Times Square and safely removed.
"Any major event, we plug in counter terrorism factors," said Kelly. "In this post 9/11 world, we have to be concerned."
Ironically, the first 9/11 Memorial 5K run/walk and family event day will be taking place this weekend. There will also be a four-mile race in Central Park called Run for the Parks on the same day.
"We are supporting the 9/11 memorial museum and encouraging volunteerism," said Anthony Guido, the National September 11 Memorial and Museum Communications director by phone Tuesday. He added that the event was already sold out for participants a few weeks ago. The 5K run/walk starts at Pier 57, and doesn't have any formal ceremony or event at the end, though the nearby family day event at Vesey Street between Church and Broadway will run from 10 a.m.–3 p.m. and is free and open to the public.
All of the money that is raised through run/walk and family day will go to support the 9/11 Memorial and 9/11 Memorial Museum.
The route of the run/walk is symbolic in more than one way. It will start from Pier 57 and travel through lower Manhattan on a route that passes by key spots to the 9/11 story, and symbolizes unity in the aftermath of 9/11.
The other major public events happening in the city this weekend are the Tribeca Film Festival and Earth Day NYC.
"Our thoughts and prayers are with the victims of the bombings at the Boston Marathon. The safety of our festival guests is our top priority," stated Tribeca Film Festival organizers Tuesday.