The New York state legislature is proposing a bill that would force a gun permit applicant to reveal all of his or her social media posts in the past three years.
Senate Bill S51001 passed the state Senate in a 43-20 vote on Friday and, if signed into law, would require gun applicants to provide "a list of former and current social media accounts of the applicant from the past three years to confirm the information regarding the applicants [sic] character and conduct" among other "moral character" checks.
This requirement, the bill states, was to check that a gun  applicant would have "the essential character, temperament, and judgment necessary to be entrusted with a weapon and to use it only in a manner that does not endanger oneself and others."
The bill came as a part of New York state lawmakers' proposed re-design of the East Coast state's firearm laws during a special legislative session on Friday, which Gov. Kathy Hochul called days after the U.S. Supreme Court ruled the state's concealed carry gun permitting system to be "unconstitutional."
Other background check provisions in the bill include gun applicants to disclose the contact information of adults living in their house and four character references, provide certification of at least 16 hours of in-person firearms safety training and two hours of practice at a range, and undergo a "national instant background check" for every ammunition purchase.
Moreover, the bill includes provisions that would make it illegal to carry a gun in a "sensitive location"—following the highest court's opinion last week that certain laws restricting gun use in "sensitive places" are "constitutionally permissible."
These sensitive places, according to the bill, include parks, public playgrounds, places of worship, Times Square, public transit, health care facilities, places where public protests happen, shelters, theaters, polling places, and bars.
'Moral Character' Checks
Aaron Dorr, executive director of the New York State Firearms Association, is among gun rights advocates slamming the bill for requiring licensing officials to perform "moral character" checks on gun applicants.
"This is the kind of bill that the Gestapo would be proud of. This is the kind of bill you'd see in communist China," said Dorr, The Associated Press reported. "This will never survive a court challenge. This is the kind of concept that would pass in those countries."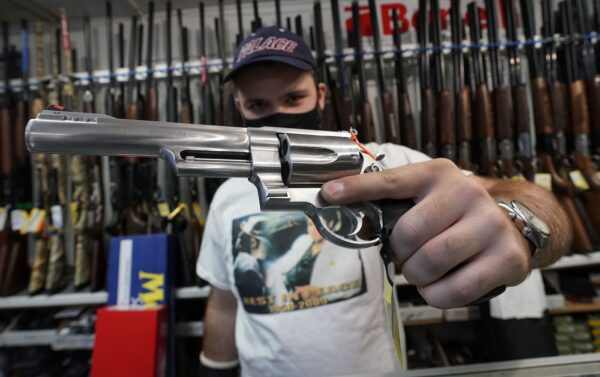 In a press conference after the Senate vote, Kochul called the proposed law the "embodiment of what it means to be an American," reported The New York Post.
Sen. Andrew Lanza, a Staten Island Republican, disagreed.
"Now we're going to let the pizzeria owner decide whether or not I can express my constitutional right," said Lanza, AP reported.
"This is a disgrace. See you in the courts. You all know this is unconstitutional. You all know this is just a ruse. Another attempt to say to the people of the state of New York: 'We don't trust you.'"