A New York eatery that hosted a large holiday party with largely maskless patrons had its liquor license suspended for violating several COVID-19 regulations and other health safety laws, according to a Thursday announcement by state authorities.
The Whitestone Republican Club held an indoor holiday party at the Queens establishment, called Il Bacco Ristorante, on Dec. 9, with footage from the event posted on social media subsequently going viral. It showed about a dozen revelers dancing in a conga line to the Bee Gees' "You Should Be Dancing," with a man in the line waving a "Trump 2020" flag while other attendees were seen seated at tables or milling about. Several people had masks on, but the vast majority had no facial coverings.
Gov. Andrew Cuomo later reacted to the footage, telling NY1 journalist Zack Fink: "I saw the video. Covid conga lines are not smart. That is my official position. Why you would do an unmasked Covid conga line in the middle of a pandemic defies logical explanation."
New York City mayor Bill de Blasio also weighed in, telling NY1 that "anyone who violates the state rules, we're going to go deal with," adding, "I'm certain the sheriff and other city agencies are going to follow up."
The Whitestone Republican Club reacted to reports Cuomo and de Blasio had taken interest in the event, saying in a Dec. 22 statement, "The fact that the two most powerful people in the state are talking about our little party speaks volumes about their priorities, as well as how hypersensitive they are to even the slightest threat to the dictatorial authority they crave."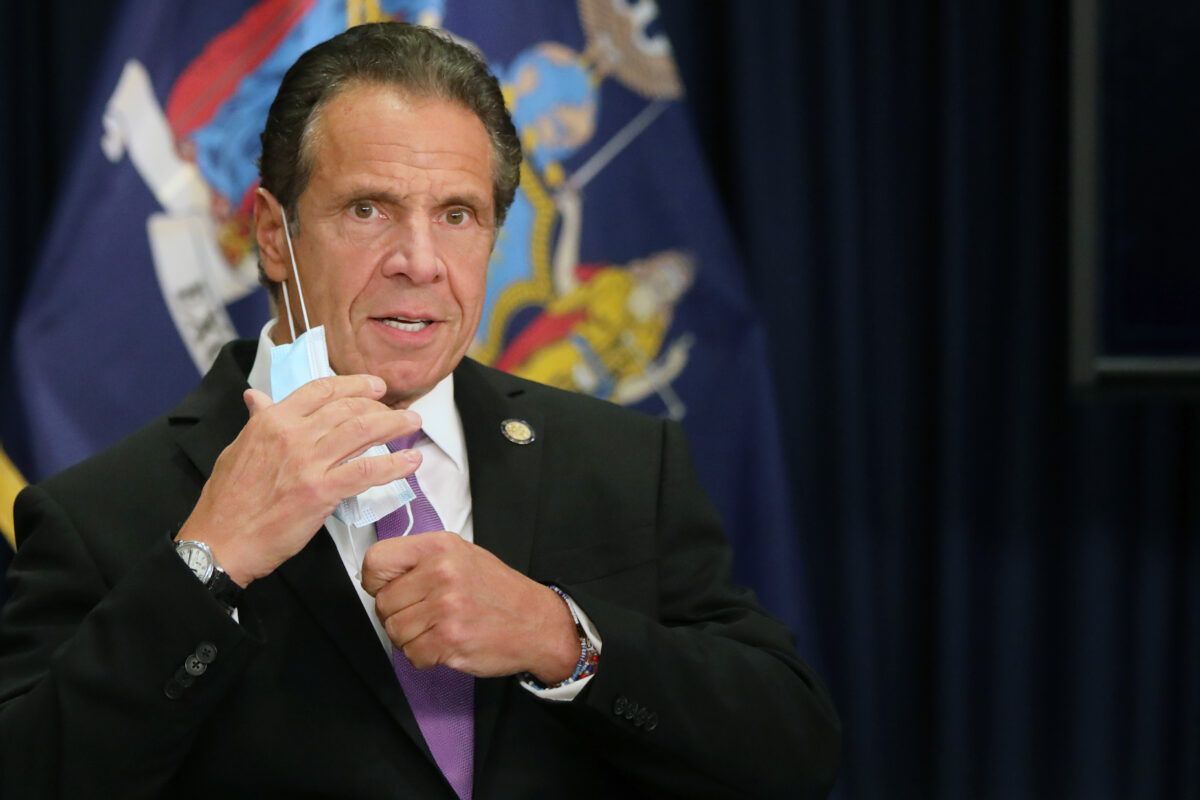 "We ALL have the inalienable right under the First Amendment to peaceably assemble, and that's what we did. There's no pandemic clause in the Constitution, no matter how badly the media and Cuomo want you to believe otherwise," the club added.
A Dec. 23 investigation by the New York State Liquor Authority found a range of pandemic-related violations at the restaurant, including staff improperly wearing masks and indoor dining in a fully-enclosed rooftop space, an agency spokesperson told Patch.
Authorities subsequently moved to suspend the eatery's liquor license.
"During a follow-up inspection, investigators found flagrant violations of indoor dining regulations and existing health safety and Alcoholic Beverage Control laws, while verifying the maskless party depicted in the video did in fact occur," the State Liquor Authority said in a statement, as cited by New York Post.
"This summary suspension should send a strong message that we have zero tolerance for establishments that put New Yorkers' health at risk," it added.
One person attending the party later tested positive for COVID-19, according to a statement from the Whitestone Republican Club, although it was not clear whether he contracted the illness at the event.
"We wish the best to Jim Trent for a speedy recovery and understand that his hospitalization was purely precautionary, and that he is being released today. Whether he contracted the virus at our event, his club's holiday party held a few days prior, or in the normal course of life will likely never be known," the Whitestone Republican Club said in a Dec. 31 statement.
Trent told The Queens Daily Eagle that he wasn't sure his falling ill had anything to do with his attendance at the party.
"I wasn't on the conga line. I ate by myself," he said. "I don't know how I got this."
The Whitestone Republican Club defended holding the event and denounced pandemic-related punitive measures.
"There are clearly two camps people have broken into during this challenging time," it said. "One that believes that people should be forced into compliance with recommended guidelines under threat of force by official penalty and retaliation."
"The second believes that people should be responsible to decide for themselves how to protect their health and how much risk they are willing to assume, just as we do with most other personal risk decisions in our society," it added. "We clearly fall into the second camp."
"Defending our personal liberties is paramount in a free society, and no one should be penalized, shamed, or ostracized for how they choose to live their life," the Whitestone Republican Club stated.
According to Patch, the restaurant has until Jan. 27 to respond to the State Liquor Authority's charges.