New York recorded nearly 6,500 new cases of the CCP virus overnight, bringing the total number in the state to 37,258 on March 26.
The Epoch Times refers to the novel coronavirus, which causes the disease COVID-19, as the CCP virus because the Chinese Communist Party's coverup and mismanagement allowed the virus to spread throughout China and create a global pandemic.
New York had 30,811 cases on March 25, marking an increase of 20 percent.
The state has more than 50 percent of all cases in the United States. About one of every three cases in the country is in New York City, which reported 3,537 new cases and has nearly 22,000 in total.
The surge came a day after New York Gov. Andrew Cuomo said social distancing measures appear to be working, citing how projections showed that hospitalizations from the virus went from doubling every two days to doubling every 4.7 days.
The death toll in the state rose to 385 on March 26, an increase of 100 from a day prior. Most of the deaths are in the city, which has a population of 8.6 million.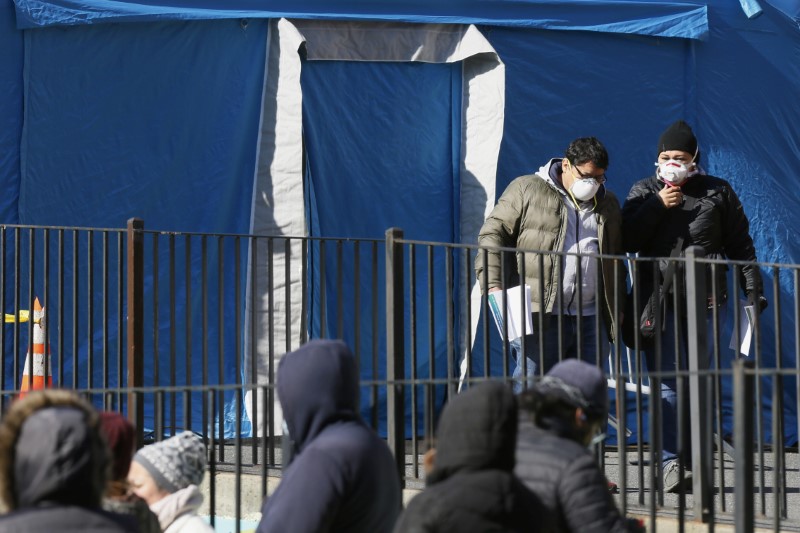 The mortality rate from the disease dropped to 1 percent in the state. Health experts believe the true rate is lower because many patients who show only mild symptoms are never tested, leaving them outside the case count.
A makeshift morgue was created outside Bellevue Hospital in Manhattan, and Army personnel are being deployed to quickly build field hospitals, converting the Javits Center in Manhattan and other buildings.
Hospitals in the city are in danger of being overwhelmed as the number of patients requiring care sharply rises, and some patients spend up to 30 days on ventilators, while reports of workers lacking enough personal protective equipment circulate, though officials have denied a shortage.
"We now have enough personal protective equipment for the foreseeable future," New York Gov. Andrew Cuomo told reporters at a press conference.
But he said that nearly any scenario will see the state's existing capacity overwhelmed, prompting officials to race to boost capacity to 140,000 beds from 53,000 beds through measures such as requiring every hospital to raise capacity by at least 50 percent and converting facilities like Javits. Officials are scouting new sites, primarily in the downstate area.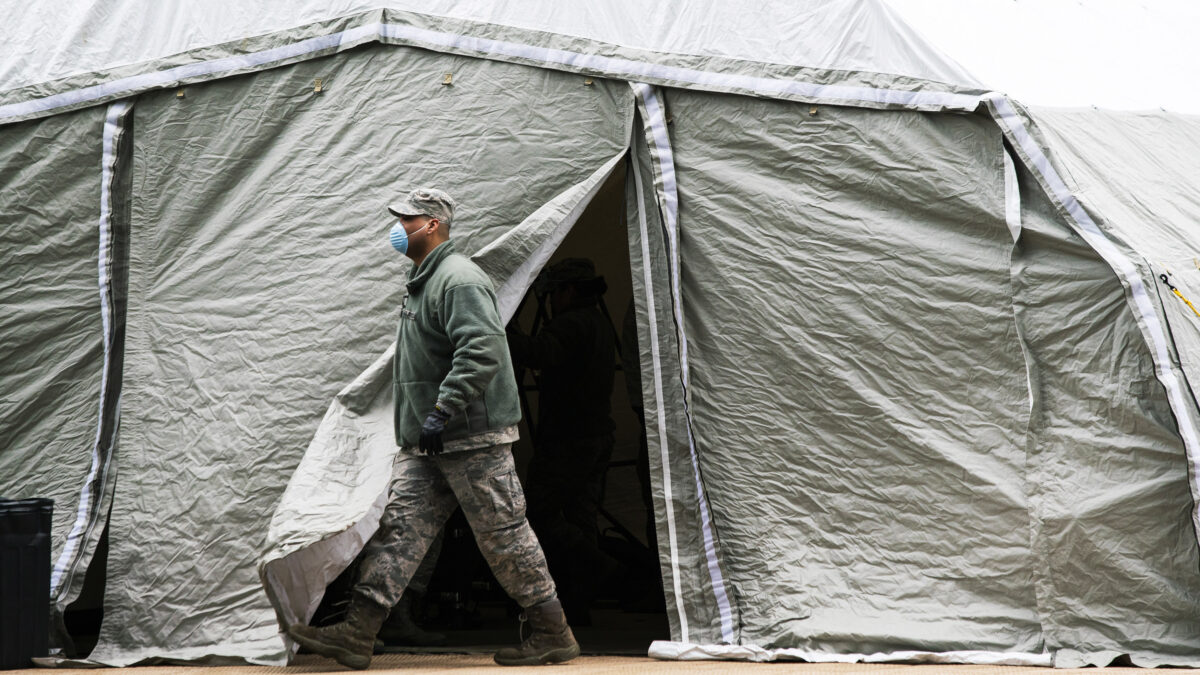 "Our goal is to have a 1,000-plus overflow facility in each of the boroughs downstate and the counties," he told reporters.
The social distancing measures, such as requiring residents to stay home except for essential trips, is the other prong, trying to reduce the speed at which people get infected, bringing the rate of increase down.
Hospitals taking care of more patients than they have the capacity for in New York City can transfer patients to hospitals in the city that aren't at capacity, Cuomo said, adding that he doesn't support moving patients to hospitals upstate.
"I'm not eager to redistribute people from downstate to upstate," he said.
Cuomo and state officials again dismissed calls for travel restrictions to keep New Yorkers from traveling to other areas in the country.
"Dr. Zucker's position was, it's not necessary. And I would agree with Dr. Zucker," Cuomo said, referring to comments made by the state commissioner of health, Dr. Howard Zucker.