New York Named State With Highest Wealth Inequality
September 18, 2014 5:31 pm Last Updated: September 18, 2014 9:24 pm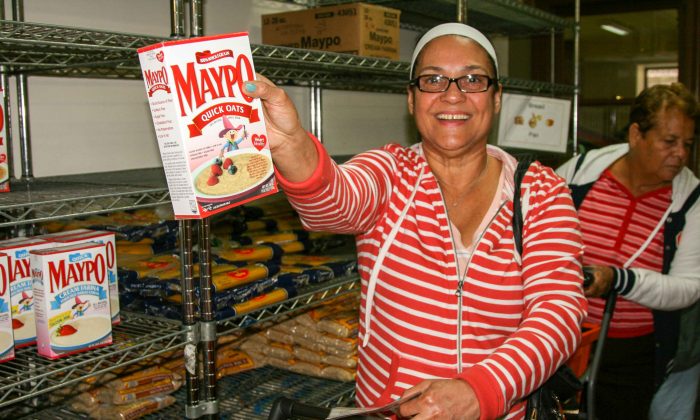 NEW YORK—New York's wealth disparity is worse than India's or the Dominican Republic's, according to new data released by the U.S. Census Bureau.
It's the state with the highest level of wealth inequality, data analysis showed. The richest 5 percent earn 88 times as much as the poorest 20 percent.
"The rich are in the stratosphere," said Assemblywoman Linda Rosenthal who represents the Upper West Side and Clinton, "They're billionaires living in the sky—they don't know about the rest of us."
Amid the din of an Upper West Side food bank, she spoke of the people who come to her agency for Supplemental Nutrition Assistance Program (SNAP) benefits: "They feel so vulnerable, and some of them feel ashamed that they have to go to the government for food stamps to be able to eat…Their numbers are increasing."
The Coalition Against Hunger declared Thursday that the data was a reminder of the tale of two cities in New York.
"The figures support what we thought all along…One in five of our neighbors lives below the poverty line," said New York City Coalition Against Hunger's executive director Joel Berg on Thursday. 
"While the economic elite often declare a complete economic recovery, this is simply not the case for the remaining 99 percent."
The median family income and poverty rate have stayed largely the same between 2012 and 2013. The poverty rate slightly increased from 15.9 percent in 2012 to 16 percent the next year, while median family income rose from $57,096 in 2012 to $57,369 in 2013.
Manhattan Borough President Gale Brewer said, "It's a strange dichotomy we're in right now." 
Pick Your Own 
At the West Side Campaign Against Hunger, located in a church on 86th Street, people can shop for their own food in a supermarket-style pantry, with produce donated from stores and farmer's markets. This set-up is meant to give people a sense of empowerment, said staff. 
Food staples, like beans, rice, and flour, are available as well as fresh fruits and vegetables. Each person is allotted a certain amount of food, to leave enough for others and is checked out by cashiers similar to an actual supermarket. 
Coalition director Lisa Levy said that she advocates for food security because of her parents who were both public school teachers. "I've always been taught that everyone should get their fair deal."
"There's a lot of need," said Soraya Diaz, a representative for the Coalition's Food Action Board. "One day you might wake up having nothing…I have two jobs and it's still not enough. This is really stressful for me."