New York is set to become the second state in the United States to ban flavored e-cigarettes after Gov. Andrew Cuomo used executive power to outlaw the sale of the products amid rising concern over its health effects and youth vaping.
The Democratic governor announced an "emergency executive action" to ban all flavored e-cigarettes besides tobacco and menthol, and said he was worried the products were causing a nicotine addiction among young people.
"Manufacturers of fruit and candy-flavored e-cigarettes are intentionally and recklessly targeting young people, and today we're taking action to put an end to it ," he announced at a press conference in Manhattan on the morning of Sept. 15.
"Vaping is dangerous," the third-term Democrat said. "At a minimum it is addicting youth people to nicotine at a very early age."
E-cigarette flavors such as bubble gum and cotton candy target a younger audience, he added.
Cuomo said New York's health commissioner, Howard Zucker, will formally ban the products during an emergency meeting of the state's Public Health and Health Planning Council this week. The state-wide ban will then take effect immediately.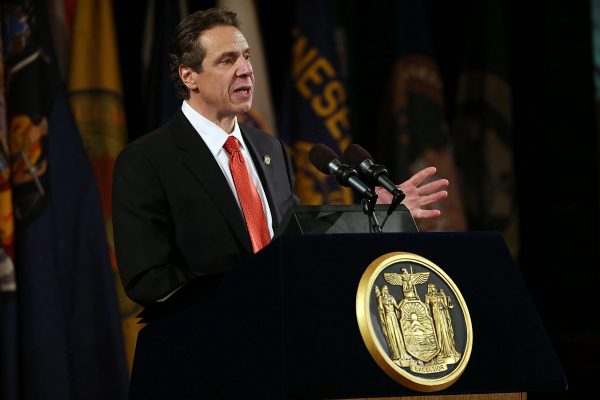 It comes amid a surge in respiratory illnesses associated with vaping. Nearly 400 people around the country have been stricken with a lung illness that is potentially vaping-related, according to the Centers for Disease Control and Prevention. Six have died.
"We do not know the long term-term health effects of the use of the product," Cuomo said. "No one can say long-term use of vaping—where you're inhaling steam and chemicals deep into your lungs—is healthy."
A severe lung disease believed to be linked to vaping has caused the hospitalization of hundreds across the United States with reported symptoms including vomiting, severe shortness of breath, fatigue, and fever.
"We need to tackle this as fast as possible. We don't need to repeat history," Dr. Zucker said, adding that 64 cases of the illness had been reported in New York alone so far.
Meanwhile, Cuomo issued a warning to stores selling e-cigarette products to underage people.
"Those retailers are now on notice that we are ramping up enforcement and they will be caught and prosecuted," he said.
Sales of e-cigarettes are banned in New York to people under 18 years old, an age that will rise to 21 in November. Cuomo said he has told state police to increase enforcement against sales to underage people.
New York state police and the Department of Health will move to conduct undercover investigations under the Adolescent Tobacco Use Prevention Act, according to the governor's office. Under the executive order, retailers found selling tobacco and vaping products to those under the age of 21 will face criminal penalties as well as to civil penalties, it announced.
"New York is confronting this crisis head-on and today we are taking another nation-leading step to combat a public health emergency," Cuomo said in a statement.
A spokesman for Juul Labs, a key player in the e-cigarette market, told the New York Times in a statement that the company agreed with "the need for aggressive category-wide action on flavored products," adding that it had removed flavored pods from its shelves in "traditional retail stores" in Nov. 2018.
Juul Labs "will fully comply with local laws and the final F.D.A. policy when effective," spokesman Austin Finan added.
The move comes after Michigan's Gov. Gretchen Whitmer earlier this month used executive power to implement a six-month ban of flavored e-cigarettes. The order went into effect on Sept. 4 but businesses have 30 days to comply.
Reuters contributed to this report.