New York City Mayor Bill de Blasio said Friday the city only has enough ventilators until early next week.
"I don't know after Sunday if we're going to have what we need, and that's just the ventilators" de Blasio told CNN, adding that New York City can "only get to Monday or Tuesday at this point. We don't know after that."
The mayor added that the city is in desperate need of medical personnel as well to combat the Chinese Communist Party (CCP) virus.
"We predict by something like Monday or Tuesday 5,000 people in our ICUs, intubated, fighting for their lives with COVID cases," de Blasio also said the program.
"Five thousand—and that number will then grow. That's a staggering number. Every one of those people will need a ventilator, every one of those people will need doctors and nurses constantly checking on them and adjusting their treatment," de Blasio added.
The mayor again pleaded with the federal government to send 1,000 nurses, 150 doctors, and 300 respiratory therapists by Sunday, reported the New York Post. Ventilators aren't useful if personnel cannot operate them, he said.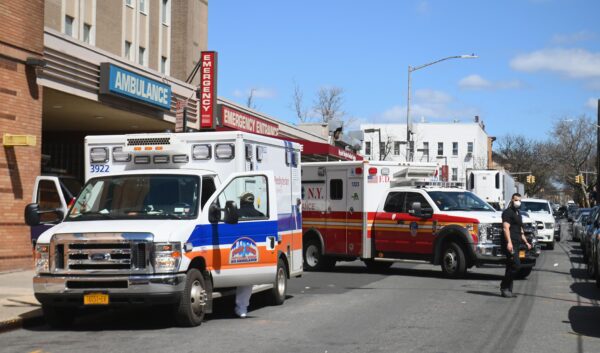 "If that is not done in the coming days you are going to see people die who didn't need to die," de Blasio warned. "First it will be hundreds then it will be thousands, who we'll lose, Americans we'll lose who did not need to die," he added.
So far, according to tallies from the New York Times and Johns Hopkins University, New York state has been the hardest-hit in the United States, with more than 90,000 confirmed cases. The majority of those cases have occurred around New York City and its suburbs.
On Thursday, Gov. Andrew Cuomo also warned the state will run out of its supply of ventilators within the next six days if further assistance isn't delivered.
The warnings came as President Donald Trump on Thursday invoked the Defense Production Act to aid companies building ventilators for coronavirus patients to receive the supply of materials they need. In a memo released by the White House, Trump directed the U.S. Health and Human Services secretary to use his authority to help facilitate the supply of ventilator materials for six companies – General Electric, Hill-Rom Holdings, Medtronic, Resmed, Royal Philips N.V., and Vyaire Medical.
Earlier this week, the U.S. Navy's Comfort hospital ship arrived in New York to deal with the city's overflow of patients.
The vessel's captain, Patrick Amersbach, told the New York Times that only three of the ship's 1,000 beds are being put to use. "The process continues and we are honestly looking forward to seeing a significant increase in patients being transferred to the Comfort," Amersbach said.
But a spokesperson for the Navy said that 20 patients are being treated on the ship, reported the Post.
Reuters contributed to this report.