New York police said a man walking his dog was killed by a stray bullet fired by a rifle-wielding gunman who shot at but missed his intended target.
Winston McKay, 40, was walking his dog Milton in a Manhattan neighborhood in the early hours of June 10 when he was shot and killed.
The unidentified gunman was caught on surveillance video standing on the Hamilton Heights sidewalk on West 146th Street, answering a phone call and holding a rifle.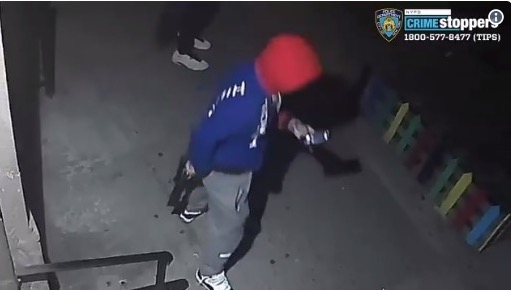 The footage then shows another man walking by, at which point the assailant raises the rifle and points it towards him. Moments later the suspect and an apparent accomplice flee the scene.
New York Police Department officials cited by CBS New York said the suspect fired the rifle—not evident from the footage—at his intended target but missed.
According to ABC7, an errant bullet struck McKay in the leg and pierced a major artery.
McKay was taken to a hospital, where he later succumbed to his wounds.
WANTED: NYPD release video of rifle-wielding suspect who fatally shot Harlem man — the unintended target — walking his dog after celebrating his anniversary with his husband in a nearby park – WINS

PLEASE SHARE!

— Breaking911 (@Breaking911) June 12, 2019
Police have released a photo of the suspect and, according to ABC7, said that hours earlier he had gotten into an argument with his intended target over drugs.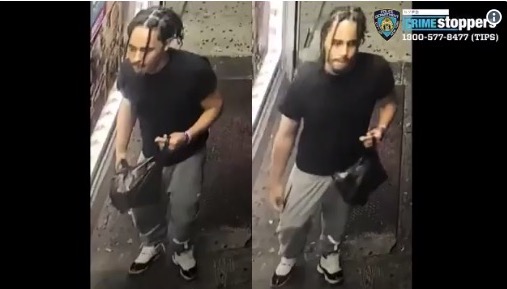 Authorities are asking for anyone with information to contact Crime Stoppers or the police.
The investigation remains active.
6-Year-Old Hit by Stray Bullet From 'Celebratory Gunfire'
In related news, a 6-year-old girl was hit in the head by a stray bullet during celebratory gunfire in Oakland, California, on New Year's Eve, according to police.
The girl, whose name has not been released, was playing in her backyard on Thermal Street, near Cherokee Avenue, when someone in the area fired a celebratory shot before 2 a.m., police said, KGO reports.
A family member drove her to a hospital where, after initial treatment, she was then transferred to UCSF Benioff Children's Hospital Oakland, EBT reports.
Based on the location of the girl's wound and other evidence found at the scene, investigators believe she was struck by celebratory gunfire and are trying to determine exactly where the shot was fired from, police said at a press conference.
No other injuries were reported in the area.
"It is very unfortunate that a child was shot during her family's New Year's celebration," Officer Johnna Watson said Tuesday, Jan. 1, according to the report. "This is a tragic incident and shows the danger of celebratory gunfire."
Savage Beating of Special Education Student Caught on Camera
In another case of a crime caught on camera, a Long Beach special education student was set upon by a group of youths and brutally beaten.
The video showed several boys knocking another boy to the ground, before repeatedly kicking and punching him as he tries to shield himself from the blows.
Rasheena Mccord, the boy's mother, told the Long Beach Post that her son was attacked by a group of teenagers as he was walking home from school on Wednesday, May 15.
Mccord said her son tried to run away when the teens confronted him, but they caught up to him and beat him for several minutes.
*WARNING: graphic video
According to Long Beach police cited by CBSLA, officers were called to an area hospital following reports of the beating.
Police said they were investigating the incident as gang-related.
The victim's mother told the Long Beach Post that incidents of groups of teenagers attacking other teens have been on the rise in recent days.
She and other parents gathered on Monday in front of the Long Beach Polytechnic High School to call for school administrators and police to take action to protect their children from attacks.
"I'm told it's being investigated, but I would like to hear more from school and police," said one parent. https://t.co/Pbxd6P1YEF

— Long Beach Post (@LongBeachPost) May 21, 2019
Authorities have increased the frequency of patrols in the area, according to CBSLA.
Mccord said her son suffered scrapes, bruises, and a torn eardrum.
Tiffany Meier contributed to this report.