A New York man has been arrested and charged with threatening to murder two U.S. Senators over the confirmation vote for new Supreme Court Justice Brett Kavanaugh.
Following a contentious confirmation process, Kavanaugh was confirmed to the court on Oct. 6.
A criminal complaint unsealed on Oct. 19 by the Department of Justice said that Ronald DeRisi, 74, of Smithtown on Long Island, threatened to murder and assault two Senators regarding the vote on Kavanaugh.
DeRisi left more than 10 threatening voicemails at the offices of the two Senators, who have not been identified, beginning on Sept. 27, according to the complaint.
"The threats in the voice-messages were apparently made to discourage Senator-1 and Senator-2 from supporting Judge Kavanaugh's nomination and/or as retaliation for having voted to confirm Judge Kavanaugh to the Supreme Court," according to the complaint.
In one voice message left for one of the Senators on Oct. 6, DeRisi stated in part: "You better pray this guy don't get in…" Less than 90 minutes later, he called the same Senator and left a message that stated, in part, "I'm gonna get you."
To the other Senator, DeRisi said in a voice message sent on Sept. 27, that he had a "present" for the official, stating in part, "It's a nine millimeter. Side of your … skull." The message ended with the defendant allegedly saying, "Yeah, Kavanaugh. I don't think so."
DeRisi was identified through telephone records and voice tests. The United States Capitol Police executed a search warrant on his house after he was arrested and seized the cellular telephone officials said was the one used to leave the threatening voice messages.
"Representative democracy cannot work if elected officials are threatened with death for simply doing their job," Richard Donoghue, United States Attorney for the Eastern District of New York, said in a statement.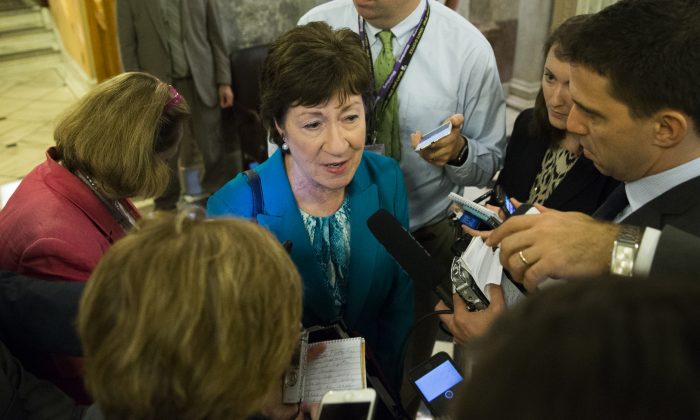 Collins Threatened
"The First Amendment – the pinnacle of American achievement – protects debate, disagreement and dissent, not death threats. We and all those dedicated to the rule of law will not tolerate the use violence and threats of violence in attempts to prevail in political disputes."
A number of Senators who were on the fence about voting for Kavanaugh received threats, including Sen. Susan Collins (R-Maine). She received death threats after announcing she'd vote for Kavanaugh, and a number of other threats while still undecided.
"In one case—and we are going to turn this over to the police, but unfortunately, of course, the person didn't leave a name or number—but they actually threatened to rape one of my young female staffers," Collins told The Wall Street Journal.
Also, a letter purportedly containing the poison ricin was sent to her home in mid-October, and the writer mentioned Collins voting for the judge.
From NTD.tv
Did you enjoy this article? Continue to read more stories  here.