NEW YORK—As sunset slowly approached on a hot summer's evening on July 16, candles were lit, one by one, in commemoration of those who have lost their lives to a brutal persecution.
Just across the street from the Chinese Consulate, on the edge of the Hudson River, music tinged with sorrow played as practitioners of a spiritual discipline called Falun Dafa, also known as Falun Gong, sat in silent protest of the persecution that has led to the deaths of thousands of fellow adherents inside China.
The ancient meditation practice, first introduced to the public in 1992 by Mr. Li Hongzhi, is guided by the core moral principles of truthfulness, compassion, and tolerance. Its benefits for physical and mental health led to its popularity in China, and by 1999, between 70 million and 100 million people were practicing, according to official estimates.
But then-Chinese Communist Party leader Jiang Zemin believed that popularity threatened his control over the public. On July 20, 1999, he launched a nationwide persecution, mobilizing the state's security apparatus to arrest and detain practitioners in prisons, forced labor camps, brainwashing centers, and other facilities.
More than 4,000 are confirmed to have died as a result of torture and abuse while in custody, although the real number is believed to be much higher, due to the difficulty of getting information out of China, according to the Falun Dafa Information Center, the group's press office. In addition, large numbers are believed to have been killed by having their organs removed for use in China's billion-dollar transplantation industry.
Despite burning temperatures, roughly 200 local Falun Gong practitioners gathered in front of the Chinese Consulate to mark the 19th anniversary of the persecution, first with a rally calling on the Chinese regime to end its brutal campaign against the practice.
Zhang Hongyu, a Falun Gong practitioner from Liaoning Province who escaped to the United States, talked about how her mother passed away in 2013 after years of repeated detention by Chinese authorities, including at the notoriously brutal Masanjia forced labor camp.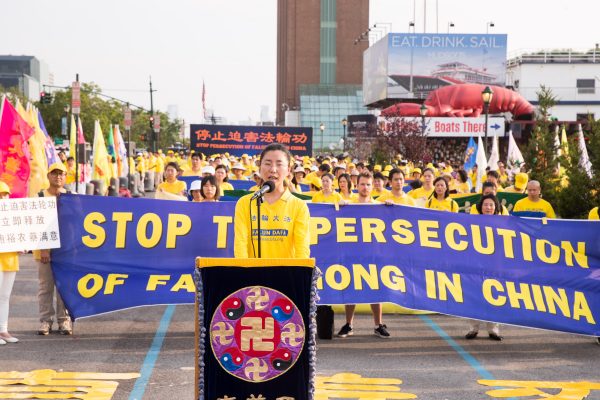 Zhang's father, Zhang Ming, was recently arrested by Chinese authorities. His relatives have been barred from visiting him. Zhang urged the consular officials across the street to relay her message: Release her father and all other Falun Gong practitioners still detained in China.
"At this critical moment in history, whether to protect or destroy humanity's morality is a choice every life on this earth must make," she said.
Gao Hongmei from Jilin Province talked about her 72-year-old mother, who was detained this May after someone reported to the local authorities that she was passing out fliers that contained information about China's persecution of Falun Gong. Her mother remains in detention.
Gao said that no matter how much suffering Falun Gong practitioners have endured while imprisoned, they have persisted in their faith. "Torture cannot change their kind hearts," she said.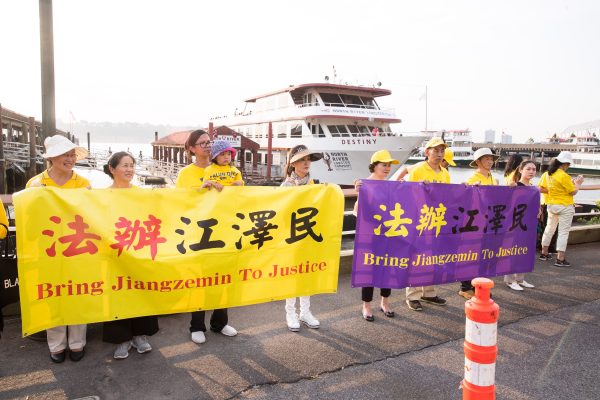 Shi Ling from Shandong Province spoke about the arbitrary arrests that Falun Gong practitioners face. One practitioner from her province was arrested while walking a family member home. That practitioner's family has been denied visitation rights.
Wang Zhiyuan, spokesperson for the research nonprofit World Organization to Investigate the Persecution of Falun Gong, called the ongoing persecution a "genocide."
He also noted that former Chinese Communist Party bigwigs who helped Jiang carry out the persecution—such as ex-security czar Zhou Yongkang, ex-vice minister of public security Li Dongsheng, and ex-military general Xu Caihou—have already met their downfall and have been ousted from the Party. He urged those still aiding Jiang's campaign to stop immediately.
Several Chinese activists, including writer Lin Zhang, also spoke at the rally. Lin witnessed Falun Gong practitioners being tortured while he was detained in a facility in Guangzhou Province for his dissent.
"Their bravery, their perseverance, left a deep impression on me," he said, adding that he hopes they can all be truly free one day.
Bowen Xiao contributed to this report.